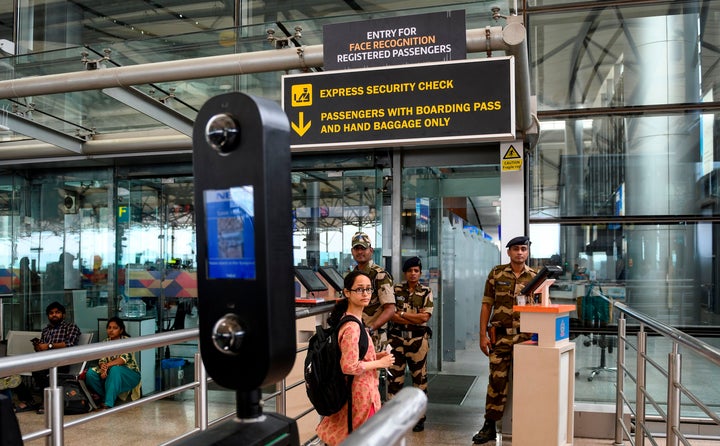 BENGALURU, Karnataka—If you took a flight from Bengaluru or Hyderabad recently, you may have noticed a gate at the airport with a tall display screen, along with a camera. This is the government's much-touted DigiYatra programme—a paperless travel concept being rolled out in some Indian airports. The scanner uses facial recognition technology to let people enter the terminal without having to show an ID at the gate.
While the government has claimed that the service, first announced in 2017, will allow for "hassle-free" travel, privacy activists have argued that the costs are not worth the slightly shorter queues it promises, especially considering India still doesn't have a data protection law. Even otherwise, there are serious concerns about the reliability of facial recognition systems, which the government wants to use even to solve crimes.
Even apart from these valid arguments, is DigiYatra actually as seamless as the government claims? How much easier does it make your journey, even if you put the privacy concern aside?
On a journey from Bengaluru to Hyderabad and back a little while ago, this reporter tried using the DigiYatra service to understand how it works.
How does DigiYatra work for a traveller?
The service is still in the initial stages right now. In Hyderabad, your face can get you inside the terminal, but that's about it. It proved impossible to try out the system at the Bengaluru airport as even on multiple visits, the DigiYatra scanners were not working. However, the government has promised that once the glitches are ironed out, you'll not only be able to enter the airport, but also the security areas, and board the plane without having to show your boarding pass anymore.
If you want to use DigiYatra, you need to first register yourself with the system. This reporter had earlier registered himself at a kiosk outside the Hyderabad airport, using an Aadhaar OTP to confirm his identity and link it to the photograph taken there.
After you are registered, you go to the DigiYatra gate where you scan your ticket and your face to link your flight details to your identity, and then walk in through an exclusive gate that's reserved for DigiYatra. Right now, that's where your DigiYatra experience ends.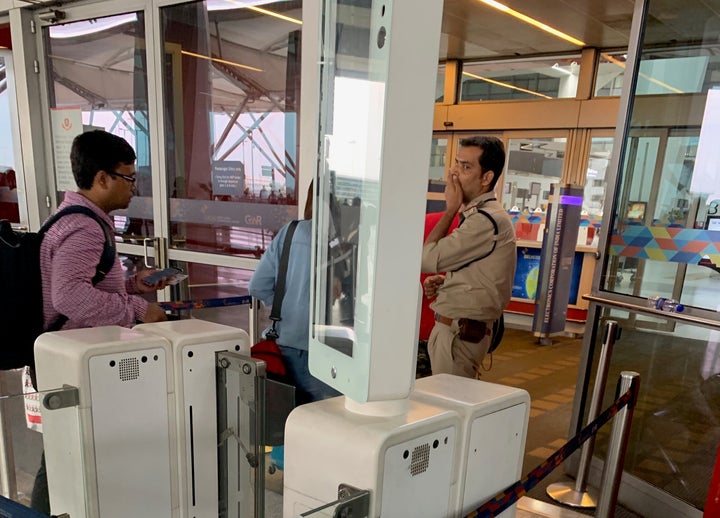 Registration has been halted, but during the period in which one could register at a kiosk at the airport, it was a slightly confusing process. People would line up, be told to stand and then look in different directions while the system captured the facial image.
This is a slightly time consuming process and people at the airport are not at their most patient. Things become worse when you have to confirm an OTP — the process gets delayed and although people were getting registered, you could see more than a few people looking like they were starting to rethink the decision.
Airport employees told HuffPost India that currently, new registrations have been paused as the service is still being trialled.
Even after you've registered at the kiosk, you still need to carry your ticket at least until the DigiYatra gate, where you scan your face and then your ticket to confirm your flight. Only then can you enter—not a noticeably faster process than the cursory glance the CISF guards take at your ID and then your face while double-checking travel details.
And that's ignoring the fact that during the trial phase, CISF guards are actually checking details right now as a safety measure. Right now, the only benefit of using DigiYatra is that since you'll be among a handful who do, you can breeze through the gate without waiting in line.
In Bengaluru, a CISF guard at the gate told HuffPost India that terminal access through DigiYatra active, and the gate was only temporarily closed. However, he wouldn't confirm when it would be open, or why it was closed.
In Hyderabad, the CISF guards were accompanied by a woman wearing a T-shirt with the airport's logo, who stood next to the DigiYatra scanner, and answered questions about the service. However, once this reporter identified himself, she asked not to be named as her role was to facilitate travelers, and not to speak to the media.
She told us that passengers who have previously enrolled for Digiyatra were using the scanner. "Everyday, people come and ask about this and how they can register," she added.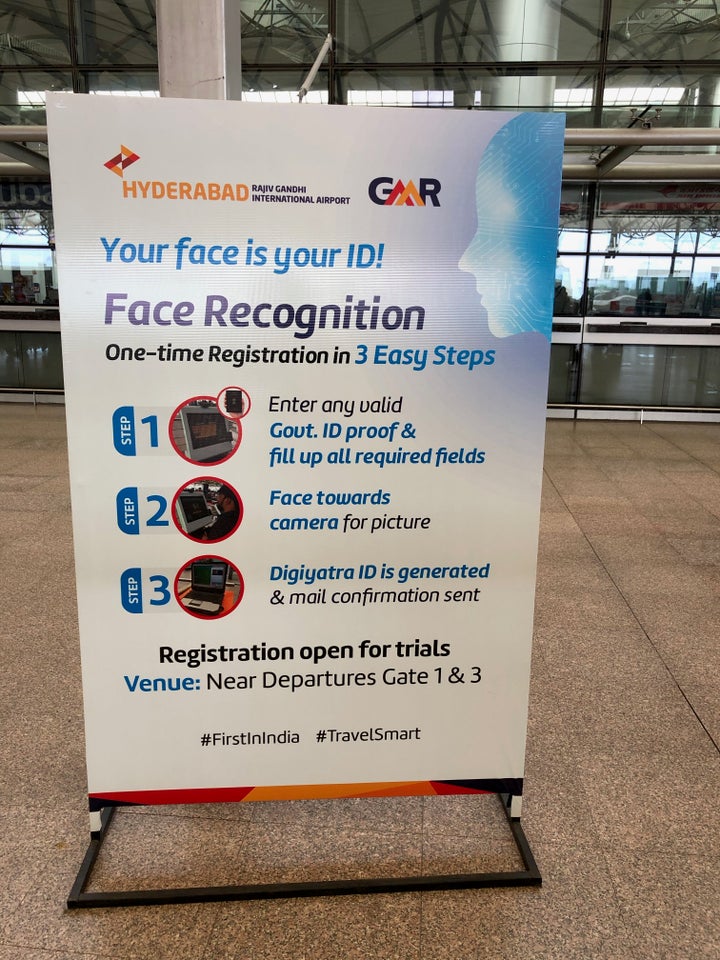 However, she could not clarify which entity would hold the passenger data, or how you could opt out of facial recognition tracking after enrolling for DigiYatra. According to the DigiYatra policy guidelines, your data is not being used for anything more than facilitating your transit.
"This facial data cannot be stored by airports for longer than the duration of transit of passenger and facial data will be purged out of the system 1 hour after take-off/ departure of the flight," it states. This includes biometric data from Aadhaar.
But personnel on the ground were not aware of this, and there's no clarity on whether the system is actually deleting the data as the guidelines promise.
Why do we need DigiYatra anyway?
India is not the only country to try out a facial recognition systems for flights. A couple of years ago, a report by The Ken quoted Bjorn Becker, Senior Director Product Management, Ground Ops, Lufthansa, who said one-step biometric boarding "cut boarding time by half".
"We boarded approximately 350 passengers onto an A380 in about 20 minutes in comparison to 35-40 mins earlier."
The report also quoted a US customs official as saying that "a biometric entry-exit system based on facial recognition is minimally disruptive to the flow of travel… strengthening the integrity of the immigration system, making our borders stronger."
However, it's important to remember that facial recognition systems aren't perfect. Kritika Bhardwaj wrote in HuffPost India earlier this month that "facial recognition systems are less accurate in identifying ethnic minorities and women, leading to a higher possibility of misidentification—and therefore discrimination" against communities that are already vulnerable.
The numerous cases of data being leaked from government servers in India should also raise a warning bell for users. This may turn out to be yet another opportunity for the government to make money at the cost of our privacy, as illustrated by examples such as the Indian Railways looking at ways to make money from the data gathered from passengers.
While DigiYatra is an optional system, opting out isn't always easy. In the US, airlines and airports have started to implement facial recognition-based boarding systems more frequently now, and people are finding out that opting out is pretty hard. As this report states:
To figure out how to do so [], I had to leave the boarding line, speak with a Delta representative at their information desk, get back in line, then request a passport scan when it was my turn to board.
Would you expect things to be any simpler and more user friendly in India?