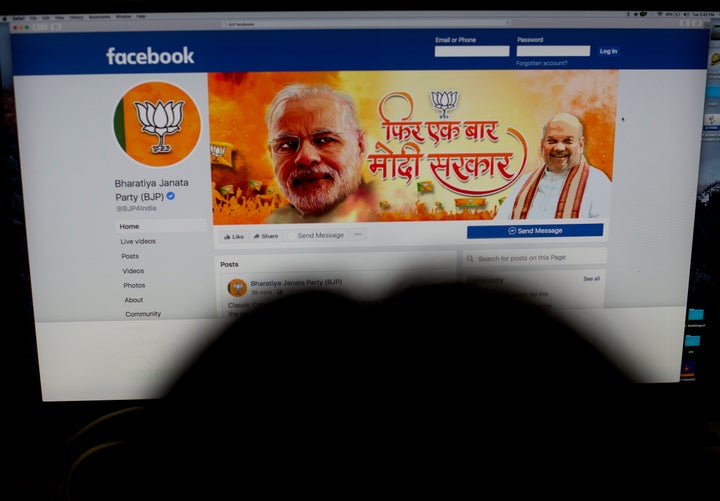 In a blog post on Monday, Facebook said that it's taking down a number of political pages for "coordinated inauthentic behaviour". Cutting out the jargon, this meant that these entities were using multiple pages to spam users with the same memes and posts, all the while acting as if the pages were separate from each other.
This included over 100 pages running propaganda material from Pakistan, including pages posting about Kashmir.
Facebook also said it removed two unrelated sets of pages from its platform as well as Instagram, which it owns: the first was linked to people associated with the Congress's IT Cell, and the second was connected to people associated with an Indian IT firm called Silver Touch. Silver Touch is the company that's allegedly behind the Narendra Modi app, according to NDTV, although this was denied by BJP IT cell head Amit Malviya.
According to Facebook's statement, around 687 Congress-related pages were taken down, compared with just about 15 related to the BJP. So it was surprising that the most visibly angry reactions to the news came from right-wingers on Twitter, many with Chowkidaar affixed to their names. As Alt News founder Pratik Sinha pointed out in a Twitter thread, people started threatening to consult lawyers about whether there were grounds to pursue treason charges against Facebook.
So why exactly are pro-BJP voices on social media so upset with Facebook?
This is where it gets even more interesting. Facebook says in its statement that 321 pages were removed for civic spam not related to any organisation. The Print has reported, citing sources, that around 200 of these were pro-BJP pages.
If that's the case, Facebook has taken fairly strong action against the BJP as well, but the social network hasn't underlined this fact.
Also, the right-wing reaction may also fall into a larger pattern of crying victimization by tech platforms while seeking special treatment from them. While HuffPost India has written to Facebook to ask for more details, a quick parsing of pages that are offline shows that even the reach of those 15 removed pages was far greater than the opposition's reach on Facebook. Here's everything you need to know about the latest controversy:
1. On April 1, Facebook announced that it removed over 800 pages for inauthentic behaviour.
This removal was not because of the content of the pages, a source clarified, but rather because of the lack of disclosures and posting without revealing their political affiliations.
2. Facebook highlighted the fact that it has removed 687 pages or individuals linked to the Congress IT cell.
"While the people behind this activity attempted to conceal their identities, our review found that it was connected to individuals associated with an INC (Indian National Congress) IT Cell," Nathaniel Gleicher, Head of Cybersecurity Policy at Facebook, said in a statement.
3. It also removed 15 pages linked to an IT company called Silver Touch.
Facebook first told Reuters that the firm was linked to a mobile app promoted by the BJP. It later told Reuters it had "seen no evidence to date of Silver Touch being associated with the NaMo App on our platform," and "We won't be speculating about off-platform connections of the actors we took down today."
4. According to NDTV, Silver Touch is responsible for the Narendra Modi app.
NDTV's report also said that these social media efforts are possibly being financed using government funds.
5. BJP IT cell boss Amit Malviya has denied any connection to Silver Touch.
6. Facebook removed nearly 46 times as many Congress-supporting pages as BJP-supporting pages.
Malviya told ANI that it was unprecedented to see the Congress named by Facebook for running a network of fake pages. "All this so they could discredit the government, the Prime Minister, and make some political capital out of it."
7. However, the impact of this deletion might still be felt more keenly by the BJP.
Although far fewer pages were shut down, these had a strongly established presence on Facebook, with some people estimating that the reach of these 15 pages was higher than the Congress's 687 pages. Also, if The Print report is right, around 200 pro-BJP pages have also been taken down.
8. Unofficial sources say that pages with 200 million likes have been removed.
Speaking to Economic Times, a source said, "While we are suffering because of this action, Amit Malviya (BJP IT Cell head) is celebrating the removal of Congress pages on Twitter. This affects us by 90% more than it ever will impact the Congress."
9. Right-wing Twitter is abuzz with outrage and complaining about the pages being shutdown.
You can easily find several threads of outrage on Twitter. There are also several hugely cheerful posts about Congress pages being shut down. Congress supporters are being less visible at present, not surprising considering that nearly 700 pages being shut down shows how both national parties are trying to misuse social media.
10. There's a pattern of crying out about 'unfair' treatment by Twitter and Facebook.
There's not much justification for it, but right-wing voices on social media have been quick to raise their voice about alleged victimisation by social media companies, and even hold protests in person.