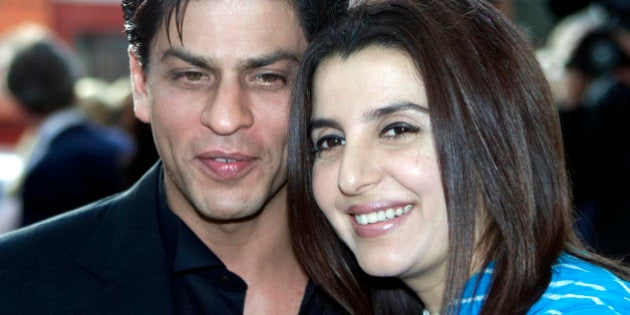 She's the only woman in the Indian film industry's largely patriarchal club of directors who make mega successful, big-ticket movies with a promotional budget that itself can fund an independent film.
Director Farah Khan has her hands full.
"I had to pick my children up from school. We picked up our monthly groceries on the way and then the kids wanted idlis (rice cakes). I have all the time you want right now. I'll answer everything," promises Khan over the phone from Mumbai, clearly relaxed now that her latest film has made more than Rs 200 crore at home and abroad.
Khan, known both for her impulsive and emotional nature as well as for her colourful cussing, says she has calmed down a lot since she became a mother.
"I don't drink, I don't smoke, I don't do drugs. Cussing is the only thing that is keeping me from sainthood. I cuss a lot, but not out of anger or malice. I've been doing it since very long. I've been trying to fit in and be one of the boys since college. It was a way of trying to fit in with the guys and trying to be one of them.
"Now I don't want to be one of the guys, I'm far superior to the guys (laughs). But actually I've it reduced a lot since I had three children. They give me that 'look' even if I say 's***' in front of them," she says.
Her kids are almost seven years old and Khan says she tries to keep life as normal as possible at home even though she gets requested for a selfie or an autograph whenever she takes her kids out for a routine trip to the nearby shopping mall.
"We never raise our voices in front of the kids. My children must be thinking I'm Mother Teresa - so gentle and well behaved."
"We never raise our voices in front of the kids. My children must be thinking I'm Mother Teresa - so gentle and well behaved," Khan laughingly says over the phone.
Her brash days as one of India's most successful and temperamental choreographer in Bollywood are over now and she actively avoids controversies of any kind. She's busy learning how to balance motherhood with a career that takes her away from her children for days on end.
"When the first time I went to work after giving birth, I sat alone in my vanity van and cried. When the baby comes out of your body, a guilt gene is pushed in. Men don't have that at all. When I went to shoot in Dubai (for HNY), that was the longest I left them - 10 days - I cried every night," she says.
"Luckily in India we have some sort of a support system – be it family or professional help. I can't really compare myself to other women, I was 43 when I had the triplets, but I could afford to keep nannies. Imagine, people do this without help, hats off to them," she says.
As a busy director, a well connected insider who claims Shah Rukh as one of her best friends and a powerful voice in the film industry, Khan says she's worked out a schedule to take care of her kids.
"When I shoot, I leave at 7 in the morning and come back at 10 at night. That's really tough. After school, the kids come to have lunch with me on the set sometimes. I don't have a regular 9-5 job. I have the luxury of working for a year and then not working the next but for a regular working mother it must be really tough," she says.
But she has had to readjust her priorities to make this work.
"I recently gave up on a huge advertisement deal because they were shooting on the Annual Day at the school my kids go to. And I can't miss that. I've cut down my social life completely. If I'm not shooting, I don't go to parties. These moments with your kids are not something you get back."
His husband and filmmaker Shirish Kunder is a big support. "He's not the one to hold me back. When he goes to shoot his movie, I stay home with the children. One of us has to be there," she says.
I HAVE STOPPED GIVING MY OPINION
As Khan approaches middle age, she says she's learnt to tame her temper to keep controversies to a minimum.
"I have stopped giving my opinion on other people's movies, earlier I had been brash and outspoken, I'm going to be 50 now, and as a mother I'm more careful as to what I say. People know I'm a genuine person. I say what I mean."
As a woman in an industry that is still guided by traditional patriarchy, she feels she tends to look out for the women in her crew just a little bit more than what she would have done for a man.
"I'm a little more protective about my girl assistants. I would like to know where they are going after pack-up and they need to call me and let me know when they get back to their room. As the mother of the unit I need to figure out where they are going and whom they are going with. I feel they've been entrusted to my care."
Khan gets a little upset when she's asked if she should make cinema sensitive to women's causes.
"My films are not experimental – they are larger-than-life. Ironically, this is a pressure that's put on me, why, because I'm a woman? No body asks a man why he isn't making a film based on men's problems," she says.
"But as a woman director, I'm constantly questioned about this. Why should women directors be pigeonholed into one thing? I want to make a movie with five male characters, what is everyone's problem?"