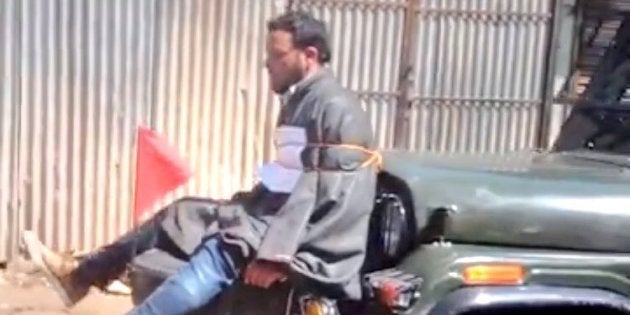 Farooq Ahmad Dar, a Kashmiri embroidery artisan who was picked up on his way back from voting in the state bypoll and used as a human shield, is disappointed that the Indian army has awarded the officer responsible for committing what is widely considered a war crime under the 1949 Geneva Conventions, even as a probe into the incident is on.
"I was wrong to expect any justice," he said, referring to the incident that has been criticised by a section of writers, human rights activists, media, and retired armymen, and hailed by others of the view that the young army officer took the right call in the face of mob violence and saved many lives.
Major Leetul Gogoi of 53 Rashtriya Rifles tied Dar to the front of an army vehicle and paraded him around town to deter stone pelters. Yesterday he was awarded the Army Chief's Commendation Card for "sustained efforts" in counter insurgency operations, even as a probe is on regarding his role in the incident many see as a gross violation of human rights.
"If his son faces a similar treatment at the hands of the officer, I would see whether he will still reward him."
Dar, a resident of Chil village in Beerwah sub-district, who earlier said he was "thrashed severely with gun butts and wooden sticks and in an almost unconscious state tied to the front of the jeep and paraded", even had his voters slip to prove that he wasn't a stone pelter, and was returning from voting, a fact conveniently ignored in social media's approbation of retributive justice meted out to "stone pelters".
He told Telegraph: "If his son faces a similar treatment at the hands of the officer, I would see whether he will still reward him."
However, not everyone approved of the army decorating Major Gogoi. Lt Gen HS Panag, a retired officer who has served in Kashmir had this to say.
Even after all these days, Dar claimed no agency has actually reached out to him to record his statement.
"My ankles and muscles still ache. What is worse however is that I am unable to leave my village. Even if I step out of the home, I take someone along," he told the paper.
Major Gogoi was not honoured for the human shield incident, though a section of politicians and social media users said it sent out the message that the army condoned his action, even before the probe is over.
Popular in the Community