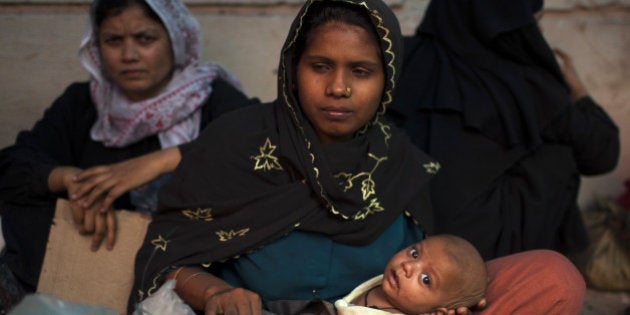 KOLKATA -- Over 80 Rohingya Muslims lodged in various prisons across Bengal are staring at an uncertain future as their plea to get refugee status is yet to be heard by Indian authorities.
The 83 Rohingyas, including several women, were arrested in the past five-six years when they were trying to cross over to India through Bangladesh. Of these 83, 27 have already completed their sentences but are still in jails.
"We have written to state home department and also to the MHA regarding the issue of Rohingyas lodged in Bengal prisons and also about those 27 prisoners who have already completed their sentence. But we are yet to receive any communication from them. So they are still in prison as we can't just let them go," ADG (prisons) Adhir Sharma told PTI.
He said that the matter has been informed to the state Home department and the state home department has taken up the issue with MHA.
"After we were informed by the jail authorities, we have given several reminders and letters to MHA. But there has been no concrete response," said a senior official of the state home department on condition of anonymity.
The official added that the issue of Rohingyas has been a sensitive one as there are reports that terrorist organisations have being trying to exploit the condition of Rohingyas worldwide.
"It is not just a case of a foreigner asking for refugee status. The case of Rohingyas is different from others seeking refugee status," said the official.
Just a few months ago, NGO Commonwealth Human Rights Initiative (CHRI), which works in coordination with United Nations High Commissioner for Refugees (UNHCR), had approached the state home department and the jail authorities so that the Rohingyas can be granted refugee status.
"Few months ago we were able to talk to the Rohingyas lodged in various prisons, and we made preparations so that their plea seeking refugee status can be forwarded to UNHRC, who had forwarded it to Ministry of Home Affairs. But as of now nothing has moved forward," said Madhurima Dhanuka, consultant with Commonwealth Human Rights Initiative (CHRI), told PTI.
The Rohingyas are among millions of stateless people worldwide due to the fallout of clashes with Buddhists in Myanmar. Thousands more, unregistered, are living in other parts of the country such as Jammu and Hyderabad.
According to UNHCR, there are five important pointers that cumulatively form the criteria for being termed as a 'refugee'.
"Owing to well-founded fear of being persecuted for reasons of race, religion, nationality, membership to a particular social group or political opinion, is outside the country of origin of his nationality and is unable or owing to such fear, is unwilling to avail himself of protection of that country," UNHCR states.
In the case of Rohingyas, there are certain laid down identification tests to differentiate between a Rohingya lodged in prison and other inmates.
"We identify a Rohingya from other inmates on the basis of geographical description, religion, language, physical features, education, occupation, and the kind of house they had in Myanmar," said Dhanuka.
According to her, an asylum seeker approaches UNHCR in New Delhi following which the UN body gives a registration form to fill asking broad details like name, country of origin and why he or she fled the country.
"Once the person fills up the form and submits it to UNHCR, the person is given status of person of concern to UNHCR. UNHCR then gives document to that effect. Following various interviews and examinations if the case is found positive she is granted refugee status and settled within his or her community," she says.
"We had managed to interview few adults and few children in Balurghat jail and Berhampur jail. Their case studies were forwarded to UNHCR office in New Delhi office," an NGO official said.
When contacted, UNHCR officials said one of the main problems with Rohingyas is that they sneak into India through Bengal from Bangladesh and are detained as illegal Bangladeshi immigrants.
While talking about the number of Rohingyas having registered as refugees under UNHCR and living in India, Shuchita Mehta, Public Information Officer of UNHCR India, said, "There are around 9,150 Rohingya refugees and 2,406 asylum seekers registered with UNHCR in India."
The state home ministry official too agreed with the views of UNHCR, and said, "They don't want to go back to Myanmar fearing they would be killed and most of them identify themselves as Bangladeshis so that they can be pushed back to the neighbouring country after serving jail term."
The UNHCR official also said that it has been organising sensitisation programmes for jail officials and police officers and these were aimed towards helping the officials to identify and distinguish the Rohingyas from others and help them to appeal to UNHCR for refugee status.



Popular in the Community