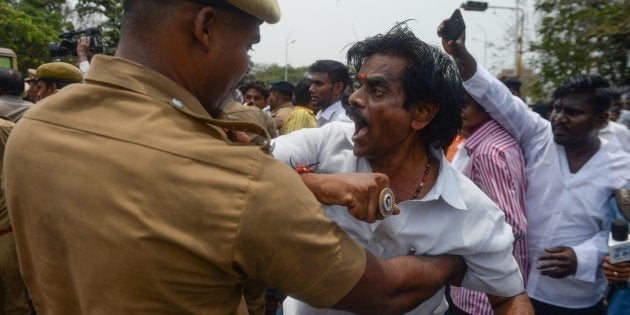 FIRs filed on complaints by three tehsildar's in Tamil Nadu's Thoothukudi has revealed that they had ordered police firing during anti-Sterlite protests in the city on May 22 and 23 that claimed the lives of 13 civilians.
The Hindu reported that the three FIRs were filed in Thoothukudi Sipcot, Thoothukudi North and Thoothukudi South police stations by Special Deputy Tahsildar (Election) P Sekar, Thoothukudi Zonal Deputy Tahsildar M Kannan and Thoothukudi Divisional Excise Officer S Chandran respectively.
In all the FIRs, the government officials have claimed that the crowd marched with "deadly weapons" and petrol bombs. They claimed that the police had tried to disperse the crowd in vain and that is when they had to direct the police to open fire.
NDTV reports that in his FIR, Sekhar has said that the police made an announcement before they opened fire at the protesters which the protesters had ignored.
The Tamil Nadu state government, in the aftermath of the deaths last week, had said similar things last week when police action and the death of civilians drew severe criticism. It had said that protesters turned violent, setting fire to police vehicles, which left the police with "no choice" but to resort to lathicharge and firing.
The FIRs pretty much toe that line.
The New Indian Express reports that while Kannan admitted to ordering the police to open fire in Threspuram, Chandran ordered the police to open fire on May 23.
However, eyewitness accounts tell a different story. Different reports quoted eyewitnesses as saying that the police did not make an announcement before firing, nor did they use rubber bullets is required by law.
NDTV quoted an eyewitness on the condition of anonymity as saying, "For hundred days there was no violence even when larger crowds had congregated. Do you think we would bring out little children if we had any plans for violence."
K Samuel Raj of Tamil Nadu Untouchability Eradication Front told The Hindu, describing the death of a protester, "According to her family and eyewitness accounts, a police vehicle came with sirens when a group of people at Threspuram was discussing the morning's events. As the crowd dispersed, the police attacked the houses and damaged properties. Jansi was shot from the police van when she yelled using curse words."
Videos of two incidents that had gone viral after last week's incidents show that the way the police treated the protesters.
In one a police officer was heard saying that he wished at least one person should die in the firing, in another video the police were seen poking a dying man with their lathis asking him to 'stop acting' and leave.