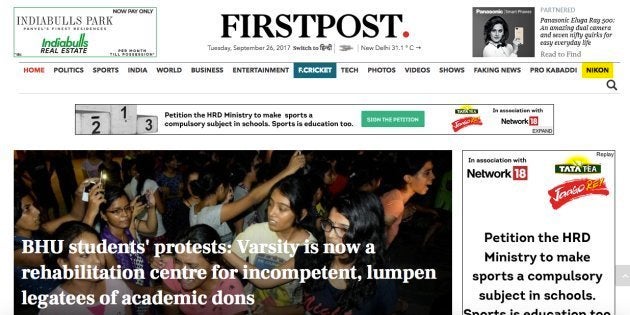 Not even a month after the killing of Gauri Lankesh, a Delhi-based journalist has received death threats warning him not to write against the RSS, the BJP and Prime Minister Narendra Modi.
Chief reporter of Firstpost, Debobrat Ghose, who mainly covers politics, has made a formal complaint to the Delhi police.
He was first sent messages on WhatsApp and then received calls telling him he will face the same fate as Gauri Lankesh.
Speaking to HuffPost India over the phone, Ghose said, "I got the first message on the morning of September 21. I saw it an hour after I had received it. I thought it must be a forwarded message because it did not mention my name, so I ignored it."
He got another message, around afternoon, the same day.
The messages written in Hindi called Lankesh an 'anti-Hindutva and a traitor'.
Ghose says, "I got three messages from two numbers, but I chose to ignore it."
But things seemed a bit more serious when he got a call threatening him.
"I was at the Rajiv Chowk Metro station when I received a call from an unknown number. At first I did not realise what he was telling me because I was underground and there was a lot of noise, but then I heard him tell me to not write against the nationalist forces. The call got disconnected. When I called him back the phone was switched off."
Ghose says that he then called the former DGP of Uttar Pradesh, Prakash Singh, who asked him to lodge a formal complaint.
"By 11:30 I got another message," he says.
On September 22, Ghose also met with the Commissioner of Delhi Police, Amulya Patnaik, who advised him to lodge a complaint in his local police station.
A complaint was made to the Delhi police commissioner in this regard. Ghose confirms that he made the complaint and says that he has no enmity with anyone in any political party.
Ghose told HuffPost India that he is aware of other journalists who have received similar threats. "A friend of mine who works for a Hindi website also got similar calls. While the numbers were being displayed on my phone, the numbers did not show on his."
"The police say that they are conducting investigation. I hope the person/persons behind the call and messages, are identified", he said.
Information about the phone numbers from which calls were made has been given to Delhi police, but not revealed here as it is part of investigation.
Ghose has been working for Firstpost for the past three years. He reports on political affairs, internal security and social issues. Before that he was with Hindustan Times for 14 years. He started his career in journalism with The Times of India.