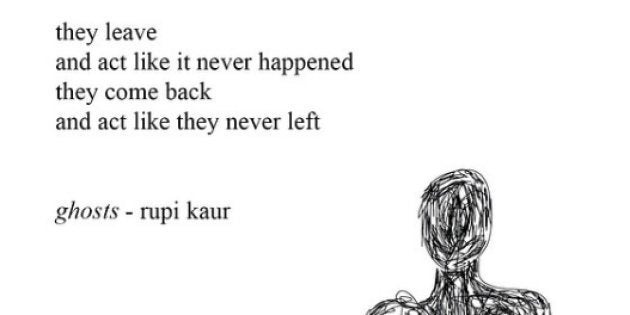 Poetry is the rhythmical creation of beauty in words. ~ Edgar Allan Poe
Since time immemorial, poetry has been a lifeline to man and a mirror to the human condition that uplifts, elevates and transports, revealing new ways of seeing and living. Poetry has been the solace and balm to many woebegone souls, jilted lovers, literary geniuses, those passionately in love, the struggler, the unemployed and the happy-go-lucky alike.
No real surprises then that Instagram hosts a bunch of poets whose poems will make you fall in love with poetry all over again. At first, Instagram might not strike as the best app for poetry but it does serve the purpose quite well. Here are some poets-turned-Insta celebrities, whom you cannot afford to miss.
Kaur is a poet, author and spoken word performer. Her Instagram account rupikaur is a fine mix of poetry, illustrations and photographs.
This modern day poet jots down what every heartbroken lover holds sacred. R.M.Drake's account, rmdrk, is an endless virtual book of heartbreaking poems.
Atticus' bio is self-explanatory; it reads "I write words, poems, epigrams. It's how the world makes sense to me. Thx for reading, I love u for that. l'll try and post a poem everyday." You can read his poems on atticuspoetry.
4. Christopher Pointdexter
Not only is Pointdexter a poet, he is an author and a humanitarian too. Read his heartfelt poems on christopherpointdexter.
This Dutch "introvert with an extroverted heart" has a way with words and conjures up some of the best poems. You can read them on inkness.
MBP's poems are not merely written words, they are poems made out of blacking out other words. You can check MBP's exquisite poetry on makeblackoutpoetry.
Savage's poetry will tug at your heartstrings and you will not be able to help but continue reading. Read her poetry at kat.savage.
Remedy for those with a broken heart and those without one too, Katoff's poetry is magical. Read her poems on jessicakatoff.
Ciampa's emolabs is a perfect mixture of photography and poetry. It is more of a visual feast that must not be missed.
Aptly named, The Poetry Bandit will take your words and make them his. Read his poetry on the poetrybandit.
Rogue's poetry is sharp as an arrow and never fails to miss. Read her poems on j.r.rogue.
Poet and photographer Tyler Knott's poetry on love is what one should read if they are in love and even if they aren't. Read his poems on tylerknott.