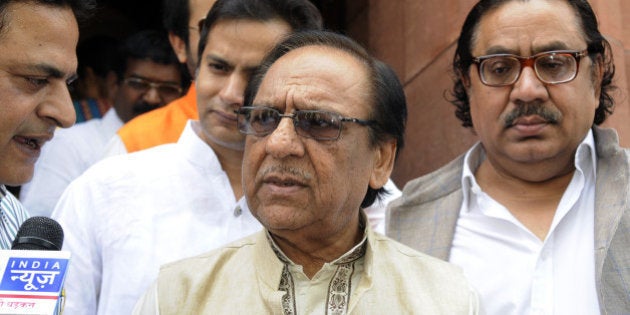 28 September, 2015: Spurred by WhatsApp images of an animal's remains, a mob of angry Hindu men storm a Muslim man's house, kill him, leave his son battling for his life and punch a giant purple patch around his old mother's left eye. "How dare they ate beef?" supporters of these murderers croak from all across the globe.
6 October, 2015: The Gujarat chapter of the Vishwa Hindu Parishad declares that non-Hindus, especially Muslim men, will not be allowed to enter garba dance events held in housing societies of the state. They invent a gau mutra test to tell Hindus from non-Hindus: if you flinch when you are sprinkled with cow urine at the festival, you will be deemed a non-Hindu. You either get roughed up or agree to convert at the venue itself.
8 October, 2015: Shiv Sena threatens to disrupt a concert by Ghazal maestro Ghulam Ali, who was supposed to perform a tribute to Indian Ghazal icon, late Jagjit Singh. The Mumbai concert gets cancelled. Sena wags a finger at Pakistan Army's hostility at the border. Maharashtra's BJP government gives a feeble assurance that Ali will get protection.
In a span ten days, the country's Hindu far right has rained blows on food, music and a citizen's right to mingle with fellow citizens of a democracy. You have not heard as much as a whimper of protest from the government at the Centre, apart from some bureaucratic directives. Instead, what you have heard, from a usually Twitter-happy clutch of ministers sharing foreign trip itinerary and birthday messages, is the announcement that the PM has better things to do. Better things to do than condemning murder and the audacious infringement on its citizens' fundamental rights by its own political subsidiaries and allies.
The truth of India's celebrated pluralism is that a majority of us are born to cubby holes wire-fenced with distrust for those unlike us. The religious 'other', the sexual 'other', the linguistic 'other', the economic 'other'--the further you're away from them, the better off you will be, you're told.
When you grow up in say an average middle class family--unquestioning of its prejudices, fears and anxieties--what you are is also partially defined by who you are not like. And who you shouldn't be like.
"Imagine if you were a Muslim girl, you would have to wear a burqa! My god, how do they wear those in the heat? That doesn't look like cotton!" If you are a Hindu girl who grew up in a middle class/upper middle class Indian society in the nineties, variations of that conversation must have wafted your way in conversation.
The walls of your social bunker, constantly echo with what you are never supposed to appreciate or understand.
Yet, despite the constant stream of innate prejudice shoved our way for the 'other', a condition attributable to nothing more than the accident of birth, most of us, ordinary people with everyday fears and ambitions, have managed to live amid people of different religions, values and superstitions. How have we managed to do it? Because despite who we pray to or not, most regular people love a good meal, a great song, a great celebration. And these are the cultural cornerstones that have guarded against the mutual suspicion and mistrust the men and women born into India's major religions inherited.
And there weren't too many people around us asking us to treat a beef biryani stall like it's radioactive or threw a hissy fit if we were walking down a festooned and lit-up street in the Christmas week.
In fact, the most compelling ice breakers for our generation have been an oily plate of chhole bhature or a plate of beef fry buried in green chilly, a great ghazal or a hearty folk number.
In the past few days, the Hindutva brigade has cracked down on each of these cornerstones. You can't eat this. You can't be there. You can't listen to this. Stay inside the walls, let the exclusion be complete so that the dehumanisation can begin in right earnest.
The price of defiance can be severe. It wouldn't be entirely wrong to say that the people who murdered over beef rumours, the ones who place sanctions on garba celebrations and those who banned Ghulam Ali are all gaining legitimacy from each other in this primal dance of dangerous tribalism. And perhaps at the charming bunch of people who run our government, busy tweeting promises of an India united--by great broadband speeds.
"The tree of India-Germany partnership will blossom," PM Modi tweeted on 5 October. He should look at the ones withering in his backyard too.