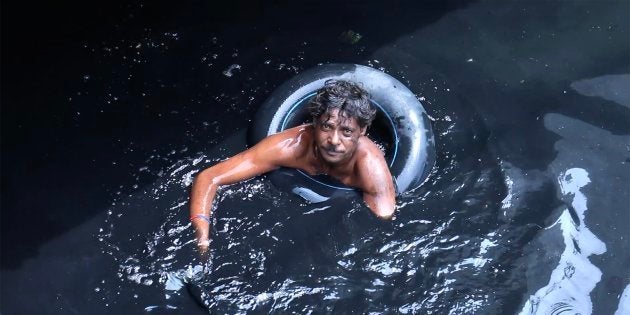 Eleven sewer workers died in a span of seven days in Delhi last month, despite a ban on manual scavenging by the Delhi government. The Safai Karmachari Andolan held a protest at Jantar Mantar in New Delhi on Tuesday over the deaths.
Last year, 39 people died across 100 days in India, prompting the Safai Karmachari Andolan to launch an awareness campaign demanding safety and protection for sewer workers and manual scavengers.
HuffPost India had visited the homes and workplaces of various sewer workers and their families in 2017 to find the dire conditions they live in and the horrific circumstances of their deaths. Here are some of their stories:
THE MAN WHO WANTED TO SAVE HIS SON
Atar Singh had just sat down with his lunch under a tree by the sidewalk when a group of neighbourhood boys ran up to to tell him his son had fallen in a 30-feet deep sewage treatment plant in Santoshpur village, Faridabad.
Rahul, a sewer worker like his father, had just been hired as a cleaner at the plant. He was cleaning a blockage, clinging to the metal scaffolding inside the cavity of the plant, when he slipped. Singh rushed to the site, where a small crowd had gathered, and saw his 25-year-old son's head bobbing in the dark pit of sewage.
Singh's wife Savita said he had been a sewer worker all his life and he must have known it was impossible to rescue Rahul easily. But Singh didn't wait for help.
He jumped in and tried to rescue his son. But the sewer's toxic gases began choking him as well.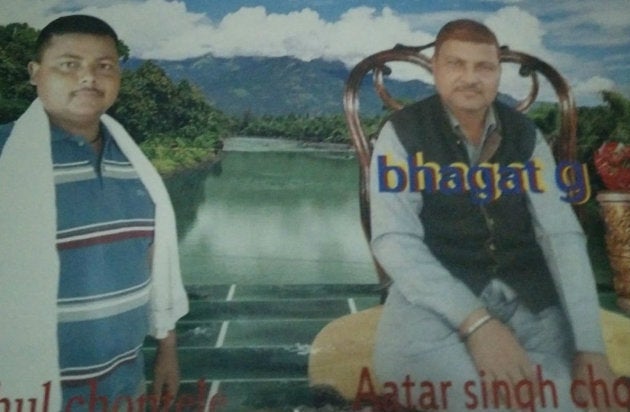 Santosh, Singh's nephew, watched in shock as his uncle and cousin fought for their lives. He had never been a cleaner and had never entered a sewer. But as Singh kept waving from the pit, Santosh asked the gathered crowd to get help and jumped in as well.
"I saw my worst nightmare before my eyes. My son and my husband's heads were sinking in the sewage." Savita said. "I started screaming for help and my youngest son, only 12 years old, tried to jump in as well. Some people held him back."
One by one, the three men sank.
First, Rahul lost consciousness and slipped off Singh's weakening grip. Then Singh ran out of breath, and finally Santosh disappeared in the swirling dark sewage.
"I still see the scene when I close my eyes and wake up screaming," Savita, recounting the deaths that occurred in March 2017.
"They had to be fished out with cranes," Savita said.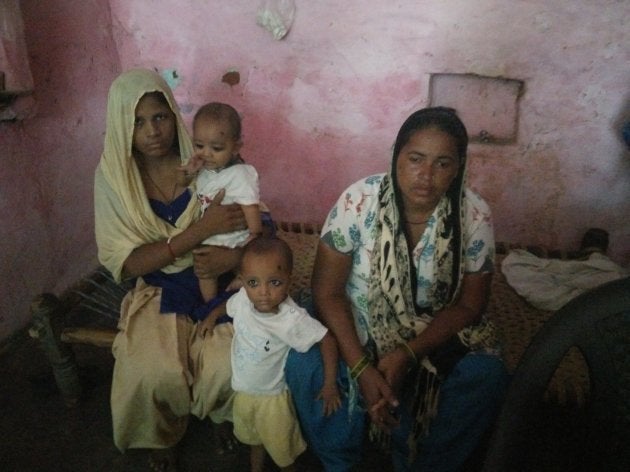 Sitting in a small one-story brick house in a slum right opposite the plant where she lost three members of her family, Savita's biggest concern was getting a job. Barely educated, Savita has never done much except cleaning and cooking jobs. She received Rs 10 lakh from the government which she was sure would run out bringing up three children, because she did not have a job. Rahul's 20-year-old wife Tina, mother to a toddler and a baby, told HuffPost India that she had studied till the ninth standard and had never held a job.
What will she do for a livelihood? "I don't know. What work can I do?" she asked.
Santosh's family never received compensation because he wasn't a contracted sewage worker. He helped his family of 6 by doing odd jobs and his death left them devastated.
'I HAD MY FIRST DRINK AT 14, SO THAT I COULD ENTER A SEWER'
When Deepak first entered a sewer, he was 14.
"My father was a sewer worker. And my mother worked as a sweeper in government hospitals. Nobody gave us any other jobs," Deepak, a Dalit, told HuffPost India.
The stench was overpowering and the open manhole, gurgling excreta and swarming with flies, scared Deepak.
"I was frightened. That was my first response," he said. Seeing the boy hesitate, an older man handed him a half-full bottle of country liquor.
"They said, that was the only way anyone can do this work. I drank up the entire bottle at one go. My ears were hot and my head was buzzing but it took my mind off the smell," he said. Minutes later, his father tied a rope around his waist and lowered the boy into the sewage pit.
Two years later, when Deepak was 16, his friend grabbed a bottle of country liquor and entered a sewer to fix a blockage.
"When he didn't come out for 15 minutes, I crawled in to find him sitting crouched, dead." Deepak said. "The gases had killed him."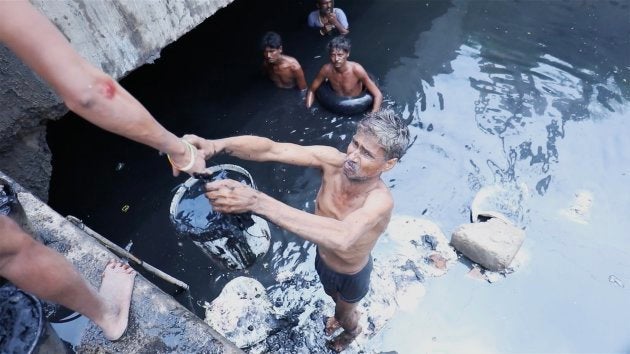 At 43, Deepak has been risking his life to clean drains and sewers for nearly three decades. Little has changed as governments offices and civic bodies continue to contract cleaning jobs to individuals who then hire sewer workers for little money and make them work under dangerous conditions with no protective gear.
"Usually, in cases of accidents and deaths governments wash their hands off and claim it was the contractor's' responsibility to have ensured their safety," said Bezwada Wilson of the Safai Karamchari Andolan. "Why have they, then, allowed contractors to have people work like that? Have they given budgets and issued instructions that they should ensure the safety of workers?"
'MY BROTHER COULDN'T WATCH HIS CO-WORKER DIE'
In 2017, Joginder was hired by a private contractor to clean a network of Delhi Jal Board sewers in Lajpat Nagar.
The 32-year-old knew the drill—his co-worker dabbed oil on his body, covered his nose with a handkerchief, and climbed down the manhole as Joginder held on to a rope tied around his college's waist.
Five minutes later, Joginder called out to the man down the 10-feet sewer to check if he was fine.
"That's the usual practice," Joginder's brother, Parveen, also a sewer worker told HuffPost India.
There was a muffled response.
A few minutes later, Joginder shouted again and pulled at the rope tied around his colleague who had gone down. There was no response.
"It is our worst fear. Someone falling unconscious inside from the gases," his brother said.
Joginder raised an alarm, asking for immediate help, but neither his contractor nor Jal Board employees came to their aid, Parveen said.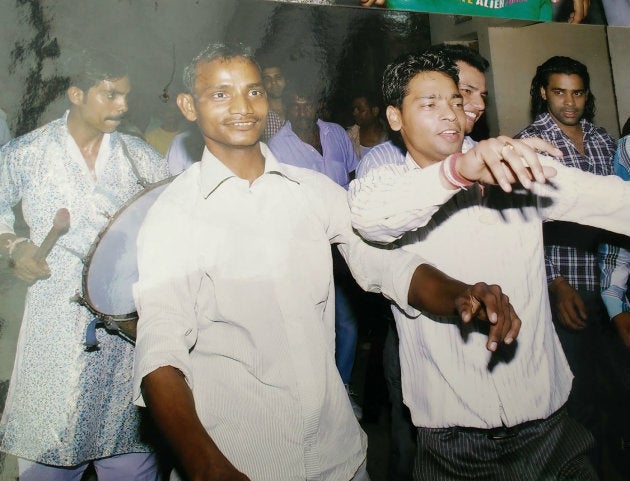 Joginder handed the rope to a third man and went down to himself. Within minutes, there was no sign or response from Joginder either. The third man also went down, telling the fourth colleague to not enter come what may. He didn't make it out either.
By then, the contractor and the Jal board employees had fled.
The three bodies were fished out hours later.
"They had to sink hooks into their bodies to pull them up. When I saw my brother's body, clumps of flesh had been scooped out from several parts of his body where they tried to sink the hook," Parveen said.
"My brother couldn't watch another man die. We are the only ones we got," Parveen said. "So whatever our fate, we try to save one another."
A former basketball coach at a local private school who was paid per student that enrolled into his classes, Parveen took to manual scavenging when the kids stopped coming to him.
"The parents came to know of my caste and my family profession and told the school they didn't want me to teach their children," he said.
"I want the government to give us proper gear, medical facilities, make rule for contractors to give us protective equipment while making us work," he said.
Dilawar Singh, who has been a sewer worker for over 30 years, laughed when asked if he had protective gear.
"Some houses don't even want to pay Rs 50 to get the manholes cleaned. We clean three-four manholes in a lane and they haggle over Rs 500. Governments have stopped hiring us directly. And private contractors too want to pay measly amounts," he said.
When you want to construct the toilet, it's a central affair. When people die cleaning them, it's a state affair. How will this solve the problem?
"The Prime Minister has to take note of what is happening. You cannot wash your hands off, relinquish responsibilities by saying they are contract labourers. If the country's governments had proper drainage systems that need not be needed to be cleaned by humans, then there wouldn't be so many people who lost their lives," Wilson said. "The PM can't also say 'it is a state affair'. How is Swachh Bharat a central affair then? When you want to construct the toilet, it's a central affair. When people die cleaning them, it's a state affair. How will this solve the problem?" he asked.
THE WOMEN LEFT BEHIND
HuffPost India visited the homes of at least eight sewer workers who lost their lives on their jobs. All of them have left behind wives, mothers and children with no means to fend for themselves.
Crippled by caste and gender discrimination and poverty, almost all the women begged for government jobs. In most cases, they were not eligible for them since their deceased family members weren't contracted by governments directly.
Some of the women, especially the younger ones, were not even aware of how dangerous the job of their husbands were.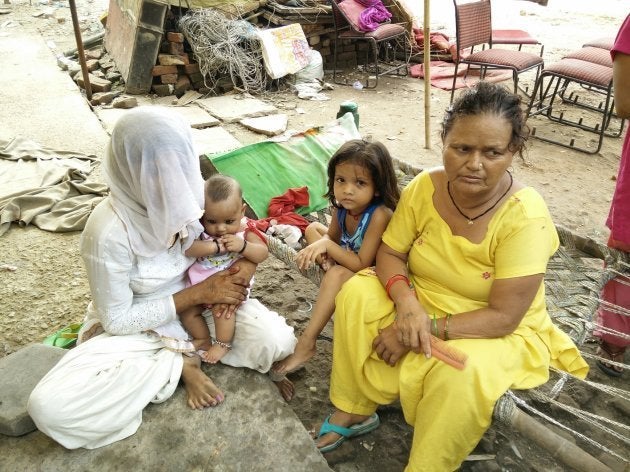 Preeti, a resident of Khichdipur, was one of them. Her ghunghat drawn to her knees, Preeti recounted how her 22-year old husband Sumit did not want to talk about his work ever. "He wanted to forget about it and said, it was miserable. So I never realised how horrible it was. He only wanted to come back home and play with the children," 20-year-old Preeti told HuffPost India.
She has studied till sixth standard and has two small children. "Do you think anyone can find me a job?" she asked hopefully. A representative from Safai Karmachari Andolan said that it's always difficult to find the young widows jobs.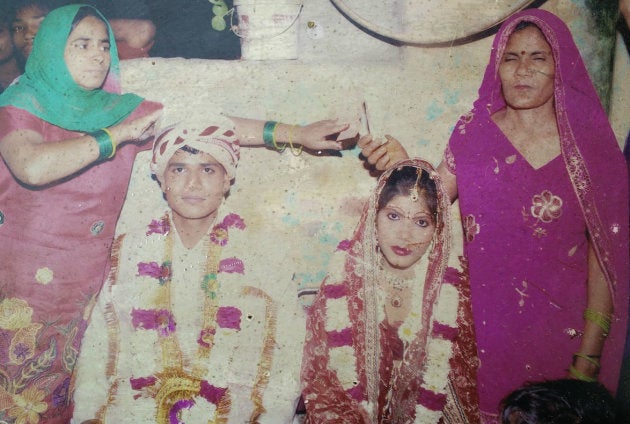 "People don't want to hire them as helps as they have babies. And they have no education or skills to do any other job. It's very difficult for them," he said.
Mithilesh Behnwal had to leave Delhi after her husband died cleaning a sewer near Pragati Maidan in Delhi. "We couldn't afford rent and I moved back to my mother's home in Meerut," she said. Her twelve-year-old son had stopped going to school for a few weeks when HuffPost India met them last year.
She said, "The soles of his shoes have completely worn out. He had been sticking them with glue for the past 5 months and now they won't stick."
Popular in the Community