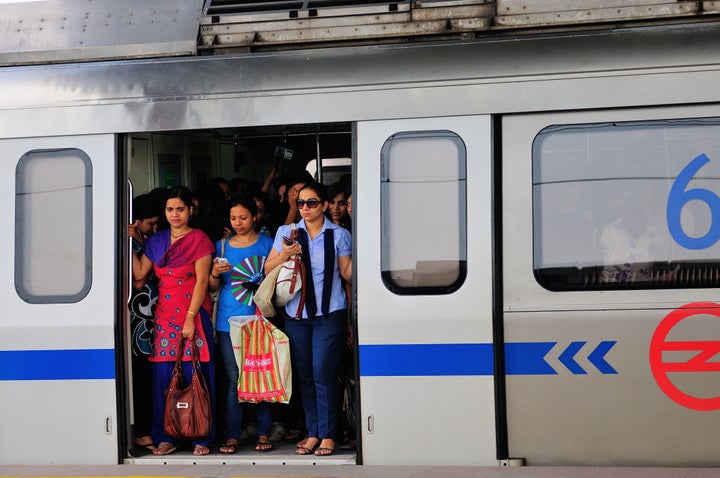 Chief minister Arvind Kejriwal's announcement of free rides to women on the Delhi Metro and public buses predictably led to some approval and much criticism last week. While the opposition criticised the move for being aimed at the state elections due next year, others questioned the burden on the taxpayer and asked why this was being limited only to women, and not children or senior citizens.
This is not the first time AAP has said it would give concessions to certain sections for using public transport. In 2015, its election manifesto had promised concessional passes on the metro and buses to "senior citizens, students and persons with disability". This, however, faced a hurdle after a 2016 committee report on fixing fares did not recommend an additional discount due to technical limitations (the Automatic Fare Collection system, the report said, would not recognise the elderly/persons with disability).
Three years later, it's obvious that the AAP government's far more ambitious plan to offer free rides to all women will bring its own share of challenges. That's why it's imperative that the government use this opportunity to address the issue of women's safety as well. Whether election gimmick or not, the free ride policy is a welcome step, but it cannot operate in isolation if the ultimate objective is to get more women to occupy public spaces. That can only happen if the government also emphasises safety initiatives on these transport systems.
In a city that has the reputation of being unsafe for women, that will be the best way to ensure that the welfare scheme actually manages to empower women in the long run.
Delhi wouldn't be the first to offer such a scheme
New Zealand and the Netherlands have also offered free public transport, although on a much more modest level—the former for a day to celebrate hitting a patronage milestone and the latter for a weekend to mark book week celebrations, where the traveler could present a particular book in lieu of a rail ticket.
So there is some sort of a global precedent to this decision, but even then, there are elements in the Delhi government's policy that set it apart. First, this policy is not limited to a specific day or days. Second, unlike Indonesia or the Netherlands, it doesn't have any social qualifier attached to it. Third, it is only offered to one section of the population, suggesting that women's safety is at the core of the idea.
Why the Delhi government should concentrate on women's safety
We found that nearly 64% of female and 85% of male respondents found public transportation and spaces to be more accommodating for men than women. And nearly 75% of women respondents did not feel safe using public spaces (including parks, malls and bus stops) as freely as men did, a sentiment echoed by 51% of the men.
We also examined the relationship between the perception of experiencing sexual harassment harassment versus actual reporting of harassment at four specific locations (metro/bus; taxi/auto-rickshaw; roadside; public space).
While respondents rated both public (metro/bus) and private (taxi/auto) transportation highly in terms of perceived likelihood of experiencing sexual harassment (88.1% and 85.9%, respectively), what was notable was that the actual prevalence of sexual harassment was more than twice as high on metro/buses (79.2%) compared to its occurrence in a taxi/auto-rickshaw (38%).
Studies from Brazil (2017); Chile (2018); New York (2017); and Nepal (2014) also show that sexual harassment is highly prevalent on public transport; is often concentrated at the busiest central stations; occurs during rush hours, in overcrowded places, and often during all stages of a young woman's subway commute to and from college, including waiting for and riding on the bus or metro.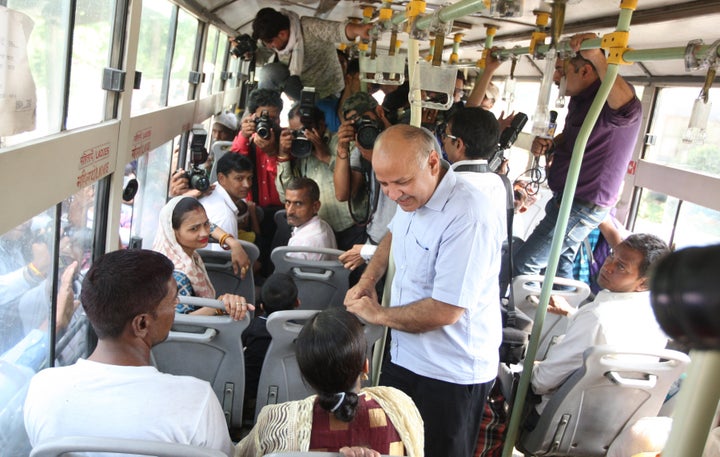 There are multiple anecdotal journalistic accounts as well that point to the disruption and suffering that travelling on the metro can cause (recommended reading: here, here and here).
So what should the Delhi government do?
The Delhi government will have missed an opportunity if it does not leverage the heightened interest in using public transportation with this policy by also considering women's safety at the central stage.
We must invest in creating a culture that augers for everyone to use public spaces and live their lives without women having to fear sexual harassment or assualt.
Here are some recommendations to the government to strengthen the free-ride policy implementation and increase participation from the general audience in anticipation of its long-term success:
To study the feasibility, instead of a full-scale implementation, the government should first consider implementing a three-day trial period on specific routes that generate low to moderate to high footfalls. During this trial phase, also determine how many new users came aboard as a result of this policy for future estimation.

To generate citizen confidence, initiate public awareness campaigns highlighting how public transport has become more accommodating for women.

To ensure women's safety, highlight structural changes within public transportation that offers support to female riders, particularly to late-night travellers or those travelling during rush hours.

Initiate campaigns (banners/posters) on public transportation highlighting them as "zero-tolerance zones" with information on how to report an incident; how they are handled within the existing legal framework (e.g., IPC 294, 354, 509); and how to seek victim counselling services.

There is growing research evidence globally that shows that members from the LGBTQ community are at high risk of sexual violence. The Delhi government should consider widening the policy's audience to this minority population, especially transwomen, as well.

As indicated by Deputy CM Manish Sisodia, "

Delhi Metro is a necessity, not a luxury, for Delhi's residents

." The free-ride policy, if sustainable on a long-term basis, must be inclusive to reflect gender equity as well as equality to include all of its residents.

Lastly and importantly, initiate assessment studies on female riders using public transportation before and after the free-ride policy implementation and conduct rapid evidence assessment to measure overall outcomes.
Popular in the Community