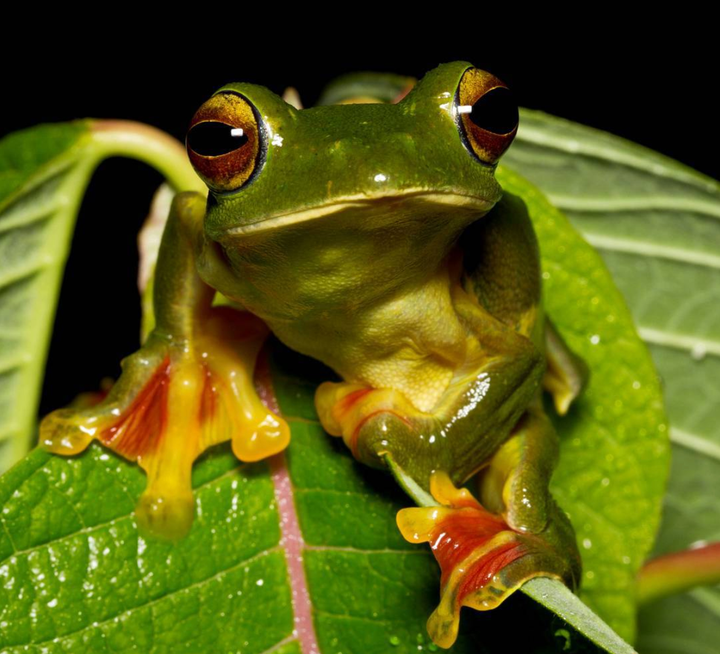 BENGALURU, Karnataka—"There's some good frogs here," Sanjay said from the wheel of the jeep he was driving through heavy monsoon rains in the direction of Sunset Point. It was early September and unlike us—we'd arrived in Guddukeri (a small hamlet in the environs of Agumbé Rainforest in Karnataka) on the train from Bangalore that morning—Sanjay was on his sixth visit since March. A software engineer with SLK Group, the frog bug had bitten him.
Back at Hingaara–The Nature Stay in Guddukeri, more frog enthusiasts were gearing up for the long night of frog photography ahead. People carrying SLR cameras strolled around the property, tripods rested against a bedroom-apartment door or boot of a jeep. An air of anticipation hung around the twelve-strong wildlife-photography tour group.
Over dinner, our host Shashank Hegde broke the news that a forest department ban had ruled out many of the local trekking options. For three consecutive years, a lone tusker elephant had been making Agumbé's rainforest his Monsoon habitat.
The guests weren't concerned—they needed go no further than the nearest puddle for a spot of 'frogging', as they say in the community. Hegde explained that the recent interest in small species as a way for people living in Bangalore to enjoy nature on Facebook and Instagram. The social media values encapsulated in #goexplore, #adventureseeker or #lovetotravel motivate others to get up and go to the Western Ghats.
Animal photography has been popular for a long, long time, but small creatures like frogs and reptiles were often beneath notice. Today though, as social media makes it easier for amateurs to showcase their work, things have changed, particularly over the last couple of years.
"Frog photography started coming up two years ago," he said. "That's when people were getting into macro."
Bleary-eyed guests sitting at the next table had been photographing frogs on Shashank's property until 3am that morning. These were likely candidates for tagging their Instagram uploads with #natgeoyourshot.
In the 'attention stream' created out of the scroll up, down, and swipe screen experience, NatGeo's 2 million Instagram followers gives #natgeoyourshot more than some sway. Surprisingly, #Hingaara on Instagram shows barely a photograph or two of the house, which at 350 years old and fully restored is no slouch, photogenically speaking.
Instead, there are macro shots of frogs, snakes and insects, evidencing a turn away from the food and destination shots that dominated online travel photography until very recently.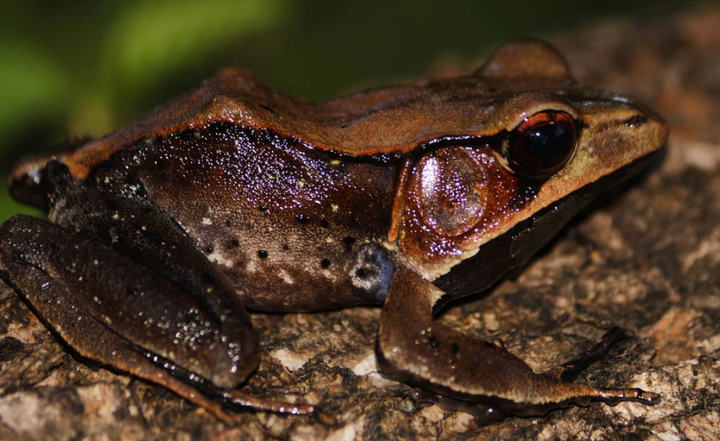 Walking with living fossils
On our second evening in Agumbé, we ventured into a neighbouring plantation on a night walk with Hingaara's naturalist Girish Gowda. The night air boomed with mating calls of frogs ranging in size from a fingernail to a closed fist. In this uniquely immersive experience, I wondered if we were witness to a couple-of-hundred-million-year-old sonic environment.
"Frogs are living fossils," explains Sathyabhama Das Biju, an amphibian biologist known in the media as 'the frogman of India', in an interview with Forbes Life India. "They are among the few living beings with us who have witnessed all the five mass extinctions."
Despite their longevity, a third of amphibians around the world are threatened, owing to habitat destruction, chemical pollution, climate change, disease and invasive species, according to a report. "In the Western Ghats the threat level is high for an estimated 40% of amphibian species, even as more are being discovered," it states.
And there is a lot of diversity that's easy to spot. In a visit to a plantation, we spotted the Blue Eyed Bush Frog/Coorg Yellow Bush Frog, a Malabar Gliding Frog and a Knob-handed Bull Frog, and initiated ourselves into #frogs of India# photography with our camera phones.
A Water Droplet Frog was heard but not seen. An arboreal creature with a preference for high tree canopies, the first recorded sighting of it to catch my attention online involved a frog spotter who admitted to finding it difficult to photograph 'while balancing high on a tree branch with a torch and camera'.
On the plantations in the area, you'll find banana, arecanut, vanilla, coffee and pepper trees, and there can be up to 10 frog species. Towards the end of the frog tour, we came across the rest of our party huddled in the dark in a corner of the property, their cameras pointing in a single direction. One of them rushed over to Gowda, and scrolled through some frog images on the camera's rear LCD screen.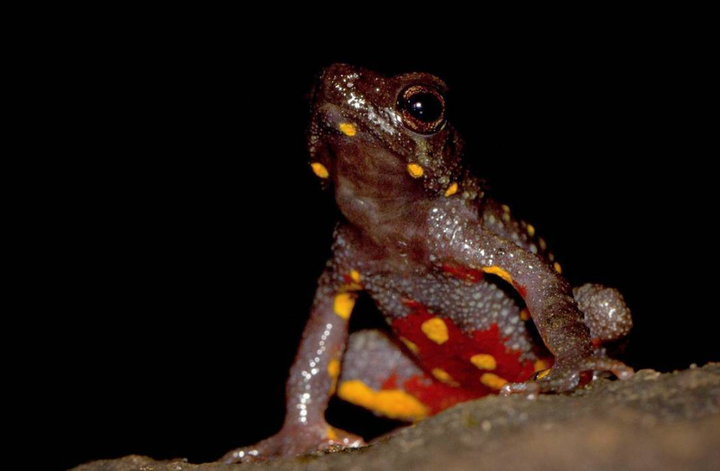 His Nikon was accessorized with a DIY diffuser, made from an A4 sheet of foam paper, of which Gowda had a large stack in standby, and resembling an Elizabethan collar, or pet cone. The camera was also very visibly dripping wet. When I asked him if it was waterproof, he replied 'not really' with little concern before returning to enthusiastically sharing his screen captures. It was difficult to discern if his high was coming from frogs or photographs of frogs. When I asked Gowda later if the serotonin levels on this night were higher than normal, he said not at all.
Instagram is like a competition
By phone a few days later, I had the chance of returning with Gowda to the subject of Instagram frogs. When I asked him about amphibians and reptiles' recent admittance to forms of wildlife photography that were previously fixated on charismatic animals such as tigers and elephants he explained the kudos accruing from the physical demands of shooting smaller species.
"You need to walk a bit, you need to shoot in between rains and stuff, it's the challenge of shooting in the Monsoons," he said, adding that it was very different from shooting on safari. "Nowadays that's the easiest you can do, of all kinds of photography, if you have money, you have a camera, the right equipment, you just go out, you sit in a vehicle and you shoot, that's how easy it is, and a lot of organised photography tours are doing that."
And what diverts them from safaris to explore forest patches and small-acreage plantations? "Initially they see photos on social media, they are inspired by that to come down here and shoot," said Gowda. "It is pictures at the end of the day, that's what it speaks. More unique it is better for them. If they get likes, that is satisfaction for them."
When asked if the frog crowd were a fickle bunch moving quickly onto other subjects, he responded with the example of one guest at Hingaara who had returned 10 times in one monsoon, and he knew of many more people who had stuck to frog subjects for several years.
Having said all that, he was equally of the opinion that "For the majority, it is social media. That's how it ends. It's more of a competition: he has done, so I will do, and I will get a better one."
Macro photography in his estimation had "picked up too much" thanks to "people teaching others techniques online and cheap equipment you can add on to your main equipment, to get more detailed shots."
"The craze for wildlife photography has increased, but unfortunately, there is no understanding of ecology or animal behaviour amongst most photographers."
But it doesn't always follow that photographers educate themselves about species protection and habitat preservation.
"Not many are concerned about what happens to the frog because not many are aware of it. What happens if I shoot hundreds of flash at a frog?" Although the rising documentation of frog species is a boon to researchers, having huge numbers of tourists descend on a place can also cause problems.
"The craze for wildlife photography has increased, but unfortunately, there is no understanding of ecology or animal behaviour amongst most photographers," Ramki Sreenivasan, co-founder of wildlife portal Conservation India, told Livemint.
"Most photographers probably don't even think about their impact (ecological footprint) on wildlife habitats, and may regard animals simply as models that exist for their photographic pleasure."
Initially, Gowda was also first and foremost interested in photography but became bored quite quickly with the same photos of the same things, and started to spend more time with the subject in order to understand its behaviour and shoot more naturalist images.
"I was into IT, I had money and I used to come here as a stress buster," he said. In the intervening years, he's gone from being a guest at Hingaara to its on-site naturalist and is hugely popular with both Instagram and Science communities for his wildlife photography.
While he often leaves his camera behind when accompanying guests on nature walks, he still uploads occasional images to Instagram.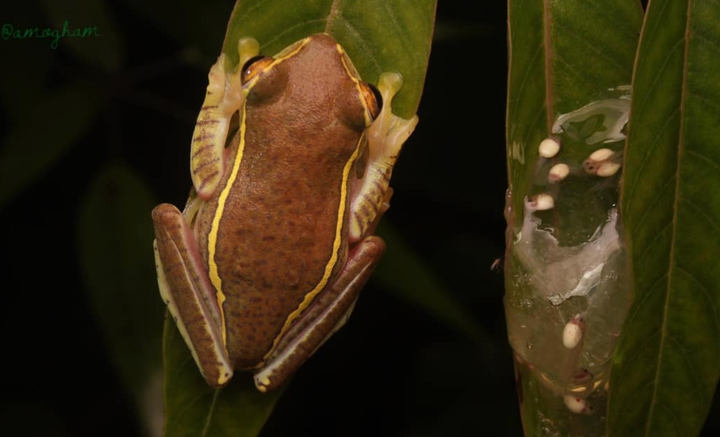 While one shouldn't entirely take Gowda's comment that "everything I've learned I've learned on FB" at face value—since on our nature walk he also referred to frog findings published in research journals—both proprietary and citizen science collaborative web platforms had nonetheless provided him with opportunities for identifying species and learning about their behaviours and habitats.
"Mine is more of online discussion with people, so I'm part of lots of WhatsApp groups, lots of Facebook groups," said Gowda. "I keep sharing photographs, I keep seeing photographs from other people. That's how I keep myself updated, it's more of interaction with a lot of people, not one set."
How Orkut helped an academic stop using traditional British textbooks
Self-taught experts like Gowda now co-exist with trained academics who have been studying the field, such as batrachologist Gururaja KV. "They are pioneers, they have mentored a lot of kids, they're active online," Gowda said, describing Gururaja's contribution to scientific research and citizen science.
Not only had Gururaja discovered a new frog species in the first year of his PhD, he is co-founder of Frog Watch, an online platform designed for members of the public to upload frog images and observations, and is an adjunct scientist at Gubbi Labs, a Bengaluru based a research collective started in 2010, and involved in diverse projects such as a mapping exercise for the Bhadra Tiger Reserve, or developing a bus-based transportation system in Tumkur, Karnataka.
In a country where wildlife conservation and ecology awareness is disproportionately focused on tigers, their habitats and other charismatic mammals, Gururaja is recognized for extending Citizen Science initiatives to include the smaller species.
For Gururaja, the engagement with photography and social media started early. He credits user uploaded photographs to Orkut, an early social media avatar, as a factor helping him to come out of a 100-year-old habit of using traditional British books on fauna in India for visual reference points.
I met with Gururaja in a shared faculty workspace at Srishti Institute of Art, Design and Technology situated in a northern suburb of Bangalore. I asked Gururaja if the Instagram 'school' of photography had given anything to science. "Contribution wise it's humongous; you're building a map, you're seeing so many frogs in different localities, and that's a great way for conservation to happen because you can understand the spatial extent of where frogs are found," he said.
The story behind the Malabar Tree Toad is exemplary for Gururaja. First sighted in the 1800s, between its rediscovery 100 years later and 2004, only 4 sightings had been reported with hardly any recorded knowledge relating to their lifestyle.
This is when Gururaja set up an online portal, naming it Mapping Malabar Tree Toad. "What I did, I said, guys whoever you are, take a picture let me know where you have taken it and just post," he said.
Today, 55 photographs taken in different locations in the Western Ghats have been uploaded to the portal and the species has consequently been delisted from endangered to common species. 'This where I really appreciate the photographer," he said.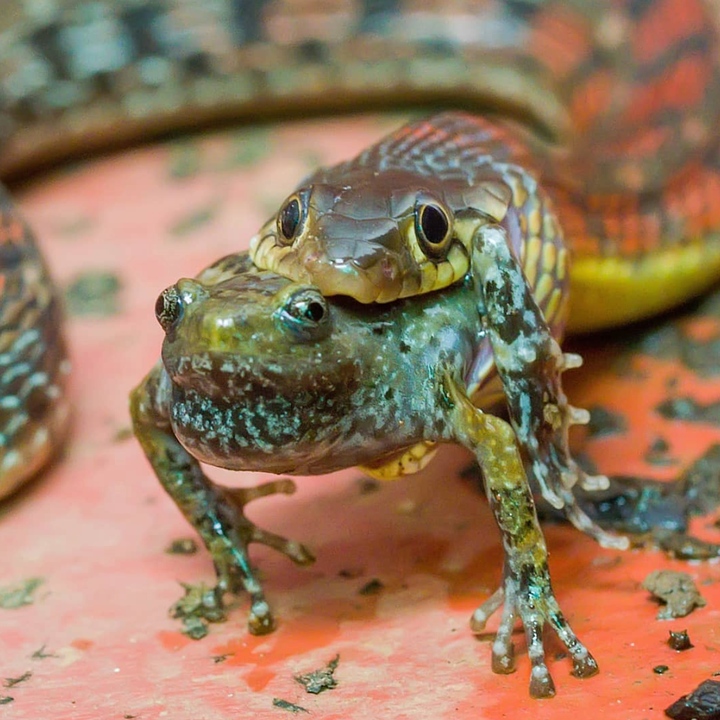 Gururaja himself is more likely to upload images of frog stamps, postcards and greeting cards than of actual frogs to his Instagram account. For now, he has decided to use the platform to illustrate how frog representations are embedded in culture. But that has not dampened his love of frog images taken in the field: "if someone has taken a good photograph of a frog, there's nothing like that right?"
And he remains attuned to what makes frogs such appealing photographic subjects. "Their eyes are so beautiful and the colouration might actually be what captures attention compared to any other animal. There are multiple things that come up with macro photography, it's another world that gets exposed."
Can social media spur conservation?
Facebook and Instagram have the advantage of getting to people that information that tells them what's in their backyard. "If people know what is in their backyard, they're aware and they'll protect it," Gururaja points out. He's of the firm belief that "science will come up only when it is shared and many people participate in it." Many who follow or upload on Instagram and FB will come into contact with other dedicated platforms such as India Biodiversity Portal or iNaturalist.
Citizen scientists such as Gowda, who upload across platforms are aware that their actions are not simply vanity exercises, and that they are contributing to open access research and conservation, simultaneously keeping themselves updated and updating India's biodiversity database.
In our conversation, he alluded to the behavioural photographs posted by hobbyists online that have lead to scientist authored research papers. This echoes his own experience of having researchers who have viewed his social media feeds asking him behavioural questions: "they ask what did you see next."
While not everyone using the popular hashtags #frogs of India #frogs of Karnataka #frogfriends #frogs of Instagram and so forth are necessarily learning anything beyond taking the trophy frog shot, and regardless of their motivations for doing so, they are taking part in an unprecedented collective documenting of frog species, behaviours and habitats.
If, of the 450 recorded frog species in India, only 220 have IUCN status, then the knowledge gap affects 50%. This for Gururaja is the "plus point of Facebook and Instagram posts," since they are sources of data for concluding whether a species is endangered, vulnerable or least concerned.