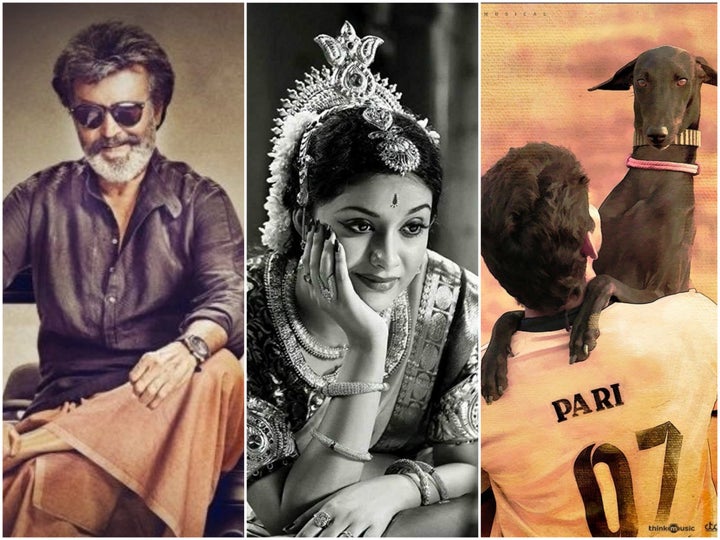 2018 began like any year does in the Tamil film world with popular male actor-led love-action fare like Gulebagavali, Sketch and Thaanaa Serndha Koottam, occupying large screens. Vijay Sethupathi had five releases this year, Prabhudeva and Jyotika had three, and Rajinikanth, Vikram, Vishal and Nayantara had two films each in lead roles.

Yet this year also saw many miracles. Both Jyotika and Nayantara featured as police officers — ones with agency for a change, something that women cops are rarely attributed with in Tamil film scripts. With Seethakkathi's release, Vijay Sethupathi has played a virgin, a cop, a frugal don, the god of death and an aging actor all in one year! Keerthy Suresh too deftly juggled the wide range of roles that were offered to her — from playing the incredibly layered Savitri in Nadigaiyar Thilagam to the role of a motion poster in Sarkar.
2018 was also a deeply satisfying year at the movies. Here's my list of the top Tamil movies of 2018 thus far, in the order of my preference — most-preferred first.
Pa. Ranjith does what he is great at — telling stories of marginalised groups empathetically, and entertainingly within the mainstream cinema structure. He shows you the realities of caste in contemporary Tamil society, without reducing it to a melodramatic portrayal of oppression.
What makes Kaala magical is its people. For instance, Kaala's wife, Selvi comes dangerously close to the stereotype of the 'nagging' wife — much like Dr. Vaseegaran's girlfriend in the Endhiran films. Yet, Pa. Ranjith makes Selvi a woman with so much heart that one can hardly be irritated by her. Every single character has a story to tell, a life to live and a purpose to serve. In making a film about community, Ranjith doesn't compromise individual rights, freedoms and narratives.
Postmodern black humour is a much revered sub-genre in post–2000 Tamil cinema — remember how Soodhu Kavvum (2013) had film aficionados and critics frothing about the new wave?
True to genre style, Nelson Dilipkumar subverts everything Tamil cinema holds sacrosanct — horrible rape 'jokes' included. Kokila, played with deadpan innocence by Nayanthara, is a risk-seeking morally ambivalent anti-hero. While her performative innocence is killing men by the dozen in the film, she isn't fooling the audience one bit, taking them on a journey unlike any other. A stalking hero reduced to a comedy piece, an unstable smitten youngster, a cop's wife held as bait in blackmail, drugs, murder and an untethered escape, Kolamavu Kokila is a thorough delight if you're up for something different!
Nadigaiyar Thilagam, written and directed masterfully by Nag Ashwin, is a period drama that brings the past to life quite adequately — in that the set pieces and retro styles don't take anything away from the heartwarming story it sets out to tell. The biggest success of Nadigaiyar Thilagam is its ability to take us through the ups and downs of Savitri's life with empathy — even solidarity — for her ambition, career, confidence, love, kindness, failings, charity and vulnerabilities.
Add the equally heroic journey of Maduravani, the journalist played by Samantha, to the mix and Nadigaiyar Thilagam is among the most emotionally satisfying films of 2018.
Once you've met him, it is nearly impossible to forget Pariyerum Perumal BABL mela oru kodu (Pariyerum Perumal, BABL with a line on top). While being undeterred in speaking truth to power, the film is also a gut-wrenching combination of hope and cynicism. Mari Selvaraj shows us the realities of caste and the violence perpetuated in its name. The climatic reconciliation, even if a cinematic necessity, doesn't restore the film's world to an ideal state. It's as if they are telling us there is no ideal state.
There seems to be no 'hero', no 'villain' — only an environment that fosters and perpetuates caste-based atrocities. Yet, I can't help but wonder why they felt the need for a heroine. Jo's portrayal as an 'innocent' heroine, who remains blind to her surroundings even while the world around her is fighting to control her body, is slightly out of tune with the film's realism.
The long-awaited first edition of the Dhanush-Vetrimaaran trilogy combines the stylishness of neo-noir and confidently non-linear storytelling with an observant rootedness in the milieu it is set in.
There is plenty to love about Vada Chennai, yet the one thing that keeps me coming back is that the film is a challenge to watch. Vetrimaaran challenges you to focus, remember and travel along with him as he throws open complex situations in front of you. You can't file away each scene thinking its work is done, for it will be needed to make sense of something in the future.
The joy of watching Vada Chennai is in seeing them all get tied together in the end. If you really paid attention, the payoff is worth it!
The vulnerable man — scared, shy, reticent Ram who seems to only want the masochistic pleasure in longing. The discontent woman, Jaanu, who taunts the boundaries of self-control while she is with Ram yet returns to what she knows is a comfortable life. Jaanu is, in fact, a bit of a bully, a self-serving sadist, who manipulates Ram and tests him at several scenes in the film.
But what makes 96 work is that Prem Kumar presents all these imperfect characters and uncomfortable realities without judgment. He places complex romantic notions within the boundaries of modern-day soul-crushing realities. 96 is a scrapbook of all things that make up a difficult life. As a scrapbook, it's good company for a lazy Sunday afternoon.
Naachiyaar is what happens when Bala makes a film for the general audience. It is softer — the violence muted (by Bala standards), the ending hopeful, and the only truly gory death being that of the villain. Yet, the film retains the truly distinguishing factors of a Bala universe — a brutal rape, an oppressive society, omnipresent violence, and nearly everyone evil, albeit in varying degrees.
The eponymous role, played by Jyotika, was widely criticised for simply being written as a man in a woman's body. In first viewing, that interpretation is natural. But, to me, what Bala says through the film is that for women in male-dominated careers, this shift is also largely inevitable. He isn't asking women to be a man in a man's world, he is showing us that the tendency is unavoidable.
In that, Naachiyaar is an unlikely cop story. The hero isn't instantly loveable. The victims aren't spotlessly pure. The value-system isn't agreeable. But there is certainly heart and skill in the telling.
Popular in the Community