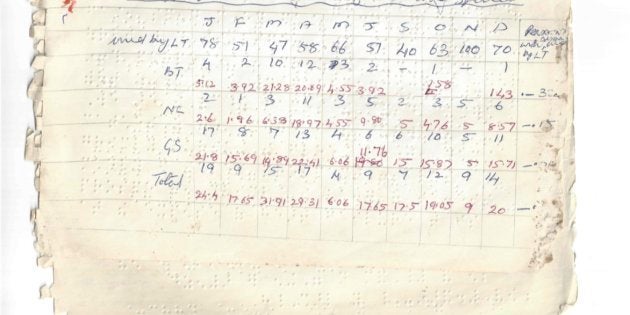 BENGALURU, Karnataka — Walking into what looked like a disused laboratory at the National Centre for Biological Sciences (NCBS) in Bengaluru, Venkat Srinivasan looked back with an apologetic smile. "This is just temporary, while we prepare the space downstairs," he said.
The room still had some equipment, but that was not what we were here to see.
Srinivasan is in charge of the upcoming scientific archive at NCBS, housed in the institution's basement. It's a gleaming, pristine space. The old lab we are in is doing duty as a storage unit, while the archive readies to open next year.
So what is the archive for?
"We keep saying 'archives enable diverse stories' as a way to think about the various aspects of the archives and how we consider what to do at each decision-making stage—what to archive, whose material, what to conserve, how to describe, what to digitise first, and so on. Preserving is great for posterity and such but there is, of course, the hope that they will get used or be relevant in the future," explained Srinivasan.
Srinivasan also hopes to build connections with other repositories around the country, and create an interconnected digital archive of science, rather than just an institutional archive
But beyond that, Srinivasan also hopes to build connections with other repositories around the country, and create an interconnected digital archive of science, rather than just an institutional archive.
The archive already holds letters between some of India's foremost scientists, Homi Bhabha and Obaid Siddiqi, along with much of the lab equipment that Siddiqi—whose work (very broadly) includes research on genetics and neurobiology—used in his work. But there are other documents, including a field note (from the early '80s) by another scientist from NCBS that Srinivasan wants to add to the collection—it's hard to decipher, and written on Braille paper.
To build the archive, Srinivasan has been working with a range of vendors, experimenting with different types of storage and ensuring that there are water detectors in place to warn against flooding (it is a basement, after all). Since Srinivasan is not an archivist by training, this also meant learning things like how much carbon dioxide is required to kill off all the bugs that might end up eating precious documents. These things are common knowledge to trained experts, but for this team, it has been a chance to learn something new and exciting.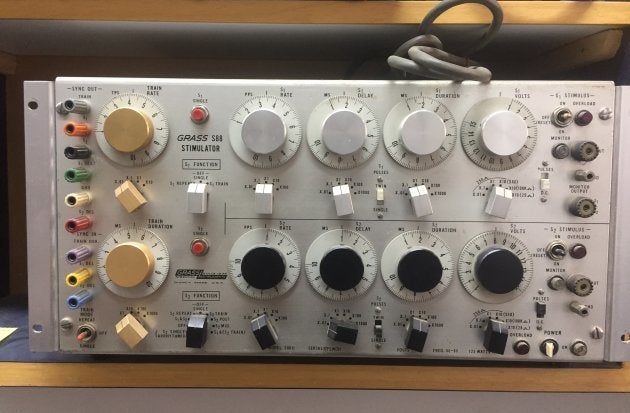 "We've been learning all kinds of interesting things over the course of this project, like the amount of humidity that's good for a document—because if it's too moist, it could encourage insects or fungus, but if it's too dry, the paper will become brittle," he said. "We learned about how CO2 kills bugs. We've also spent a lot of time figuring out the categories and cataloguing, because that is what ultimately enables people to make use of the archive."
Building the archive
The old storage room looks like a graveyard of gadgets, like something out of an old science-fiction show, full of CRT displays, large knobs and switches, and a huge collection of optical devices. There's a small wind tunnel resting on a formica-topped workbench, with an improbable flower-print on the inside. A Grass S88 Stimulator is literally covered in dials, switches, toggles and jacks. Used for electrosensory stimulation testing, the machine looks ancient, but actually, this kind of device is still being used. It's part of the materials that NCBS has been gathering ahead of the launch of the archive.
In the basement, the archive is a relatively small space, with a room dedicated to processing new materials, an office for researchers, a display space to house some materials and a dedicated archive space for the catalogued resources.
What we are utterly grateful for is the generosity of the broader archives and conservation community in India and around the world.
"We had to figure out a lot of this stuff from scratch, so I've spent a lot of time studying about the effects of moisture and temperature, because okay, conventional wisdom is that you have this setting which you use, but we had to know why, so that no accidental mistakes take place," said Srinivasan. "What we are utterly grateful for is the generosity of the broader archives and conservation community in India and around the world. Everything we know is through conversations with this tribe. I know it makes it sound like one annoying happy family. But we are grateful."
The archive is maintained at 22-degrees celsius (71.6 Fahrenheit), at 50% relative humidity. "We are playing with these parameters, the critical thing is not so much the actual set point (as long as it is reasonable) but the deviation range," he explained. "Stability is key."
This is done using air conditioners and dehumidifiers placed strategically through the rooms, with a wide range of sensors. There are sensors kept near the pipes to check for floods, and there are smoke detectors in case there's a fire, apart from temperature and humidity sensors.
At some point, the alarm went off, and Srinivasan noted that the temperature was two degrees too low, causing the humidity level to get a little high. Fixing small issues like this are an important part of building the archive, along with collecting and cataloguing materials.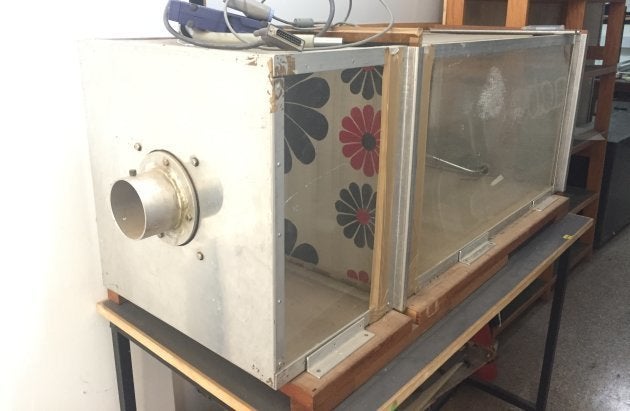 "One of the things we've learned is that the old Godrej cabinets, which used to be in every house, are really great for storage," Srinivasan said. "A lot of documents have been stuffed into cupboards that people forgot about." And as it turns out, although the archive at NCBS has plenty of modern storage, there's also a small collection of old Godrej cabinets stacked against one wall, which Srinivasan said would come in handy as well.
Enabling diverse stories
Telling the stories of the archive has been made possible by the efforts of various people—Srinivasan stressed this fact, and said that 35-40 students from across India worked to make it possible, many as volunteers.
"We have had about 30 students in 12 months, from the following disciplines: journalism, physics, chemistry, biology, biotech, education, law, graphic design, space design, sociology, history, marketing," he said. "The archives are, of course, a space for preserving histories, recording context and process, and enabling story telling. But I think the archives (anywhere in the world) are a fantastic, critical, under-utilised space for sensitising students about historical context. And the archives get to learn from the students' experiences and world views."
Most of these volunteers have moved on, but there's still one other scholar working on the archive. Renuka Kulkarni—like Srinivasan—has many roles out of necessity. A former journalist, she has also studied zoology and later, biodiversity, before joining the archive. "On Day 1, I was straightaway packing the books and files in Obaid Siddiqi's office. Today, I'm folding cardboard boxes to make controlled environments to store the documents in," she said.
Why wasn't Siddiqi known about more? I had never heard of him while I was studying, even though he was very significant in his field.
Kulkarni, in an article for IISc Bengaluru published a few months ago, wrote how she would see a replica of the Raman spectrograph, invented by Nobel Prize-winning Indian physicist CV Raman, which was used to obtain the first spectrum of lights scattered by liquids in 1928. The story behind the device, which was created when Raman was pondering over the vivid blue of the sea during a voyage in 1921, had been missing in more contemporary scientific history.
"Why wasn't Siddiqi known about more? I had never heard of him while I was studying, even though he was very significant in his field," she said.
This ties in to the larger goal of telling diverse stories that Srinivasan spoke about.
There's Ajith Kumar's field note on tree-dwelling mammals, which stood out because it was written on Braille paper. Further investigation showed that Kumar had heard about a blind student getting free Bibles from a Church in the US. The paper used was thick and high quality—and free. Asking the Church for donations saw Bibles pour in, one day to be used for field notes.
This kind of material could be used for various narratives, whether scientific or anthropological, if connected to materials stored across different repositories. "Many archives in India are generally institutional archives. We are positioning this archive along thematic lines," said Srinivasan.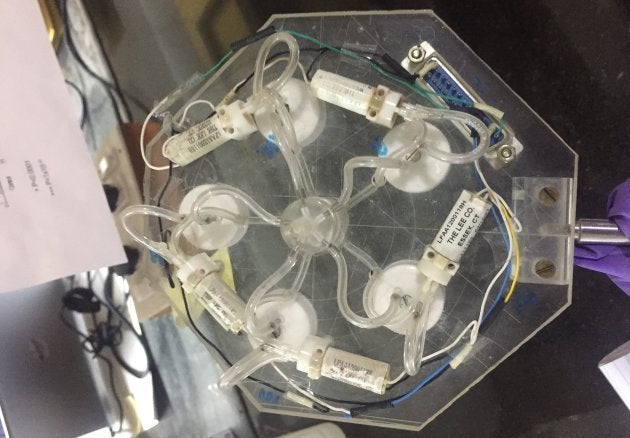 The Indian Institute of Astrophysics (IIA) has documents from the Madras Observatory, with handwritten manuscripts of its 1792 Annual Report, and a copy of Johannes Kepler's Astronomia Nova, first published in 1609. "Once we have launched the archive, the goal is to create a network of archives, starting with the city and then growing maybe, so that people will be able to draw the connections required for new narratives on a broader scale," he added.
Inside Godrej cabinets
Right now though, the goal is to get the archive at NCBS up and running. Srinivasan didn't give an exact timeline, but said that it's probably still four months away. "I've been buried in administrative details, and meeting new vendors every day," he said. "It's very chaotic, and we're learning from scratch how to build the archive."
Along the way, funding is a challenge, although Srinivasan added that the sustenance of the archive at NCBS wasn't an urgent concern at this point. Like most institutional archives, it is seen as having enough value to keep going at least. "But the other funding that is more critical and interesting for many is toward the consortium plan, our proposed interconnected digital archive of science," he added.
More than that though, a big hope is that people will be able to give material as well. The lab-turned-storage upstairs has been steadily getting emptied, and Srinivasan hopes that people will give more material to help the archive grow.
That, and "realising that the innocuous object they may have curated and preserved over the years is layered with stories and could be of value in an archive", he said.
It will take a little time before the archive at NCBS is ready to display the hidden treasures in people's Godrej cabinets, though.
"I mean, we haven't really gone ahead with a public call for material because we are not quite ready to receive it. Structures need to be put in place, folks need to feel they can trust this space," said Srinivasan.