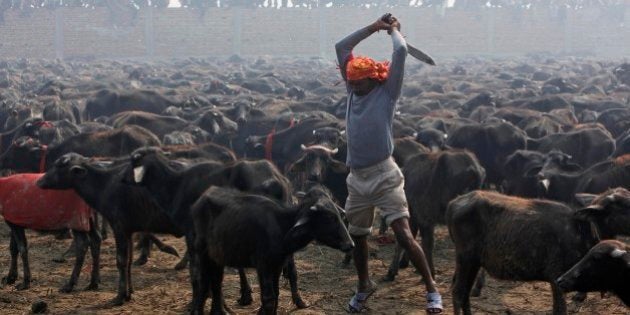 In what will certainly cheer both the Rashtriya Swayam Sevak Sangh and People For the Ethical Treatment of Animals, the Gadhimai festival, a quinquennial celebration in Nepal that involves the ritual slaughter of hundreds of thousands of animals, will from now on be a bloodless affair.
The Gadhimai's Temple Trust, which organises the festival said that its next edition, in 2019 will be "...a momentous celebration of life....and free from bloodshed."
It is estimated that more than 500,000 buffalo, goats, chickens and other animals were decapitated at Gadhimai in 2009, but in 2014 the numbers had reduced by 70 percent.
According to The Hindu, nearly four million people participate in the 300-year-old festival, with 80% of them from Bihar and Uttar Pradesh. Attending the festival in Nepal circumvents the ban on animal sacrifice in their own states.
The temple trust's decision follows rigorous negotiations and campaigning by Animal Welfare Network Nepal and Humane Society International/India (HSI).
In a press statement, Gauri Maulekhi, a key activist campaigning to ban the slaughter said "This is a tremendous victory for compassion that will save the lives of countless animals. HSI/India was heartbroken to witness the bloodshed at Gadhimai, and we've worked hard to help secure this ban on future sacrifice. "
She added that her organisation. the Humane Society International/India would spend the next few years, until the next Gadhimai "...educating devotees in the states of Bihar, Jharkhand, Uttar Pradesh and West Bengal on the temple trusts' decision not to sacrifice animals..."
In 2014, after the year's Gadhimai festival, HSI/India and Animal Welfare Network Nepal (AWNN initiated a global campaign against the practice that found support ranging from BJP minister Maneka Gandhi and 60s French sex symbol, Brigitte Bardot.
The campaign culminated in a decision by India's Supreme Court to prohibit the movement of animals from India to Nepal. The Supreme Court's order resulted in more than 100 arrests of those breaching the order, and more than 2,500 animals saved. Earlier this month the Supreme Court of India issued directions to states to set up mechanisms to prevent animals from being taken to Gadhimai in future and create awareness against animal sacrifice.
The temple trust Chairman, Shri Ram Chandra Shah, said in a statement, "Our concern has been this: how do we convince the people, so desperate for the favour of Gadhimai, that there is another way? How do we bring them on our journey? Thankfully, the dedicated efforts of the Animal Welfare Network Nepal (and Humane Society International?) has shown us the path and provided the motivation to make this transformation a reality."



Popular in the Community