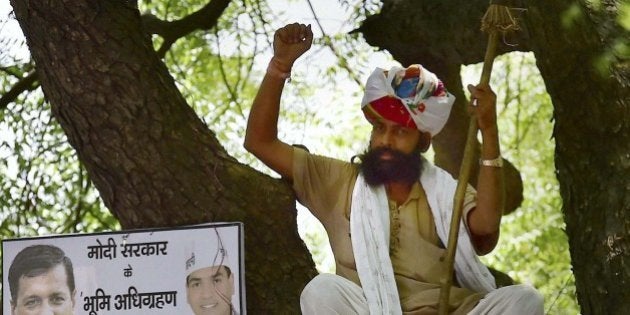 NEW DELHI -- Delhi Police are trying to piece together the last 24 hours of farmer Gajendra Singh's life by analysing his mobile phone data and questioning people to find out where he had visited and whom he had spoken to before his alleged suicide at Jantar Mantar.
One of the relatives of the deceased farmer, whose mobile phone number was found on Singh's call log, has told police that he was asked by him to switch on his TV as "something big was going to happen".
"The relative, who lives in Singh's native village in Dausa of Rajasthan, received a call from him at around 1 pm (on April 22). Singh had told him, 'TV kholo, dekho kuch bada hone wala hai' (switch on your TV, something big is going to happen)," said a senior police official associated with the probe.
Police said they are trying to ascertain whether there was a hint in his words as to the events that were soon to unfold during an AAP rally in Delhi. Some others who came into contact with Singh before he climbed a tree and tied a towel round his neck in the moments preceding the tragedy are also being questioned to determine whether he had showed any suicidal tendency.
Two eyewitnesses who had seen him climb the tree and three AAP workers who had scrambled up to bring Singh down are also being questioned, added police.
Police are also analysing Singh's movements after he left his Dausa home to reach Jantar Mantar. "All this will help us find out whether he had reached there to commit suicide or if it was an accidental death," they added.
Meanwhile, Delhi Police Commissioner BS Bassi on Tuesday rubbished media stories that a report has been sent by his department to Delhi government terming the incident an accidental death.
"As far as I know, Delhi Police has not sent any report to Delhi government. There have been some letters exchanged between the New Delhi DCP and the area's District Magistrate. As I have told you earlier, there is a confidentiality in this sort of communication and it will not be appropriate to reveal it," Bassi told reporters in Delhi on Tuesday.
He said that information would be shared "whenever there is anything in the course of investigation worth sharing".
Asked whether the organisers of the AAP rally or the Delhi Cabinet members who were present on the stage when the farmer allegedly ended his life would be questioned, Bassi said that the decision lay with the investigating officer in the case. New Delhi district DM Sanjay Kumar said they "will submit the report of the investigation on Friday".
Singh, a 41-year-old farmer from Rajasthan, allegedly committed suicide by hanging himself from a tree during an AAP rally against the land ordinance. In a note scribbled by him, Singh said he was thrown out of his home by his father after suffering crop loss.