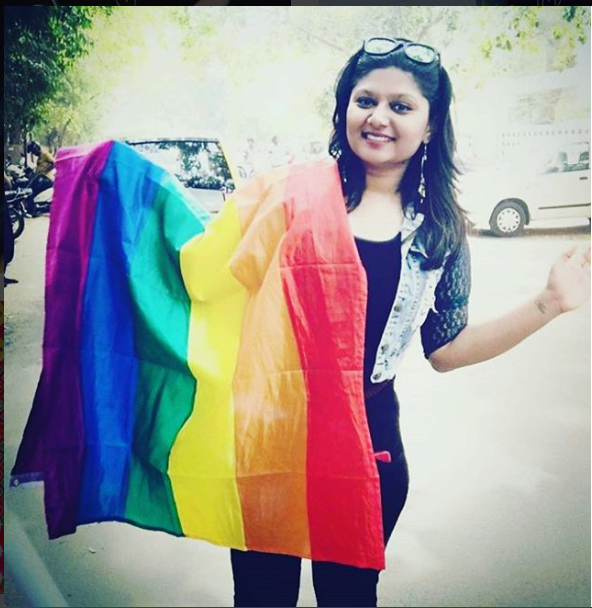 A version of this story was first published in July. It is being republished given the ruling by India's Supreme Court to decriminalize homosexuality.
In a culture where homosexuality is taboo but arranged marriage is common, finding love as a member of the LGBTQ community can be isolating and discouraging.
That's where 24-year-old Urvi Shah comes in. She is the founder of Arranged Gay Marriage Bureau, a website specifically for setting up same-sex marriages. Gay sex was considered a crime in India until this week, when the country's Supreme Court overturned a colonial-era law criminalizing homosexuality.
Shah headed her parents' initial wishes not to launch the business in her hometown of Ahmedabad in western India, launching in 2015 in Chicago instead. She then moved the business to Sikandrabad in northern India but has since taken it to her hometown. Today, the site boasts members from 24 countries.
Shah works as a matchmaker with clients, all of whom have come to her through word of mouth, she said. After setting up a profile and providing the company with some personal details and what they're looking for, users are set up based on interests and expectations. They might be matched with someone from the same city or someone thousands of miles away.
HuffPost chatted with Shah about her work, why she nearly gave it up and her hopes for the future of marriage in India and around the world.
How did you get started doing this work?
When I was in college at the Entrepreneurship Development Institute of India, we were asked to build a business project about eliminating a social issue. Some seniors were choosing women empowerment, education and other things happening in the country. I didn't want to copy anyone. I wanted to do something interesting that no one had done before. The LGBTQ subject is still taboo in Indian society. People don't want to talk about it. A lot of people don't even know homosexual people exist in the country, so I decided to focus on the LGBTQ community.
How did you turn that into a career arranging same-sex marriages?
I started doing my research and came to meet a group of [gay] people in Delhi who were above the age of 30. I asked them what issues they face in their lives from the beginning of their journey ― about being confused about their sexuality, telling their parents, if their parents accepted them, things like that. In our country, we do believe in arranged marriages. The system has been changing. More people are finding partners for themselves, as opposed to their parents, but there are a lot of things attached to it. For example, I'm Hindu. If I want to marry someone Christian, I'm not allowed to. India is based on communities and religion and everything. I thought, well, India has a lot of matrimonial websites, so I asked people why they don't join them, and I realized that none of them cater to LGBTQ people. I thought of creating one where they can find a partner for life.

My dad said he didn't know gay people existed in India.

How did your family react to your job?
My parents were in denial. When I told my parents I wanted to work for the LGBTQ community, they asked me what that was. When I told them, my dad said he didn't know gay people existed in India. My parents had never met anyone gay, and even if they had, no one had disclosed their sexuality in front of my parents. So I understood my parents were not educated about it. I made them watch some videos and movies, and slowly they started understanding the concept, but because my family lives in the same city as I did, which is very orthodox, they asked me to not start here and not to tell my family members what I do for work.
How did your friends react? Did you lose any friends or acquaintances after starting the business?
Every friend of mine initially went crazy. They were like, 'You cannot do this. Why don't you work in a bank? You have so much potential. You can start a business, but why this? You don't even belong to this community. Why the hell do you want to work for them?' But because they were also new to the subject, I knew they were just uneducated about it. I decided to educate them instead of cutting off friendships, and now they have actually started helping me. When there is news around the world related to LGBTQ people on Facebook, they tag me and share it. They have become much more supportive.

Every friend of mine initially went crazy. They were like, 'Why don't you work in a bank? ... You can start a business, but why this? You don't even belong to this community. Why the hell do you want to work for them?'
Urvi Shah
Did those reactions ever make you want to stop?
There was a time in my life when I came back to my home city, after starting the company for one year in Sikandrabad, when all my family and friends were against me and I was receiving threats. But on the other side, I was getting so many emails from the community, people registered with us, parents of gay couples who were liking my work so much. It was a complicated situation, but because I had blessings from all of these people, I decided not to stop.
What does your extended family think now?
My family is still not open to the concept because they think it is typically illegal and unethical. They are worried that since I work in this community, there won't be any guys who will marry me.
My parents are ready to face criticism from [the rest of] my family. They are very proud of my work. They have seen people coming together, living happy lives. They have seen people coming out of depression and are now living happily because of my work. So they are very proud. They don't understand it, but they accept it and love me more because of my work.
What's the best part of your job?
I am into consultation. I guide and consult parents. It's the most satisfying work because of the happiness I see from people when a couple falls in love and their parents start accepting them.
Have you ever dealt with families who maybe weren't so accepting?
I have seen families who are not ready to accept their child. I consult with them, but they fail because they are not ready to understand or willing to educate themselves. It's very disappointing, but we have a lot of success stories. If 99 percent of people are happy and 1 percent are disappointed, I understand. I'm not here to change the world and educate the world. I am just here to spread happiness among the people. I understand my parents' generation will not change their mentality, but the coming generation is definitely going to change.
This interview has been edited and condensed for clarity.
Popular in the Community