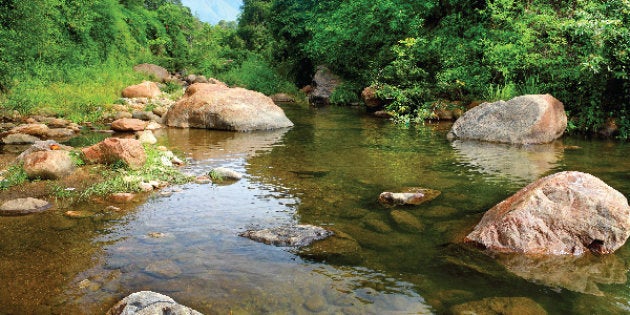 There are so many awesome things about Delhi winters -- a chance to bring out those jackets, boots, stoles, snug woollens, and other trendy winterwear; lots of parties and picnics in the park; and quiet foggy mornings that go best with piping hot chai, rewadi and gajak. Less welcome is the high pollution level as the cold and stagnant air, coupled with heavy fog, traps pollutants.
Luckily for Delhites and everyone else too, nature resorts are springing up around the country where one can escape the city and sample nature's bounty in the winter months. Here are some resorts ideal for an extended weekend getaway in the lap of nature -- you could be admiring stars on a velvety night in the middle of the forest, or dining by a gurgling stream, or be camped out amid miles and miles of sand dunes.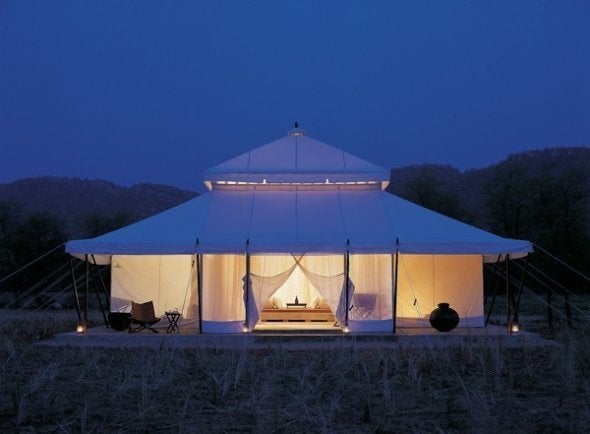 For those looking to add a spot of decadence to their getaway weekend, Aman-i-Khas presents an ideal solution. Perched quietly on the borders of the Ranthambore National park, this wilderness camp is open from October to May every year.
It features 10 luxury air-conditioned tents inspired by Mughal-era travelling tents, as well as a swimming pool for those who'd like to splash around amidst quiet dunes and brushwood forest. Open-top safaris and walking tours to check out the flora and fauna at the park are available, as are camel safaris, and yoga, reiki and meditation sessions.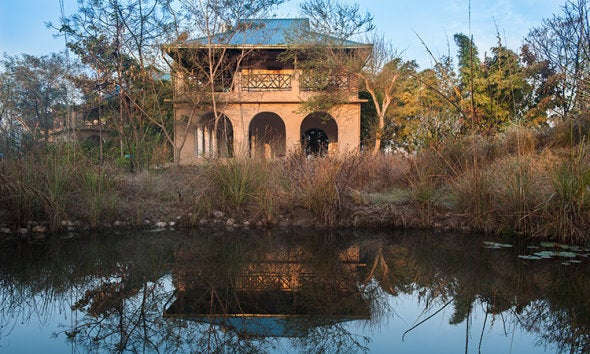 This quiet wildlife speciality lodge situated on the southern periphery of the Corbett tiger reserve offers excellent views of the nearby Shivalik Hills and the surrounding jungle area. For nature enthusiasts, wildlife films are showcased regularly, along with photography workshops. There are many kinds of safaris and walking trails. Fishing is allowed, on the basis that every catch is released back into the waters. In an attempt to build and spread awareness about forest protection, the property also sells various types of plants from its specially cultivated nursery.
The Gateway Resort Damdama Lake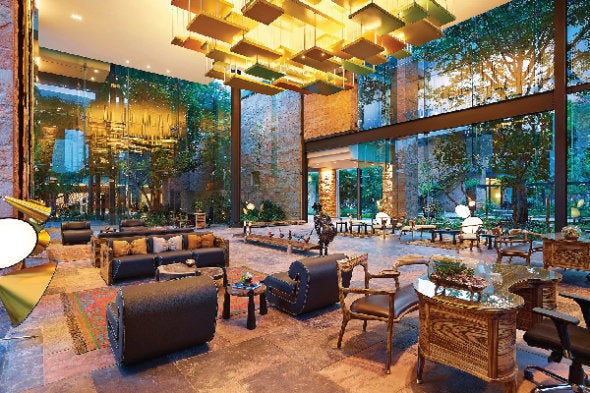 If you're looking for a quiet holiday with the kids, Taj's Damdama property that sits in the lap of the Aravalli hills could be ideal. The resort offers plenty of activities such as nighttime cricket, wall rappelling, archery, air rifle shooting and even hot air ballooning. There are also music and art workshops, and culinary classes. Over 250 species of trees grace the property, and it is a haven for bird watchers. Come November, open barbecue nights are organised, making it the perfect place to forget the city and its chaos.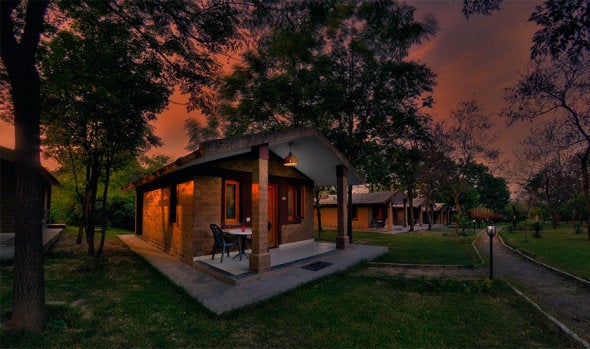 Touting itself as India's first private forest retreat, Kikar Lodge in Ropar is 330 kilometres from Delhi. The lodge offers horse-riding sessions and there are plans to launch a private horse-riding academy soon. Other adventure activities include quad biking, rappelling, paint ball, night safaris and zip lining (wherein one is hauled across a series of cable wires for a short distance).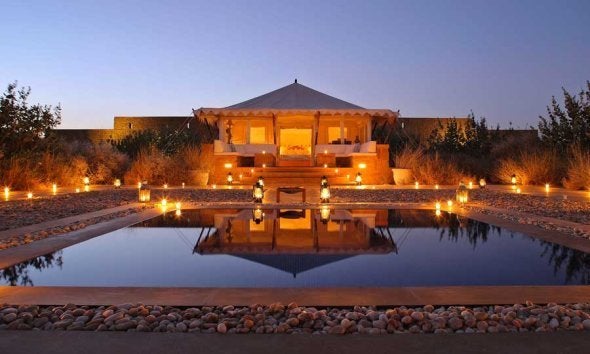 If you thought staying in a tent meant roughhousing it, you need to check out the luxury tents at The Serai in Jaisalmer. Six of the 20 tents on the 100-acre property actually feature their own heated sunken swimming pools with jacuzzi jets ensconced in a private walled-in garden. Once you've gotten over this surreal experience, you can actually enjoy by simply sitting in the middle of the great Thar Desert with nothing but a warm bonfire and millions of stars to keep you company. Or, choose to explore the rest of Jaisalmer's colourful local culture -- tailored experiences are available, as are camp safaris, desert drives and sundowners. You could also try to catch a glimpse of the rare Great Indian Bustard. It's a bit far out as weekend getaways go, but definitely worth a visit.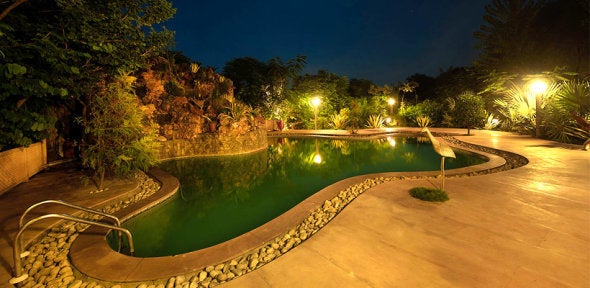 Jaipur would probably be the last place for someone to associate with overwater bungalows. However, the Tree House eco resort, situated approximately an hour outside Jaipur, has nine cottages that are built over small streams of water. One can actually see fishes swimming under their feet. When you've had your fill of the underfoot marine life, there are many activities to indulge in, including nature walks, golf, cycling, tennis and ATV riding. The owners have taken great pains to landscape the property's lush environs -- the tree house suites, for instance, are built around tree branches so that they are a part of the décor. Locals have been hired and trained to fuse traditional and modern methods of farming and maintenance, and over 5 lakh trees surround the property, ensuring bird song at every corner.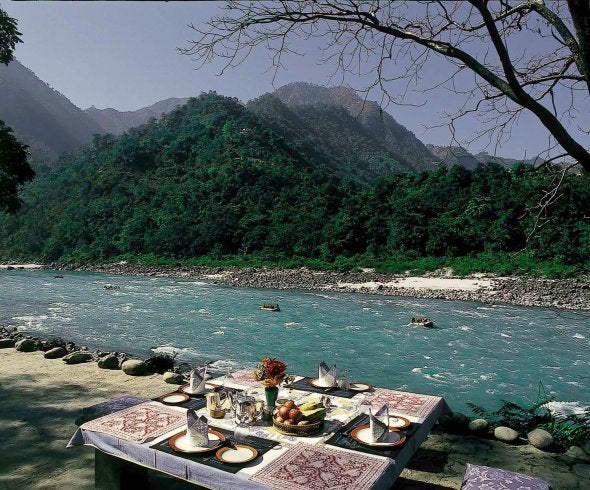 A private white sand river beach is what sets the Glasshouse on The Ganges apart from most other properties around Rishikesh. Owned by the Neemrana Group of hotels, the only sound you'll here is birdsong and the running Ganga outside.The property is situated amidst many mango and lychee trees and, in fact, a lot of produce is gathered from the trees and vegetation around to stock the kitchen. Simple fare and décor add to the place's charm (the main hall also features a well-stocked library). The usual sporting activities, such as whitewater rafting, rock climbing, cliff jumping, and trekking are all available through the resort.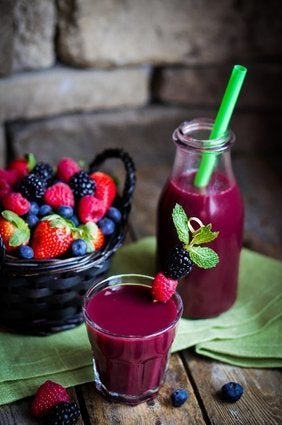 Refreshing Green Tea Drink Recipes
Popular in the Community