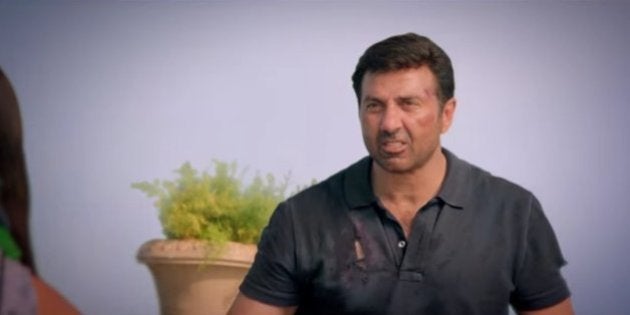 An entire generation, now in their teens, has never known a time when 'Sunny' was more likely to refer to Dharmendra's oldest son than a certain Mrs Leone.
Today, Sunny Deol is 58 and a has-been. His last release, I Love NY (2015), received terrible reviews and sank without a trace at the box-office. His latest release — written and directed by him — is a sequel to Rajkumar Santoshi's Ghayal (1990), one of his best-regarded films, and seems to be an attempt to return to the kind of roles that made him one of the biggest stars in Hindi cinema.
I don't know too many people from my generation who haven't watched Ghayal. It was the kind of movie that would play on TV regularly and would be effortlessly watchable no matter where you started off from. Recently, after many years, I attempted to re-watch it (it's available on YouTube for free) and found it campy and dated in many ways, but still entertaining and powerful. Its central idea — of an ordinary man waging a lone and violent war against the city's most powerful man, Balwant Rai (Amrish Puri, in one of his finest roles) — is still extremely relevant.
In the somewhat hilariously titled Ghayal Once Again, Deol returns as Ajay Mehra. Now in his late 50s, Deol/Mehra has calmed down somewhat. He's prone to traumatic flashbacks, having lost nearly everyone he was ever close to, including his ex-wife Varsha (Meenakshi Seshadri, who re-appears in a badly dubbed flashback scene) and their daughter. He now lives with his counselor (played by Soha Ali Khan) and runs a vigilante justice agency called Satyakaam (a reference to the 1969 movie starring his father?), whose office premises seem to have been designed by a Teenage Mutant Ninja Turtles fan.
Deol's sophomore directorial effort (he previously helmed Dillagi in 1999) starts off by displaying a surprising amount of restraint. It avoids the loud, typically '90s Bollywood melodrama of its predecessor and adopts a more contemporary aesthetic. With sweeping aerial shots (mostly via drones), a strings-and-brass background score (that unfortunately copies Hans Zimmer's cues from Christopher Nolan's Batman trilogy), and liberal use of technology, it resembles a movie trying to be a slick present-day South Indian thriller as well as a '90s Hollywood blockbuster, both at the same time. Indeed, several scenes are reminiscent of movies like True Lies (1994) and Enemy Of The State (1998), while the overall tone reminded me a lot of Gabbar Is Back (2015).
The result is somewhat uneasy, frequently preposterous, and nearly always entertaining — although much of the entertainment here, admittedly, is unintentional. Deol attempts to make a bold statement with the plot, which involves a super-rich family called the Bansals living in an opulent, multi-storeyed mansion in south Mumbai (ahem). Their son (TV actor Abhilash Kumar; a little too over-the-top) is a cocaine-snorting brat who, apparently, went to Harvard. He murders someone in a fit of rage (double ahem). The family patriarch Raj (Narendra Jha; frequently hammy and not a patch on Puri, of course) uses his considerable influence on politicians, the police, and the media (which he has a stake in) to make sure his son stays safe (triple ahem).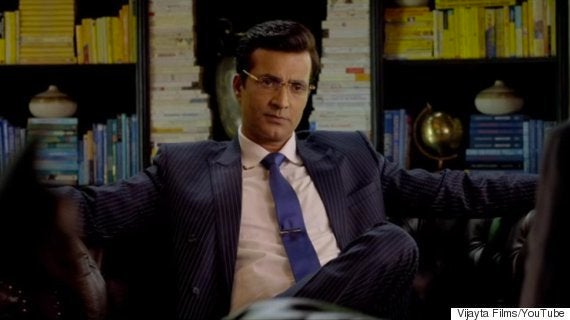 Narendra Jha (above) plays Raj Bansal, this film's antagonist
It's a bold parallel to make and, in parts, Ghayal Once Again actually works quite well because of it. The action sequences are well paced and effectively choreographed; a standout is a set-piece at a mall in which four teens (played by Shivam Patil, Aanchal Munjal, Diana Khan, and Rishabh Arora) are on the run from Bansal's men.
I watched Ghayal Once Again at Chandan, a single-screen theatre in suburban Mumbai. It's interesting to see how Deol subverts many of the so-called rules of the genre he once represented. In the aforementioned mall sequence, he is off-screen for an inordinately long time, letting the young actors take centre-stage with some pretty plucky stunts. The matinee show audience applauded approvingly when, in a glorious moment, Diana — at a point when the kids realise they're being tracked through CCTV in the mall — spots one of the cameras and gives it the finger. Meanwhile, while Deol does beat up several baddies, there's no 'hand-pump' moment here — in fact, if anything, there is an almost intentionally comical recurring motif in the movie that involves him getting whacked from the side just when you think he's about to turn into the Hulk.
Unfortunately, for every decent moment here there are about three that are ruined by tacky execution and/or bad acting. As with many movies in recent times, crucial sequences are rendered completely useless by being over-dependent on Final Fantasy-level CGI. Deol, who would routinely compensate for his lacklustre acting chops with fiery speeches and flying fists back in the day, is frequently subdued throughout this film. This is a problem because we are then subjected to an out-of-form non-actor attempting to, well, act. Several scenes of high drama become unintentionally hilarious — one scene in particular, where Soha Ali Khan slaps him repeatedly, seems destined for Reddit greatness. No one among the supporting cast stands out either, barring perhaps the corrupt politician played by Manoj Joshi, whose exaggerated Marathi accent at least garners the occasional guilty laugh.
By the time the climax arrives, it's quite impossible to take the movie seriously. However, overall, I wouldn't be too quick to dismiss Ghayal Once Again as run-of-the-mill cinematic trash. At best, it could be considered a minor stepping stone to a new aesthetic for easily digestible commercial cinema. At worst, it's a movie you could watch with your friends for the express purpose of having a good time, preferably after getting high. There are definitely worse ways to spend two hours of your time.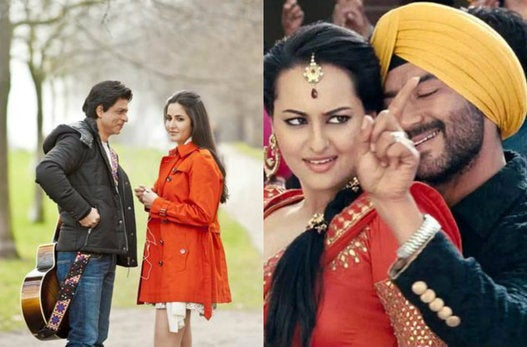 8 Epic Diwali Box-Office Clashes In Bollywood
Popular in the Community