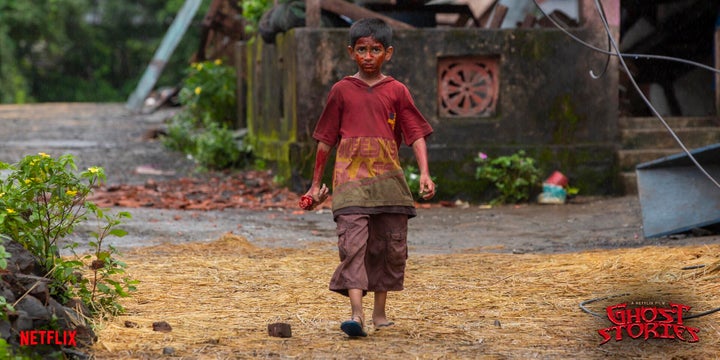 Given the current climate, there's no dearth of horrific incidents around us for filmmakers to mine into stories that capture this dark moment. In the new Netflix anthology, Ghost Stories, four directors take a stab at horror and the results are mostly middling—Dibakar Banerjee's allegorical tale speaks urgently to the present moment, Zoya Akhtar comes second, followed by Karan Johar and Anurag Kashyap.
Creepy crows and their creepier caws tie together the four stories, which alternately inspire dread, disgust, despair and a feeling of impending doom. To cut a long story short: if you're looking for some old-school spooks, Ghost Stories doesn't cut it. But if you manage your expectations just a little bit and sacrifice instant amusement for delayed gratification, you may not be too disappointed.
That's the thing with this instalment of the anthology which began with Bombay Talkies: It works best when it isn't caught up trying to show horror as is conventionally understood.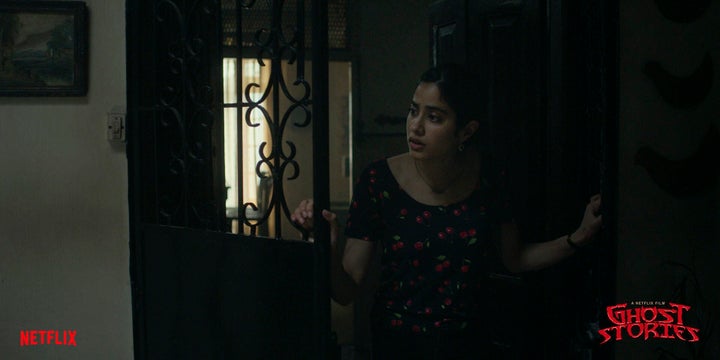 In Akhtar's short, a restrained Janhvi Kapoor tends to an ageing, demented woman (Surekha Sikri) who lives in a house that, by the looks of it, perhaps smells of the past. Sensing opportunity for a quick hookup, Kapoor's Sameera plans to call her married lover over, an idea that doesn't quite lead to a great climax. Like sex, horror too, lies in its anticipation, and going solely by those standards, Akhtar creates some moments of heightened tension. And she does so by using spaces and faces in a way that reflects our most primal fears: of being invaded.
The confined space serves a dual purpose: both women, one an orphan, the second abandoned by her son, are victims of neglect, confined to their loneliness. Is the lover who Jahnvi's character speaks to even real? As gentrification of cities creates more urban sprawl, big city isolation can be all-too real (and relatable) horror. In terms of mood and lighting, Akhtar paints Bombay rains as torrents of terror, foregrounding an ominous future. Like the lives of its citizens, Bombay looks bleak and hopeless.
If abandonment is the nature of horror in Akhtar's film, clingy dead grandmothers become the cause of distress in Johar's segment, the last of the lot. Unlike the claustrophobic setting of Akhtar's world, Johar's story is set in a place with lots of space—something that psychologically minimises the effect of horror.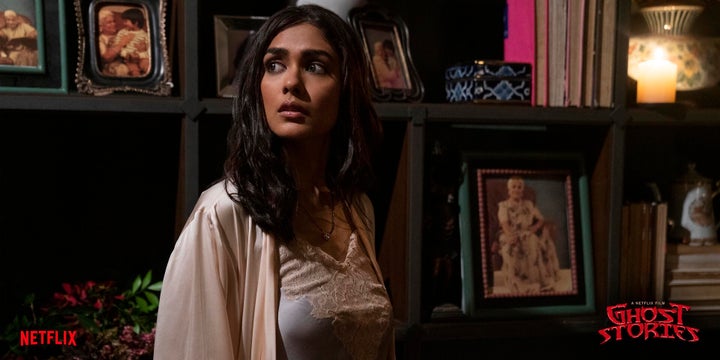 Dhruv (Avinash Tiwari) and Ira (Mrunal Thakur) meet through an arranged match and after some verbal foreplay, decide to go ahead with marriage. Now, despite Ira knowing that Dhruv has granny issues (he talks to his dead granny), she goes ahead with it. Ira, really, what did you expect will happen? While the premise in itself feels contrived, Johar satirises the horror, inverting the conventional family tropes one associates with his dramas. At one point, a straight-faced housekeeper (Heeba Shah) shows up with a flashlight illuminating her face. Beta horror. Crazy granny, spooky house, stoic parents, creepy housekeeper—if Johar made Get Out, this is what you would get.
Kashyap's film is the weakest of the lot. The black-and-white tone feels gimmicky, the plot is incoherent and appears to be half-heartedly written (Isha Luthra) and the idea too muddled and self-indulgent. The film, about a woman who's pregnant, presumably after a previous miscarriage, dwells on prenatal depression and maternal anxiety. That Kashyap takes characters historically considered as embodiment of innocence—mother and child—and subverts those archaic ideas is interesting and dark, but he doesn't seem to know what he wants to do with them. Sobhita Dhulipala, though, is in fine form and sucks her teeth into the role, quite literally.
Which brings us to the strongest film: Dibakar Banerjee's short. Here, Big Town residents have turned cannibalistic and eaten up denizens of Small Town (can be read as caste and religious supremacy). There are only two kids alive when an outsider finds his way to the spooky village. He's told that if he doesn't speak he'll be safe. If he doesn't move he'll be safe. Or, if begins eating others, as the zombies of the town do, he'll be safe. The political subtext is right there: don't speak, don't protest and you'd be fine. Become one of them (as some of our prime-time anchors have), you're even safer.
In a post-truth era where criticism is often equated with being anti-national, Banerjee's film is a sobering reminder of artistic dissent. My favourite part about the film is the depiction of the zombies: they look primitive—another metaphor for the backward journey India is currently on. The bloodlust of majoritarian forces in the film hits home. While a village burns, as many in UP have recently, a character says they deserved the violence. The character's in a car with a saffron sticker on the windshield. The film doesn't evoke horror as much as hopelessness and despair. Subtly and surely, it calls out Hindutva for the modern horror that it is.
Popular in the Community