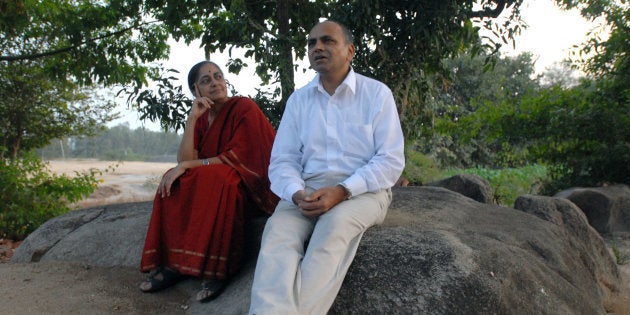 DHARWAD — "I'm not a cynic, I'm an optimist," says GN Devy, settling down in the drawing room of the charming house he shares with his wife Surekha in the sleepy town of Dharwad in Karnataka.
It's early on a Friday morning and a sun-kissed air, after a shower, blows in through the windows. I'm here to discuss Devy's latest book, The Crisis Within: On Knowledge and Education in India (Aleph, ₹399), but this remark resonates with his life's work, the essence of which is distilled into the short monograph.
Until a year ago, Devy — internationally renowned scholar, literary critic, linguist, writer, crusader for tribal rights and teacher — was based in Vadodara, Gujarat, where he held academic positions for over three decades. In 2016, in his mid-60s and retired from full-time teaching, he decided to uproot himself from his home of many years, moved by a horrific tragedy.
On 30 August 2015, 77-year-old academic MM Kalburgi, who had attained notoriety among religious conservatives for his uncompromising rationalist views, was shot at point-blank range by two assassins, purporting to be his students, at his home in Dharwad. By the time he was taken to the district hospital, Kalburgi was dead.
"After Kalburgi's murder, I couldn't sit back any longer," says Devy. "The idea of India was being destroyed at its root, it was necessary to act."
Devy, who had met him only a few days ago, was profoundly shaken by his murder. It had come in the wake of two similar killings of intellectuals in Maharashtra — of 69-year-old Narendra Dhabolkar's (on 20 August 2013) in Pune and 81-year-old Govind Pansare's (on 16 February 2015) in Mumbai — both similarly reviled by the Right for their spirited opposition to organised religion and the caste system.
"After Kalburgi's murder, I couldn't sit back any longer," says Devy. "The idea of India was being destroyed at its root, it was necessary to act."
Shortly after Kalburgi's death, Devy returned the Sahitya Akademi award, conferred on him in 1993 for his book After Amnesia, in a gesture of solidarity with several other intellectuals, who did the same. But the more appropriate action for him, under the circumstances, meant transplanting his life to Dharwad, where the dastardly killing had taken place, which is also a site of immense cultural richness, from where writers like Girish Karnad and musicians such as Bhimsen Joshi have emerged.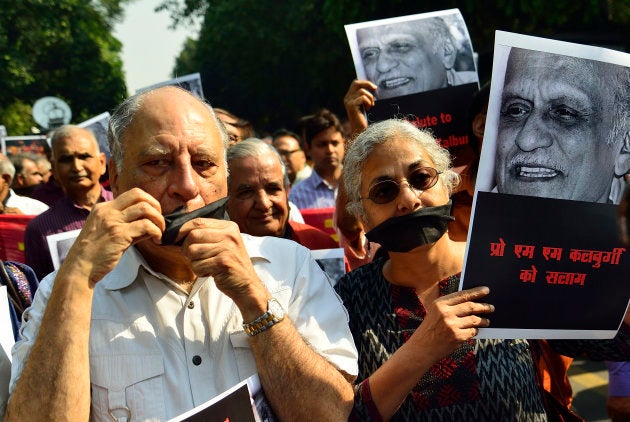 Where the mind is without fear
At the heart of the theory of education that Devy expounds in his book is a profound sense of conviction — a call to fearlessly confront the structures of power, namely colonialism and the caste system, which have shaped India's knowledge systems for 200 years.
"Every historical figure I've been influenced by — be it Guru Govind Singh, Mahatma Gandhi, Jesus Christ or Aurobindo Ghosh — urged the people to lose fear from their hearts," he says. "Being able to live without fear is a basic human right, it is the foundation of being civilised." By choosing to live in Dharwad, which had proved fatal to another thinker of similar persuasions, Devy had set an example of his belief in living an intrepid existence. All his life, he has believed in ushering in change at the grassroots.
"Being able to live without fear is a basic human right, it is the foundation of being civilised."
"Be united, but don't be organised," is his motto for our troubled times, as India reels from the "deadly combination" of "cultural conservatism" and "economic liberalism". "The socialists, Marxists, seva dals, Gandhians are all in a disarray today," Devy says. But still, there are individuals with visions — editing magazines, running literary clubs, organising trade unions, making movies — who still haven't lost hope.
"About 31.8% of India's population voted the current government to power," he says, working out a complex math step by step. "That means, about 112 crore people of the 130 crore who live in this country didn't want the Bharatiya Janata Party." Such a vast number, Devy adds, cannot be dismissed as "a mindless mass". The real challenge is to ignite a feeling of solidarity among these scattered individuals.
"In my experience, people start speaking freely when one opens up to them," Devy says. He mentions, as an illustration, the participation of nearly 10,000 students (a huge number for a place the size of Dharwad) in an emotionally charged public march to commemorate the first anniversary of Kalburgi's murder.
On this uneventful morning, Devy's gentle confidence feels almost infectious. The phone rings frequently, a group of men drop by to see him about an address to a trade union ("I'm going to talk to them about Marx," Devy threatens playfully, but the proposal is received with delight) — he has time for everyone, ever ready to offer a patient hearing, no detail too small for him to overlook.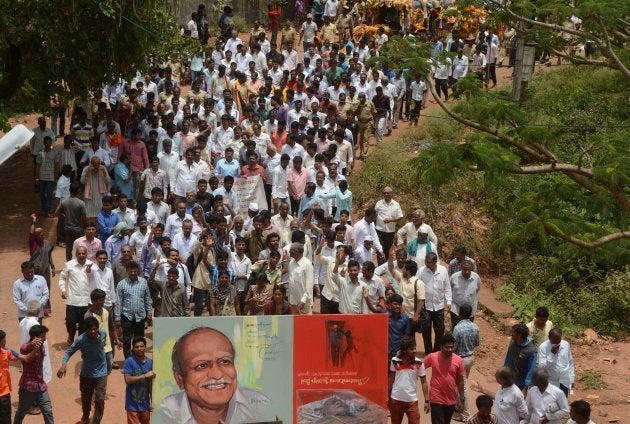 What we chose to forget
Born in 1950, Devy grew up speaking Marathi and Gujarati, becoming fluent in English only in his late teens and going on to do a PhD in English Literature years later. By the time he reached college, in the 1960s, all the local values and traditions he had absorbed in his acquaintance with Marathi and Gujarati writings were turned into "non-knowledge", he found to his dismay.
"For my MA, I took a paper on epic, in which I studied Homer, Dante, Milton and Sri Aurobindo's Savitri — because it was written in English," says Devy. "There was no mention of the Mahabharat, probably because it was considered theology or folklore."
In 1992, Devy wrote about the processes that push ancient but living traditions of knowledge into areas of "non-knowledge" in his iconic book, After Amnesia. "It seemed to me as though Gujarati and Marathi critics almost felt shy of asserting their insights," he says. "They relied too heavily on the West than employing the traditions of aesthetics in their own cultures."
Taking a cue from Freud's theory of the mind, he concluded that amnesia did not pertain as much to the loss of memory as to its ritual suppression through age-old tools of oppression and the assertion of cultural hegemony by certain entities. In the case of India, centuries of British and European colonialism, together with the all-pervasive grip of the caste system, privileged some forms of knowledge over others, leading to the gradual extinction or neglect of the latter.
In his years as a teacher, Devy introduced the writings of BR Ambedkar, MK Gandhi, Rabindranath Tagore, MN Roy and J Krishnamurti to students of literature in India. To this day, not many classrooms in colleges and universities venture into aesthetic and critical thought beyond Western theories.
"Knowledge has to be relevant to one's own reality," as Devy says, "though it may not necessarily be useful."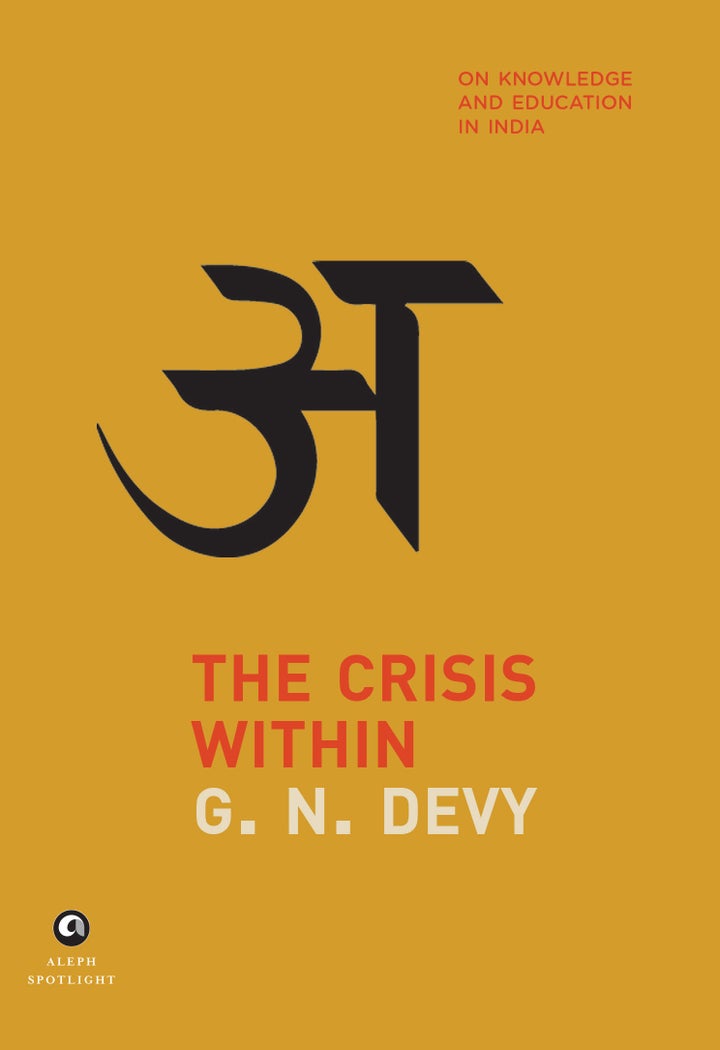 Identity politics
Devy's preoccupation with retrieving and preserving "lost cultures" found its most abiding expression in his work with tribal communities, especially with the Denotified Tribes (DNTs), which were once listed under the Criminal Tribes Act of 1871, thanks the whim of an idle British officer. The work brought him close to activists like Mahasweta Devi, who became a lifelong friend, about whom Devy has many reminiscences.
Founded two decades ago in Tejgadh, Gujarat, Devy's Adivasi Academy is one of its kind. It started with his interest in the work that the Adivasi tribes did with their hands. "I was always fascinated by their making, more than what they made," Devy says, "how they lived, grew crops, interacted with nature."
Over time, he began to decipher patterns in their activities, though there were still not enough means of codifying these practices, mostly preserved in oral histories, reliant on a solid foundation of memory.
Devy mentions the inscriptions on boats he saw on Minicoy Islands in Lakshadweep ("at par with those you may find in any great library"), the peculiar style of the Rathwa painters that straddle language and image, as examples of living traditions of knowledge that suffer from neglect, at worse disdain, from the world at large. "As we become digitally empowered, there's a real danger of a section of people becoming digitally marginalised," he says. "We have to guard against this from happening."
But Devy is also careful not to encourage any misconceptions about his beliefs, especially those that could be seized upon by provincial bigots missing the nuances of his argument.
"My attempt is not to go back to the past to glorify it but to make ourselves alert to the ways in which we are unable to relate to the past from our present."
"I'm not saying ancient or medieval India had everything good we have lost," he clarifies. "My attempt is not to go back to the past to glorify it but to make ourselves alert to the ways in which we are unable to relate to the past from our present."
Ancient Indian traditions, he says, can never be fully recovered, just as Western structures of thought can never be fully imported to India, for their own sakes, losing sight of their relevance to our contemporary realities.
At the Adivasi Academy, a multiplicity of media — theatre, film, paintings, photographs — is used to keep vanishing systems of knowledge alive. Teachers employed there are expected to first learn the languages spoken by their students before they get down to imparting any knowledge to the latter. It is a practice that ensures equitable exchange and encourages the tribals to appreciate and value their cultures deeply.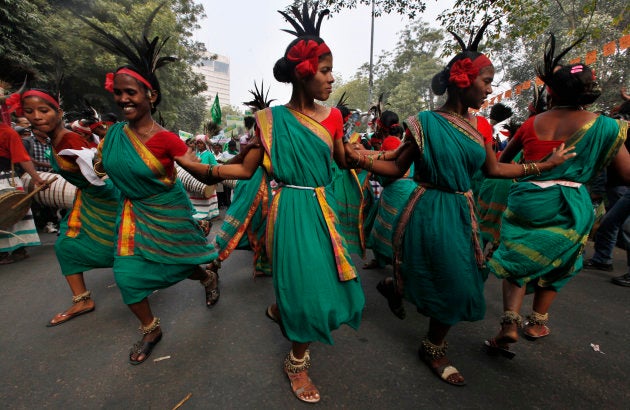 Many voices
Devy's most unique contribution perhaps remains launching the People's Linguistic Survey of India (PLSI) in 2010, an extraordinary project to document the languages (and dialects) spoken across the country. PLSI identified around 780 languages in India, though there could be another 100. It also found that around 220 languages have gone extinct in the last five decades. Those who are rallying for one rashtra bhasha would do well to reckon with this overwhelming evidence of heterogeneity and loss.
Those who are rallying for one rashtra bhasha would do well to reckon with this overwhelming evidence of heterogeneity and loss.
Executed by a team of over 3,000 volunteers, over 20 volumes of this mammoth undertaking are already out — written in the original languages, a few translated into English — while more are in the pipeline. Already Devy is working on an Global Language Status Report (GLSR). As the name implies, it involves the documentation of the tribal languages from across the world.
Another 100-odd volumes on different subjects, edited by Devy and in various stages of completion, are also in the works, including 10 books on Indian thought commissioned from across the country, compiling philosophical and political texts in languages from specific regions. The Dakshinayan Indian Thought Series, as Devy calls this project, serves several purposes, apart from showcasing the diversity of India's social and political traditions.
"These days it's easy to get booked for sedition if you write something," he says, "But when you reprint an existing text, chances of such troubles are lesser."
Referring to the Global South and its revolutionary history, as well as to the land beyond the Vindhyas, the Dakshinayan series aims to collate the plurality of discourse from languages as diverse as Konkani to Bengali, Hindi to Malayalam, debunking the argument for one rashtrabhasha and one way of life.
To those crying lustily for one "national language", the very existence of these audaciously imagined volumes should serve as a fitting reminder of India's linguistic diversity and cultural plurality.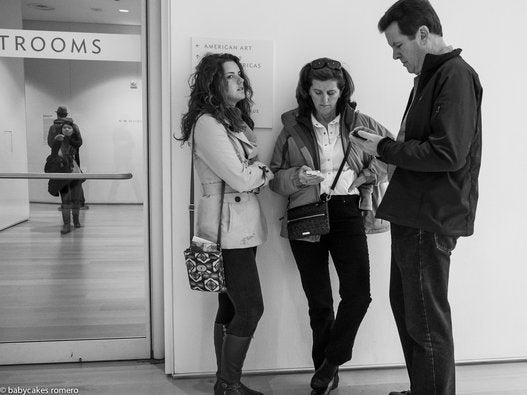 Death Of Conversation Caused By Smartphones