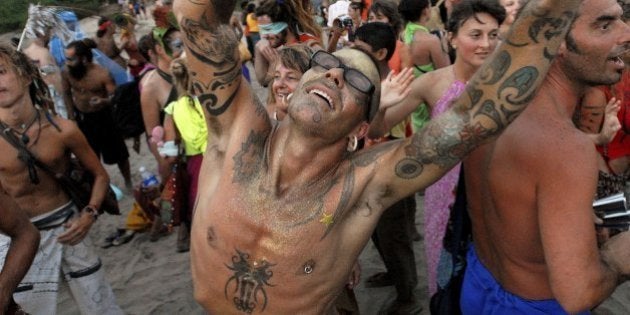 PANAJI — The arrest of yet another DJ for possessing and peddling drugs in Goa has forced police to increase surveillance on musicians who are regular fixtures at electronic music dos, especially in coastal areas known for rave parties.
Even as DJ Vickey Fernandes, 23, became the fourth DJ in the last three years to be booked on narcotics charges after his arrest in Assagao village, 20 km from Panaji, police sources told IANS that the department was working on collecting intelligence against other DJs and musicians.
This would depend on their regularity of performances at bars and music hubs known for notoriety and their closeness to individuals with a history of narcotics offences.
"This is the fourth DJ who has been found actively peddling narcotics," a senior official involved in anti-narcotics counter-operations told IANS, refusing to be quoted on record.
"Vickey was a part of a network which provided him drugs and used his connections in the party scene to peddle the contraband," added the official.
Earlier, in 2013, a Japanese DJ, Yasuji Hinagata, was arrested with 'charas' and LSD valued at Rs.8 lakh.
In 2012, a Chennai-based sound engineering student was arrested by the Goa Police for the possession of a stash of various psychotropic drugs, again valued at Rs.8 lakh.
Last year, another foreign national, Briton Allan Bainbridge, was taken into custody at Anjuna for having LSD and MDMA valued at Rs.22 lakh.
"We are exploring whether there is a larger network here. Our effort will be to crack it," says state Narcotics Control Bureau head Superintendent Jitender Ranjan, who headed the raid that led to Vickey's arrest.
Interestingly, all the above DJs, including Vickey, were peddling party drugs popular in Goa's rave and nightlife scene. While LSD is popularly known as acid, the street name for MDMA is ecstasy.
"Some of the DJs are part of this ecosystem because they sell the drugs which are often consumed during these parties. Therefore they become very effective pushers who do not have to reach out to consumers," the police official said.
"Their consumers flock to them," the official said, adding that several foreign DJs did not have business visas and therefore could not "work" as musicians in India.
Increased suspicion of involvement of a certain section of DJs forced the Goa home ministry to increase surveillance on them two years back.
In October 2013, then Goa chief minister Manohar Parrikar told the assembly that a watch was being maintained on the foreign disc jockeys for involvement in narcotics activities.
But this time round, the emphasis is on creating a much thorough dossier on DJs and their known associates, right from music lovers, who are in regular attendance, as well as patrons and managers of night clubs as well as beach shacks who hire their services.
Interestingly, for the last three years, the Goa Police have conducted on an average one drug raid every week, which underlines the extent of the drugs and narcotics in circulation in the state.
"Goa, especially the coastal belt in north Goa, is becoming a hub for drugs. The police are simply not doing enough," Michael Lobo, a legislator from the ruling Bharatiya Janata Party, told IANS.
Two weeks ago, Lobo, much to the embarrassment of the BJP-led coalition government, had gone on a day-long fast to protest against the inaction of the police vis-a-vis drug proliferation.
Goa, one of the top beach tourism destinations in the country, is also known as a hub for cheap narcotics. Goa attracts nearly three million tourists every year, out of whom half a million are foreigners.
Popular in the Community