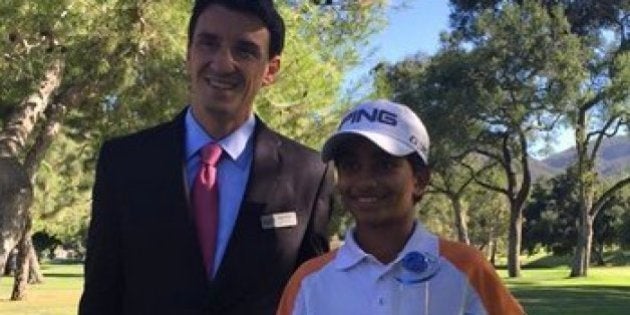 On Thursday, when Shubham Jaglan claimed the IMG Academy junior world championship for the 9-10 age category in San Diego, it wasn't just another trophy on a shelf heaving with trophies. It was a heart-warming moment for everyone to see Shubham overwhelm the massive odds he has battled.
Shubham, a 10-year-old son of a milkman from rural Haryana, is no less than a prodigy. His three-day total of seven-under par 179 was better than rest of the field to become the Junior World Champion in his age category.
He has trained at an abandoned agriculture field, his bunker shots were practiced from a cement mixer filled with sand and he learnt much of his golf primarily watching experts on YouTube.
How a village boy from Haryana picked up golf clubs is an incredible story.
"He bought the kids some equipment and hired a local caddie to teach them. But after a few months, most kids seem to lose interest. The caddie quit too, but not without leaving some equipment at Shubham's home and telling his father that his son had real talent," notes the report.
Despite the setback, Shubham kept practising.
When India's former top golfer Nonita Lall Qureshi spotted Shubham's talent, she was left awe-struck.
"Shubham would spend hours watching video tutorials on the computer. A lot of what he had learnt at that stage was self-taught. For someone just seven years of age, his understanding of the mechanics of golf was phenomenal," Nonita told ToI. Nonita has been coaching Shubham since he was 7.
Shubham was later taken under the wings of the Golf Foundation, run by Arjuna Awardee and Asian Games gold medallist Amit Luthra.
Last year, Shubham missed out with a runner up finish. But this time, he made sure he got the top billing through sheer determination.
After the win, in a Facebook post, Shubham thanked his mentors. "I have finally done it! I have won one of the most prestigious tournaments in junior golf. All the credit goes to my family, Delhi Golf Club for giving my facilities to play and practice, The Golf Foundation for giving me everything that I needed and the most important is my coach Nonita Lall Qureshi who pushed my game and mind to this level and got me all the way to winning this prestigious tournament.
"It means a lot to me and my dad especially, who was with me 24/7 and worked harder than I did. Last but not at all the least, Amit Luthra Sir who has given me all day the support that I needed! Thanks to all my friends and family for pushing for me and making me who I am."



Popular in the Community