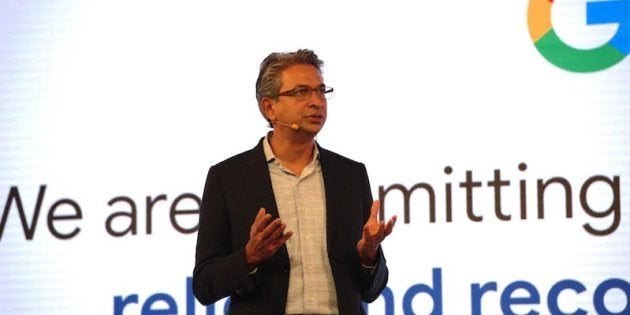 The importance of predicting and being prepared for floods was driven home again earlier this month after more than 300 people were killed and thousands left homeless in Kerala. A project launched a couple of months ago by the Indian government and Google aims to address this challenge and prevent further tragedies.
Speaking at the annual Google For India conference in New Delhi on Tuesday, Anitha Vijaykumar, project manager at TensorFlow, Google's open-source software library, explained that India, China and Bangladesh are the most affected by floods, and it was to prevent disasters in these countries that Google's team started looking at using artificial intelligence (AI) to predict floods.
"We have been doing AI research to forecast and reduce the impact of floods," she explained. "Floods are the most common disaster on the planet, and with adequate warning, we can greatly reduce the impact of floods. The current modelling systems are only physics-based, and the data is not detailed enough, while Google is using a system that combines physics modelling plus AI learning, and combines that with elevation and satellite map data."
Google and the Ministry of Water Resources launched the pilot project two months ago, and according to Vijaykumar, this will help prevent disasters like the Kerala floods. The government's press release at the time had said that the Central Water Commission "would use state-of-the-art advances made by Google in the field of Artificial Intelligence, Machine Learning and geo-spatial mapping for effective management of water resources particularly in the field of flood forecasting and dissemination of flood-related information to the masses widely using the dissemination platforms developed by Google. This initiative is likely to help crisis management agencies to deal (with) extreme hydrological events in a better manner".
The project, which is currently being done on a trial basis, could be scaled up in the near future.
Of course, Google, like many other companies, also put its resources to work to help rescue and rebuilding efforts in Kerala. Rajan Anandan, Google's vice-president for South East Asia and India, said that the company had enabled SOS alerts on Google search to highlight response numbers. It also launched a person finder on which it was able to build 22,000 records that could help with rescue efforts, and connected this data top Google Maps as well.
Beyond that, Google's UPI payments platform Tez (which was, on Tuesday, renamed to Google Pay) also added a simple link to contribute to the Chief Minister's Distress Relief Fund, and Anandan revealed that 2.7 lakh people made use of this feature. At Google for India, Anandan also announced that Google will be contributing $1 million (around Rs 7 crore) to relief and rebuilding efforts in the flood-hit region.
A RENEWED FOCUS ON INDIAN LANGUAGES, AND THE NEXT BILLION USERS
Google also made it clear on Tuesday that it would step up its focus on Indian languages. Anandan pointed out that Internet usage is growing rapidly in rural India, with voice being the preferred mode of input. Video constitutes 75% of all mobile traffic, and 95% of all video consumption is in Indian languages, he said during the keynote speech.
Shashidhar Thakur, vice-president of engineering for Google Search, also spoke about how the company has been focusing on Indian languages.
"People are focusing on everyday needs—from Bollywood and cricket scores, to finding a job or taking an exam, there are 50% more people using mobile search every single day. We are now crawling most major Indian languages and we have also been working on new programmes to fill the Web with Indian content."
One of the most interesting examples of this is Project Navlekha, which allows Hindi publishers to quickly and easily digitize their content. As of now, Indian language content is being created in a number of different standards, and although the final version is often published from a PDF file, translating that into a web page is not possible as fonts will turn into gibberish, layouts will be broken, and so on. To get around this, Google is using AI and machine learning to "read" the page and mark out readable text.
In a demo shown live on stage, the Google team took a full-page PDF file, and in exactly 60 seconds, converted that into edited text and published it live on the Navlekha platform. The platform includes a publishing tool, and also AdSense integration, so that it can be a single-stop platform for any small publisher who can't afford to work with technology companies that offer this kind of service.
Popular in the Community