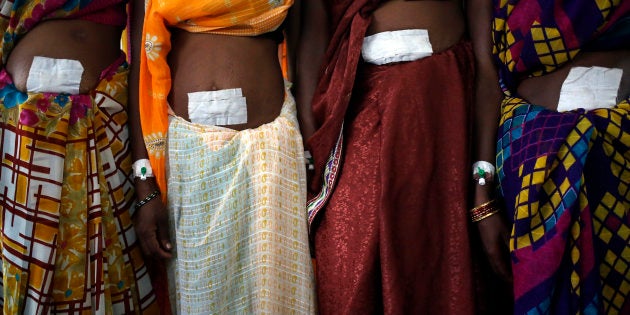 According to a report published by the National Health Mission, the burden of family planning rests squarely on the shoulders of women in India. The report stated that between 2017-18, 93.1% of the sterilisations performed in India were on women.
According to The Indian Express, the report stated the following: "Women continue to bear an uneven burden of the terminal methods of family planning and sterilisation. As per HMIS in 2017-18 (till October) of the total 14,73,418 sterilisation procedures only 6.8 % were male sterilisation while 93.1 % were female sterilisation."
The report noted that though the ratio is still shocking, there's been some improvement over last year when 98% of the sterilisations performed in the country were on women.
Traditionally, women have been the ones who have had to undergo sterilisations due to a combination of factors that include the unwillingness of their male partners to use condoms and undergo sterilisations themselves.
The National Family Health Survey 2015-16 found that of the people surveyed only 5.6% used condoms as a preferred method of birth control, thereby burdening women to figure out ways to practice birth control. Problematic ideas of masculinity often make men decide against using contraception, as that is considered 'un-manly' in their world. Government commercials promoting male sterilisations also focus on how getting a vasectomy doesn't affect a man's virility and usually has a coy woman blushing as a man's trumpets how he is extremely virile even after getting the surgery.
As a result, surveys have found that many women undergo sterilisations without completely understanding the consequences or even realising that the process is permanent. A study conducted by the Population Research Institute had found that one out of three women in the sample set had not given informed consent before they were sterilised. They were either not told about the side-effects of sterilisation or didn't realise that the process was irreversible.
In 2016, the Supreme Court banned sterilisation camps after it was found that between 2010 and 2013, 363 women had died during or after sterilisation conducted in these government camps.
Popular in the Community