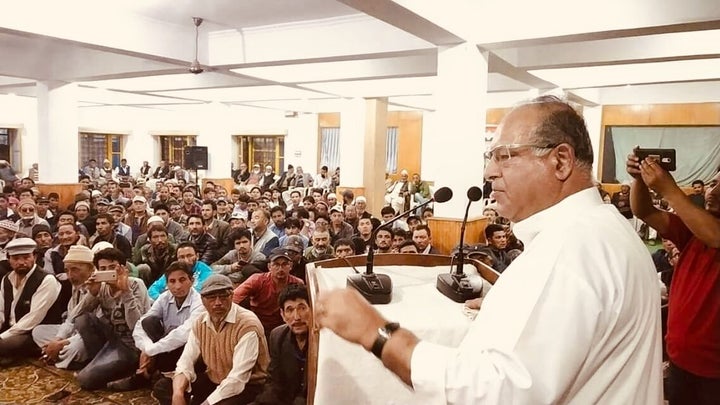 The Modi government, in the run-up to revoking Article 370 on 5 August, arrested Jammu and Kashmir's politicians and political activist, jailing and placing them under house arrest.
Tariq Hameed Karra, a founder member of the Peoples Democratic Party (PDP), escaped the government's dragnet, even as the J&K police — he claims— are "hunting" him. At present, the 64-year-old politician remains "underground."
In a conversation with HuffPost India, Karra said he slipped back into J&K, and visited "hotspots" to urge people against retaliation because the Indian security forces were prepared for mass casualties.
"The killings would not have been in the hundreds, but in the thousands," he said.
In the first PDP government in J&K, which was formed in alliance with the Congress Party in 2002, Karra held several portfolios including finance. In 2014, he was dubbed a "giant killer" for handing veteran politician Farooq Abdullah his first ever defeat in a parliamentary election. Two years after winning the Srinagar constituency, he resigned from his party and the Lok Sabha. Upset over PDP's alliance with the Bharatiya Janata Party (BJP), Karra considered floating his own regional party, but joined the Congress, where he was inducted into its top decision-making body, the Congress Working Committee (CWC).
Karra asked HuffPost India not to disclose where this interview was conducted.
Edited excerpts
Kashmiri politicians, mainstream politicians, have been arrested or are under house arrest. You are out? How?
On 2 August, there was a meeting of the Jammu and Kashmir Policy Planning Committee (Congress Party committee), headed by former prime minister Manmohan Singh. The day after I came over [to Delhi], everyone was taken into custody. People at my residence in Srinagar were informed that I'm under house arrest. I was the only person who was away and that's how I was not arrested. This was on the 2nd and 3rd of August.
4th August is when Mehbooba Mufti and Omar Abdullah were placed under house arrest.
Before that many people were taken into custody. At the worker level, it started on the 3rd. The rest of the people were arrested on 4th. The lower rung of the political activists were being arrested from the 1st itself. In the meantime, an arrest warrant was issued…
An arrest warrant for you?
An arrest warrant for house arrest? They issued some kind of order?
That's what the people who had come over to my home had called it. They said that he has been listed for arrest, a magistrate has authorised… whatever it is, a warrant or whatever. The thing is that I was either upgraded or downgraded from house arrest to jail arrest. My people were informed that I was to be taken to SKICC (Sher-e-Kashmir International Conference Centre) at the Centaur Hotel, which has been converted into a jail. Where is he, they asked my people. They said that he has not returned (from Delhi).
When did you go back to Kashmir?
I left for Jammu and Kashmir on 12th (August) and returned on the 31st. I spent around 18 days. I went into the districts there. I have had meetings with people there. I went there very discreetly. In my opinion, the Government of India (GOI) is surprised that there are no retaliations. That's what they were ready for.
You are saying that the Government of India is surprised that there were no retaliations and they were ready for it?
Yes, that's what I'm saying.
But there have been protests...
Retaliations doesn't mean stone-pelting and other things. No, what they were expecting is that there would be mass killings. And if my sources are correct, they were ready for it. There could be thousands, if the people were to come out. The kind of handling they have been doing — or mishandling — they would have killed thousands of people. And that is where they have been caught by surprise. That there have been no retaliations. My objective was to tell the people that don't retaliate because they want you to retaliate. They are trying to exhaust you, but let us see how we can exhaust them.
"The kind of handling they have been doing — or mishandling — they would have killed thousands of people."
What kind of retaliation was the government prepared for?
The killings would not have been in the hundreds, but in the thousands. Any sensible man can make this assessment and estimate.
There were already seven lakh security forces on the ground. Then, on record, they say that 1,80,000 were sent in the first go. Another 50,000 to 60,000 in the second instalment. They had expected a massive retaliation that had to be quelled.
(HuffPost India cannot independently verify these troop deployment figures. The Hindu, on 28 July, reported an additional deployment of 50,000 troops. Citing a highly placed anonymous CRPF source, on 3 August, The Quint reported that troop deployment had reached 1,80,000).
"The killings would not have been in the hundreds, but in the thousands."
How did you go to J&K?
I went by road. I got down at Madhopur (Punjab), took a detour and reached Lakhanpur (J&K). From Lakhanpur, I went to Poonch. From Poonch, I went to Rajouri. From Rajouri, I went to Shopian via the Mughal road. From Shopian, I went to Pulwama. From Pulwama to Srinagar, and right up to Baramulla. I went very discreetly. It was all managed. It was not that I could just walk into places. It was not that easy to reach there and stay there discreetly. Even the children were kept away so that they don't speak out that we have so and so as our guest.
Were you in disguise?
There was a little disguise. I had a long beard. If you see my photograph of those days, you won't be able to recognise me. For this interview, I have shaved. I also had some local headgear and dresses.
You are saying the government is presently looking to arrest you?
Well, the J&K government is looking to arrest me.
That's the central government, the Modi government.
I don't know which government, but the establishment is.
Does that mean you are currently underground?
Of course, I'm underground.
But you are giving an on-record interview while you are underground.
I'm telling you that I am underground.
You are giving an on-record interview in which you are saying that you were in Jammu and Kashmir for 18 days. Are you not risking the government coming after you?
They are already after me. I believe the cause is bigger than the risk.
Yes, but speaking to the media, — to me right now — increases the chances of you getting arrested.
Then, who will speak? I'm the only mainstream leader who is out. The rest of them are either under house arrest or in jail. I have a responsibility. Politics is not a profession to me or my family. As a responsible citizen, as a conscious Kashmiri, I honestly feel that things should come out at the national level and at the international level.
"I'm the only mainstream leader who is out."
Were you afraid or apprehensive about going back to Jammu and Kashmir?
I was not afraid. I was apprehensive that if I'm taken into custody, I might not be jailed in my own state, I might be sent somewhere else. But I thought it was very important to reach the people and make them understand that they should not do any retaliatory action which could affect their life and property. Let's calm down for some time, let the dust settle down, and then think about what to do next.
The kind of build-up that they had done there, the kind of information that people had — they know that if anyone comes out, he will be shot dead. But there is a section of society, like the youth, who are not willing to listen to anyone. I went to the hotspots. I contacted motivators — people who can influence the localities — but even they said that the youth don't listen to us. They say — let's fight the last battle. And I said that there is no last battle to be fought like this. We need our youth to be saved. My intention was that life and property should be saved.
Did you have any close calls?
Everything was very well managed except for two occasions. The mode of transportation was totally out of gear, so I had to travel as a pillion on a motorcycle at times.
The close call?
There was a close call at Pulwama. We were crossing through one of the orchards when the paramilitary personnel called us. We didn't notice them. They noticed us. They asked for our identity cards. They asked — where are you coming from? I could not explain the name of the village. The man who was with me said, "Ye bahar se vyapari aaya hai." (This middleman has come from outside). The security personnel started chatting with me, asking — where are you coming from. I said — Delhi. Fortunately, my accent is not typically Kashmir, but more…
Mainstream?
(Laughs) Mainstream, yes. He said, "Once the apples reach there, why are they so expensive. Why are you buying on lesser rates?" I started giving him some flimsy grounds… transportation… this and that. We had a conversation for five to seven minutes. In the beginning, I had thought that if something goes wrong then I will be nabbed here. That was a close shave.
The other close shave was downtown [Srinagar], where I was caught between the protesting people on one side and the security forces on the other.
Was this in Soura?
Yes. Here I thought I would be caught because there was Kashmir police as well. I had to cross the road. While crossing the road, the tear gas shell just went through my legs. It blasted there and they started pelting stones. Then, I had to run for my life because the stone-pelting had started. These were the two close shaves.
What is the starkest memory that you have of your 18 days in Kashmir?
Not only was my heart bleeding, but my soul was bleeding. I was thinking, why didn't I die before seeing this day. When you go to Kashmir, there is sadness in the air. There is mourning in the air. Every creature seems to be mourning. Every plant seems to be mourning. It's sadness all around.
"Not only was my heart bleeding, but my soul was bleeding."
Going back to retaliation that we were speaking of. Even with all the clampdown and the soldiers on the ground, when things get heated in Kashmir, things get heated. If people were really angry, they would have come out in the thousands. Why has it not happened?
If you go into the history of the militancy, you would see that after every repressive and oppressive measure, people come out with something very innovative. Like guns were replaced by stones, and stones were replaced by protests. Every pressure that is put on people over there, makes them think of something very innovative. Kashmiris are very intelligent people. They themselves understand that the present dispensation would not spare any one of us if we come out or protest. They understand this thing, except for a small section of youngsters who are too annoyed and who are even ready to die. But people have not taken it with a pinch of salt. They will wait, they will regroup, and they would come out with something innovative. This I can tell you. This has been my experience. I don't know who will exhaust whom. Let us see.
"But people have not taken it with a pinch of salt. I don't know who will exhaust whom. Let us see."
Can you make a distinction between public retaliation and militant retaliation?
I'm not talking about any retaliation by militants. I'm talking about public retaliation, the genuine grievances of the people converted into protests. I have nothing to say about the retaliation of militants. If we talk about that, then I reached up to Uri. I have seen that condition there.
What's the condition?
The condition is that there is 24x7 shelling on both sides.
You mean Indo-Pak shelling?
I went to Baramulla, where I met some people who had come from Gulmarg side. Gulmarg has been evacuated. There is information that the other side might have even come inside. Gulmarg is totally evacuated. Now, they are even evacuating people from Tangmarg. These are the reports which are coming from there. Go to Poonch, 24-7 shelling is going on. Our experience says that when there is shelling, there is sneaking in (of militants).
I will ask you a question. The present dispensation said that demonetisation was done to break the backbone of militancy. Then they said they only 5% of Jammu and Kashmir are miscreants. Are the security forces there to control just 5% miscreants? What is the status of demonetisation breaking the bone of militancy? Why this much muscle power? For eight civilians, there is one gunman today. You want to hold people by gun that's a different thing. But that is not why the people of Jammu and Kashmir acceded to India. Jammu and Kashmir acceded to a secular country despite the fact there were voices which said that as a Muslim majority we should accede to Pakistan. So are we being punished for that, rewarded for that, or awarded for that? We were the flag bearers of the Indian Constitution. They have squeezed the political space for mainstream.
There are people who say that more Kashmiris would speak in favour of the government, but they are quiet because they fear retaliation from the militants. Do you see merit in that?
No, I don't see any merit. I don't subscribe to this theory concocted by people sitting in the Home Ministry in Delhi. Today, even in Jammu, there is retaliation. There is discontent. Now, they have come to know what Article 370 was saving them from. Jammu will be the first hit. Nobody is going to invest in Kashmir. And what investment are they talking about? There are figures that since Independence, how many trillions have been invested in the rest of the country and just peanuts there. We have Public Sector Undertakings (PSUs), the power sector is there, and there are other private players. How is the abrogation going to benefit them? There were already outside companies operating under the 90-year lease.
And tell me one thing, why only Jammu and Kashmir? Why was the special status of Jammu and Kashmir haunting the whole country or a particular section of people? Aren't there other states enjoying the same kind of special status? What about Himachal Pradesh? What about the North-East? If in Himachal, you cannot buy land, then why was J&K troubling a particular section of people.
The so-called liberal media is often bashed for not paying heed to claims that militants are targeting people who support the Indian government. There was a recent claim that a person was killed by two unidentified men, possibly militants, when he tried to open his shop in ParimPora.
These are stray incidents and I cannot speak to the authenticity of the story given to it. There are many many reasons for many things happening in Kashmir. Jammu and Kashmir is a den today. It is an industry today. It's even an agency war today. Kashmir today is much worse than Lebanon. Kashmir today is much worse than Palestine.
The argument is that even 5% can create a ruckus.
Is this the kind of attitude to handle just 5% of seven million? This is a mindset. They simply wanted to disempower Kashmiris. They have a mindset against Kashmiris. They have a problem with just Kashmiris.
"They simply wanted to disempower Kashmiris. They have a mindset against Kashmiris. They have a problem with just Kashmiris."
Is it because the majority of Kashmiris are Muslim?
For some time, they have been feeding the people of India, a very wrong kind of idea that Hinduism emanated from Kashmir. And we have to rediscover that Kashmir from where Hinduism started. The new narrative of majoritarianism is not good for India. I'm given a feeling that I'm a second class citizen and I'm at your mercy. I don't know if that is how India was conceived. What Gandhi laid his life for? What thousands of people laid their lives for? This slogan Incredible India has been reduced to Intolerant India. Don't you think?
"This slogan Incredible India has been reduced to Intolerant India. Don't you think?"
What does the abrogation of Article 370 mean for a mainstream politician like you?
Today, as a mainstream politician, I'm feeling humiliated, betrayed. This Article 370 was dear to me, to the people who were upholding the Indian flag, who were upholding the Indian Constitution.
Today, as a mainstream politician, I'm underground. Neither am I a separatist nor do I have any criminal record. Nor am I implicated in any scandal or scam. Despite that, I'm running as if I have committed some crime. And people on the other side of the fence are saying, this (mainstream politics) is a crime that you have been committing since 1947. So where is my space?
"Today, as a mainstream politician, I'm feeling humiliated, betrayed."
What are you thinking now?
Anybody who believes in the Indian Constitution, who contests elections, and who fights the separatists, felt that the two-nation theory was a failure. But the action of the Indian government has vindicated the two-nation theory. As far as I'm concerned, for us, Article 370 was, is and shall remain an article of faith. It was given to us by the Indian state, not by any political party. The Constitution is above all political parties and all political personalities. We have been given these guarantees.
"The Constitution is above all political parties and all political personalities."
People feel that mainstream parties in Kashmir, the National Conference (NC) and the PDP, have not served people.
If you are talking about the families, it's a different thing. If you are talking about the parties and the government, it's a different thing. Today a narrative is being created that it is the Abdullahs and the Muftis who have done this thing. Okay, for the sake of discussion, let's agree to that. But what is the fault of seven million people.
The narrative is that the seven million don't want the two mainstream parties and would rather have the Centre in control.
Is that why you have held them hostage? If it is against two families, fine. The best way would have been to issue a white paper or to implicate them, to have their assets investigated, right from the time of their grandfathers. I offer myself also. Investigate what my grandfather left and what I have today. Same way, investigate them. Why are you holding seven million people hostage for two families.
There was a meeting of the sarpanches (village heads) with Home Minister Amit Shah. Are we looking at the future mainstream politicians of Kashmir?
They are trying to create an alternative leadership in Jammu and Kashmir. With the passage of time, you will be getting many surprises. They are systematically trying to bypass the conventional people who were into politics and propping up political novices.
Yes-men?
I can't say whether they are yesmen or not because they are yet to be tested, but they are political novices as of now. They are being created, promoted and propped up to sideline the traditional lot of politicians. This is only being done in Kashmir.
The other thing is that they have something in their mind whereby they are pitting one ethnic group against another ethnic group. We have seven or eight ethnic groups in Kashmir — Kashmiri, Pahari, Gujjar, Dogra, Bodh. We have two kinds of Ladakhis — one is Bodh Ladakhi and the other is Muslim Ladakhi. We have Sheenas. They are pitting these ethnic groups against each other to create an ethnic war or a civil discontent so that people don't look at their own leadership, but they look towards Delhi. And this is being done very systematically. You will not be able to understand it. I don't know if many of us even understand what is happening. They have very systematically penetrated, many shakhas have been put there, and it was being done while Mehbooba Mufti was the chief minister. That is why I called that time in the party — you will be seen as a collaborator and a facilitator because you have facilitated them to spread their tentacles even to places that were not available to them. What we see is just superficial drama being enacted. Deep inside the design is different. The design is totally different.
What do you mean?
They have to do demographic change. That's the real design. And there are some international things in which India, Pakistan and China are involved. That has also necessitated them to do this. And we became the scapegoats. This is a war of the titans and someone else is becoming a scapegoat.
"This is a war of the titans and someone else becoming a scapegoat."
THE BJP-PDP ALLIANCE
Tell us what led to PDP's alliance with the BJP in 2014
.
I vividly remember that it was 23 December, 2014, the results were out, and we had emerged as the second largest party with 28 seats, short of some 16 seats to form the government. The same day, Mufti (Mohammed Sayeed) sahab gave me his intention of aligning with the BJP. I had got some inputs from Delhi that Congress wants to talk to us so we should not be in haste. But he said, we should not. He got into the alliance and I distanced myself from him. From that very day, we started thinking on different lines. I consistently started opposing the government, opposing the alliance, and I requested, warned and threatened them to revisit the alliance. I threatened to leave the party if he did not revisit his decision.
Then what happened?
In the meantime, Mufti sahab expired. That was 7 January, 2016. And there was a stalemate of three months and Mehbooba Mufti did not take over immediately. I consistently tried to persuade her that this is a god-given opportunity to you and you should not miss this opportunity. I used the words — maybe the sins that we have committed will be forgiven by the people if we revisit our decision.
Let us sit in the Opposition or create a constitutional crisis where we have another election. But she did it again. Then, the unrest started, then Burhan Wani was killed, then the oppression and suppression. You know the 2016 story. That prompted me to call it a day and I resigned under protest from the Parliament and the party on 15 September, 2016. From that day onwards, I was consistent about my stand and I was forewarning the people, as well as the political leadership of Jammu and Kashmir that the BJP has very nefarious designs and they can go to any extent to damage the special status and the guarantees given to us under the Constitution.
When you were trying to persuade Mufti Mohammad Sayeed not to join the BJP, what were you conversations with him like?
The conversations were very simple. I told him we should not go with BJP. We have fought against BJP, we have sought votes against BJP. In the Assembly election, we fought against National Conference (NC). But in the Parliament election, we fought against BJP. Our main plank of seeking votes was that if we don't stop the BJP today, BJP will make inroads into the state. And that is how we won. It was a betrayal of our mandate. We sought votes against the BJP and we allied with the BJP. To that, he said, well, "this is politics."
"To that, he said, well, "this is politics.""
He said, "This is politics."
Yes, he said that. I said, I don't subscribe to this kind of politics, I have to go to the people. I just can't face them. But since I was a founding member of the PDP, I did my level best to revisit the whole decision. My concern was that this party should get saved.
Did you get the sense he was going for the alliance, but he was unhappy about it?
Later, yes. At the time, he (Mufti Mohammad Sayeed) said that the PDP-BJP alliance was the North Pole coming to South Pole. And I told him, the North Pole comes to the South Pole on the Day of Judgment. Politically, it was a Day of Judgment. This decision would totally change the political course of Jammu and Kashmir. That happened. Mehbooba Mufti had a chance to rectify it, but she did not. I think she was too obsessed to become chief minister. I even told her, "Look we have 28, Congress has 12, we are short of four. We have 4,5,6 independents. They would also come with us." But she said, "this would be an unstable government." I said, "Okay, if you want to make it very stable… National Conference is on record to say that we are ready to give you support, but don't align with BJP. Let us make a grand alliance." She said, "No, no… National Conference… You know the kind of people they are." I said, "Fine, but I'm not on your side anymore." And I called it a day.
"And I told him, the North Pole comes to the South Pole on the Day of Judgment."
Did you want to be CM?
If I had to become the chief minister at the cost of people's rights and comforts, I would have become chief minister when BJP was offering me. But nobody can say they he doesn't or she doesn't have the ambition to grow or move forward to the next level. Anybody who is in politics wants to grow, but legitimately, not illegitimately.
What was the everyday working dynamic between the BJP and PDP like?
Earlier, BJP was so fascinated with tasting power in J&K for the first time since 1947 that they forgot their entire agenda. For six months, they were reconciling whether they were actually in power or not. After six months, they realized that they are in power and there to pursue an agenda. But Mufti sahab was a statesmanly person and he handled them astutely for 10 months. But once Mehbooba Mufti came to power, they came out with all their guns trained.
"Once Mehbooba Mufti came to power, they came out with all their guns trained."
Did you have heated arguments with the Muftis?
Mufti sahab was a fatherly figure. We always had arguments where we would disagree, but ultimately being a fatherly figure, as far as I'm concerned, he would do something to take me along. He has been very close to my family. He was deputy minister in my uncle's (Ghulam Mohammed Sadiq) cabinet. And we had an affinity. It was not just political, but also a family relation. There were heated arguments, but not that heated also, that one would call it a day, and say okay bye-bye. It wasn't like that.
You didn't get the sense that he was torn over forging an alliance with the BJP?
He was okay. From the very first day, he said it is politics.
Rahul Gandhi asked you to join Congress.
Yes. He invited me. That time, I was under tremendous pressure to float a regional party which would replace PDP. PDP was floated to replace National Conference. Now, let there be a party that will replace PDP and National Conference as well. After six months, I joined Congress Party. I was approached by the Gandhis. We had a certain understanding. I told them — 'as far as Jammu and Kashmir is concerned, Congress has a lot of baggage.'
You did not want to be in a party that allied with the BJP.
Number 1. And number 2, the kind of oppression and suppression. You see, when PDP was in Opposition, we were opposing all such moves that were later done by the PDP itself — oppression, suppression and repression. It was all done by the BJP-PDP government at that time. I don't think it was a difficult decision for me. I did not even inform my family. I informed them a midnight that tomorrow morning I'm going to resign. Till then, even they did not know.
Many people believe that PDP promotes soft separatism.
There have been allegations like that. The agenda that we were promoting was a people-friendly agenda. That was an expression of their inner desires. Here in Delhi, they very conveniently branded it as soft separatism. On the contrary, we have hundreds of workers who were killed by militants.
Yes, one solid point is when people say, why did Jamaat-e-Islami vote for you? To that, I have been saying, do you mean to say that the people who follow Jamaat-e-Islami are not Indian subjects. Don't they have the right to vote? And you should appreciate that the people who did not vote till yesterday, who did not follow the Indian Constitution till yesterday, we have kind of made them understand that gun is no solution, it's only talks — if not trilateral, but triangular talks. Otherwise, what is soft separatism? How can you define what is soft separatism?
Sitting here now, do you believe that Kashmir is an integral part of India?
Do you identify as Indian?
I have always been Indian. Since I have been voting, I have been voting as an Indian. I have been participating in elections as an Indian. I have been contesting elections as an Indian. But as an Indian, I can have a difference of opinion. It's not that we have ever said that Kashmir is not an integral part of India, but being an integral part of India, there are certain rights, there are certain commitments and obligations, which the Government of India, time and again has made, and we are fighting for that. We are seeking those commitments and obligations.
For instance?
Article 370 is a glaring example. Today, after the abrogation of Article 370, we are being mocked by separatists. We are the people who were advocating that the Indian Constitution has enough space whereby the grievances of the people can be addressed and redressed, and those were the people who were saying no — we don't believe in the Constitution of India — we don't trust Indian politicians. Today, when we go to the people, they ask us — this is what you were advocating, this is your Indian Constitution? Let me ask you, does the manifesto of a political party overrule the Indian Constitution? What has happened is constitutional treachery.
"Does the manifesto of a political party overrule the Indian Constitution? What has happened is constitutional treachery."
CONGRESS ON ARTICLE 370
Why was Congress not prepared for the abrogation of Article 370?
I don't know. I can't say that they were not prepared, but the fact of the matter is that there was nothing that could have been done at the time. Till the bill was brought, we could not have said anything in anticipation.
You made a moving speech at the CWC (Congress Working Committee) meeting on Kashmir. What happened at the meeting?
We had a thorough discussion. There were differences of opinion. When I spoke, I spoke my heart out. I said I'm the worst hit out of the entire lot here because I'm the only Kashmiri here. I said I deserve to be heard very patiently. The fact of the matter is that I'm a Kashmiri, I'm an Indian and I have been humiliated. I have been betrayed. The basic essence of being Indian is being done away with. I said if the Congress is thinking of any compromise on Article 370, then I'm asking you what is the future for me. I have two choices. If I have to survive in Jammu and Kashmir, then Hurriyat is the only place for me. But if by convenience, I have to become something then the BJP is the place. Then, what am I doing here? Where do I go?
"I'm a Kashmiri, I'm an Indian and I have been humiliated. I have been betrayed. The basic essence of being Indian is being done away with."
Is the Congress saying it is against the abrogation of Article 370 or the manner in which it was done?
Both. Article 370 was not charity. It was negotiated by the tallest leaders of India at that time. It was not only 370, 371 was also negotiated on the same lines. All these states which are covered under Article 371 do get the same things. So why only Article 370? Just because you had put it in your manifesto.
(Home Minister Amit Shah has said that Modi government will not touch the states covered under Article 371).
But there is a mechanism for taking away the special status under Article 370.
When such a big decision is taken, and that too about a contentious issue like Jammu and Kashmir, you should have held an all-party meeting. Right from the first government, whenever Jammu and Kashmir was discussed… even Syama Prasad Mukherjee was taken into confidence by Pandit Jawaharlal Nehru when Jammu and Kashmir was discussed. Even Atal Bihari Vajpayee, when he was the Prime Minister of India… it is the responsibility of the government to invite the Opposition, not to muzzle their voices.
People might argue that no decision would ever be reached.
That doesn't mean that you will trample democratic practises. We don't have to be subjugated. You have to build consensus.
What did Rahul Gandhi say at the CWC meeting?
He listened to everyone's opinion. At the end, he gave his own.
Which was?
We cannot change the philosophy of Congress Party. If anyone has to go, they can go.
Have you spoken to other Kashmiri politicians?
One of my friends, a legislator (MLA), who was in Turkey when it happened and is presently in Abu Dhabi sent me a message — "Zonked. In a vegetative state. Doing nothing. Thinking nothing. Numb as a turnip. Down in the dumps."
My response — "In a different country, you still have an identity of being a foreigner. Unlucky are those who have lost their identity in their own country.
"In a different country, you still have an identity of being a foreigner. Unlucky are those who have lost their identity in their own country."