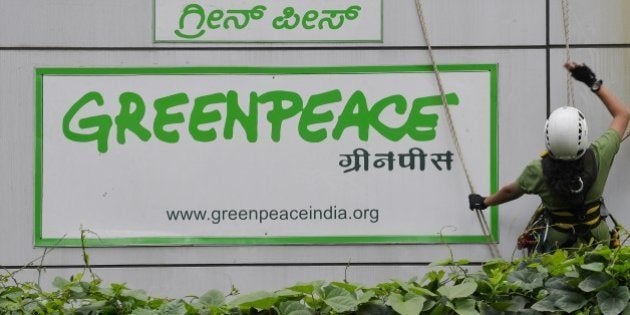 NEW DELHI — Greenpeace India on Thursday said it will keep operating in the country till June as its staff was willing to work without pay to ensure that the NGO doesn't "disappear completely" in the next few weeks.
Facing a possible closure in the country following the home ministry's decision last month to block its accounts, the environmental NGO's executive director Samit Aich in a press interaction here said his staff was ready to work without pay in June.
"Today my staff sent me a very moving letter in which they promised to work without pay for one month. I hope it will not come to this and my staff and their families avoid this hardship. But if necessary, we are able to keep the basic functions of Greenpeace India running until the end of June."
Greenpeace Executive Director India Samit Aich (L) along with Greenpeace activist Priya Pillai addresses a press conference in New Delhi on May 21, 2015.
"Over 30,000 supporters have now signed a petition to the home ministry, calling on the home minister to end the crackdown on civil society groups and unfreeze our accounts," Aich said.
The Delhi High Court will on May 26 hear Greenpeace India's writ petition which challenged the suspension of its Foreign Contribution Regulation Act (FCRA) licence and the block on its national and international bank accounts.
Aich said he had great faith in the Indian judicial system and was hoping for a positive outcome.
He invited Greenpeace supporters from around the world to sign an open letter to UN Secretary General Ban Ki-moon, urging him to lend his voice in support of free speech in India.
"We are confident of our case and are hopeful that the court will grant us relief on Tuesday. But the wheels of justice can take time, and we need to make sure we don't disappear completely in the next few weeks. This plan enables us to do that."
The body has also invited its supporters from around the world to sign an open letter to UN Secretary General Ban Ki-moon, urging him to lend his voice in support of free speech in India.
The government has barred Greenpeace India from receiving foreign funds by suspending its licence for six months and freezing all its accounts after alleging that it has "prejudicially" affected the country's interests.
"I am asking for thousands of people around the world to join me in standing up for Greenpeace India and speaking up for freedom," Aich said in his email to supporters.
He said that the Greenpeace International is also watching the situation very "closely" and are "concerned" as such a situation was unprecedented in the organisation's history.
Greenpeace India has also submitted a comprehensive rebuttal to the Home Ministry's show-cause and demanded immediate unblocking of its domestic bank accounts.
Greenpeace India campaigner Priya Pillai also accused the government of "systematically dismantling" every legislation put in place as regulation to protect the environment in the last one year.
"Each of the legislations have been diluted in the last one year including the land bill, the forest rights act..each of these areas, government has diluted in favour of corporates, single window clearances, doing away with environmental and social impact assessments and community consent. This is a matter of grave concern for us," Pillai said.
Here's the full text of the letter sent to Samit Aich by Greenpeace India employees, signed by 228 staff members from across the country.
Dear Samit,

We're writing to tell you how we feel about our work and Greenpeace India. Some of us have been here since the early days, when we campaigned for justice for the victims of Bhopal. A few of us are very new, and we're proud to have worked in many solutions projects across India on food, climate and energy.

Each of us is worried about what's happened over the past few months to Greenpeace and civil society. Our friends and families are reading about us in the newspapers and are worried about us and our jobs. Despite these concerns, we want to reaffirm our passion and commitment towards the environment and for this organization. As part of our country, we want inclusive and sustainable development. That means playing a part in preserving our forests, keeping our air clean and our food safe.

We're aware that we're going through a financial crisis, but we want to assure you that we're in this together. We'd like to pledge to continue our work for at least a month, without pay, starting June 1. We realize that this will place a strain on our finances and our personal commitments, but we're determined to work through it. We will look out for and support each other in all ways.

We don't know how life will be after the month of June. But it is fitting that we're making this commitment in the month of the World Environment Day. It gives our promise more purpose and meaning. This is not just about us but also about our friends and allies across India who are facing or may face similar situations. We believe that our environment is something worth fighting for together and we are happy to do this.

Whatever happens over the next few weeks, we know that the spirit of Greenpeace India will survive. We are there to nurture and protect it, and we're with you.

Sincerely,

Greenpeace India staff



Popular in the Community