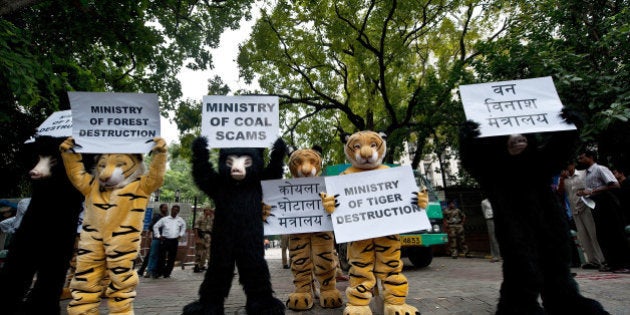 The Indian government has suspended the registration of Greenpeace India under the Foreign Contribution Regulation Act after it had protested against certain industrial and coal mining projects that were proposed to be built in environmentally sensitive regions in the country.
The Home Ministry said in a statement that there were serious allegations of Greenpeace's involvement in what it called 'anti-development' activities. All seven bank accounts of the organisation have been frozen for the next 180 days, and a show cause notice slapped on it asking why its registration should not be cancelled permanently. That would make the organization a non-entity in India, and it would need to close all operations in the country.
In June 2014, the Intelligence Bureau had recommended cancellation of Greenpeace's FCRA registration, claiming it was a threat to national economic security and it was masking its real sources of funding. It had mentioned that "Greenpeace was leading a massive effort to take down India's coal-fired plant and coal mining activity." The vast majority of India's energy needs are produced by thermal power plants.
The Narendra Modi government has pursued Greenpeace and its activities with more interest than its predecessors. Earlier in January Priya Pillai, an activist with the organization, was stopped at the Delhi airport from flying to London where she was supposed to make a presentation to British members of parliament about human rights abuses in Mahan, Madhya Pradesh. Essar, a major industrial conglomerate, and state-owned Hindalco want to mine the forested land for coal reserves but have been held up because of protests by Greenpeace and other environmental organisations.
Last June the government had asked India's central bank to stop all foreign contributions to Greenpeace and Climate Works Foundation, after concluding that the agencies were gearing up to make India the primary target for activism against thermal coal-fired power plants.



Popular in the Community