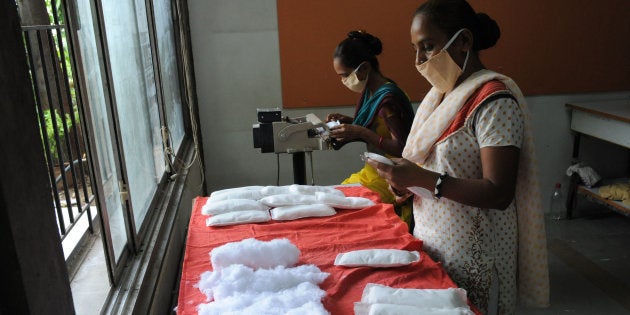 It was sometime in 2005 Anshu Gupta heard a story that he would never forget.
Those were the early days of his NGO—Goonj—and he would travel widely to understand grassroots realities. It was during one such trip to a village in Firozabad—a hub for bangle-makers—that he was approached by a woman, who told him a story.
The woman told Gupta about her sister-in-law, who, in the absence of proper cotton cloth, had repurposed an unwearable synthetic blouse into something that could soak menstrual blood. She didn't notice that a loose metal hook had remained on the blouse. The hook ended up in her vaginal tract, and following days of pain and discomfort when she finally visited a doctor, it was too late. She died within a few days from severe infection.
Gupta tells me the story to emphasise what many of us take for granted—the access to cotton cloth.
In a country where women are too poor to possess a piece of cotton cloth, discussing the merit of a couple of percentage points increase in tax on sanitary napkins feels like a futile exercise. Yes, taxing sanitary napkins while excluding many other items reflects the poverty of policy-making, but the issue of access to affordable menstrual hygiene is far graver, and needs to become an urgent national conversation.
Gupta observes that some of the conversations that ensued following the announcement of the Goods and Services Tax rate was in fact largely problematic and disappointing. For example, most argued that 88% of Indian women don't use sanitary pads and quickly ended with demanding the lifting of GST or criticising it. "It almost makes it sound like it is because of the GST that women can't buy napkins," he observers. Only, it couldn't be farther from the reality of this country.
The Math
I meet 37-year-old Meenakshi Shetty—who is married to a plumber—at the Delhi office of an NGO. She does odd jobs for the NGO and often works in their workshop. "These days, you get napkins in a couple of shops in my village, but no one buys them. Each packet of 10 costs 25-35 rupees... who will buy napkins instead of ration?" she asks. Shetty is talking about her village in Kendrapara, Odisha, where for the price of the cheapest napkins, families can buy rations for several days.
The imposition of GST will mean a 14% tax on packets of sanitary napkins, as opposed to 12.5% tax currently. While social media is aghast at this higher tax rate, Shetty and several other women I spoke to over the past one month in and around Delhi weren't half as concerned.
And that is because, even minus the GST, napkins are fairly beyond their purchasing power. The math is simple and telling. The cheapest available sanitary napkin sells for no less than ₹20 for a pack of 8, which includes a 12.5% tax. Now with the tax revised to 14%, the price of a pack of napkins which say, costs ₹20, will go up by less than 50 paise.
It is obvious that this 50 paise hike in taxes or 2-3 rupees in taxes in total doesn't play a decisive role in a majority of women's decision to not purchase napkins.
What is the alternative to pads?
Gayatri Mishra, secretary of Sakhi Sangam, a self-help group for women in the northern fringes of Delhi, agrees that only abolishing taxes on sanitary napkins will not immediately benefit the women who don't or won't buy napkins. Sultanpuri, where I meet Gayatri and her colleagues, is a hastily cobbled together colony populated with migrant labourers who flock to the city from Bihar, UP and Rajasthan. Rows of brick houses—discoloured one-room floors stacked over each other—jostle against each other. Sabbar Tausif, programme manager for Plan India, which collaborated with Baliga Trust to set up Sakhi Sangam, points out that the residents are mostly daily labourers or factory workers employed with the dozen industrial units lining Mangolpuri.
During the course of his work, Gupta came to know that the poorest of poor women would tie dung cakes—easily available in villages and often made in their own homes—to their bodies during periods.
Several women work as well, but when Plan India set out to build a sanitary napkin manufacturing unit, a number of them were unwilling to spend money on buying napkins. Some of them may be able to afford sanitary napkins by cutting a few corners, but more often than not, says Sabbar, that doesn't happen.
While setting up the SHG, Gayatri realised one of the primary reasons the women in the area were reluctant to buy napkins was the availability and affordability of cloth. Katran market—a huge wholesale market a shout away from Sakhi Sangam's office—is known to sell cut-cloth for ₹10 a kilo. "Usually a kilo of cloth is enough to see women in the family through for 2-3 months," Gayatri says. These pieces of cloth are usually from second-hand clothes sold off cheap or factory rejects.
At least in Mangolpuri, the residents have the reassurance of access to cloth, which, according to most grassroots workers, is a luxury in itself for a great percentage of women in the country.
"Not every piece of cloth can soak blood effectively. You need a good piece of cotton cloth to use during periods. And most women cannot afford cotton. Even if they do, do you think they'd use it for menstruation?" Gupta says.
During the course of his work, Gupta came to know that the poorest of poor women would tie dung cakes—easily available in villages and often made in their own homes—to their bodies during their periods.
Patriarchy as a deterrent
So how did menstrual health get a short shrift in India?
Because this struggle is not as visible as other issues. Also because the people at the receiving end of it—underprivileged, uneducated women—are the ones who are usually schooled and conditioned to keep quiet about their problems.
"You don't see women struggling with periods the way you see malnourished children on the roads, population exploding, anaemic women in hospitals or illiterate people. Since you don't see it, it must not exist—that's the only way to explain this overwhelming apathy to menstrual health," says Gupta. Also, the general patriarchal attitude in India—'They're women, they'll have to manage'—makes sure the issue never gets any importance, even in the women's own homes.
Starting with governments and corporates with deep pockets, this apathy to mental health trickles down to civil societies and homes.
Ranjana Kumari, director of Centre For Social Research, says that menstrual health is not seen as a priority within governments. CSR was responsible for helping the Congress-led Delhi government run the Gender Resource Center till it shut down in 2015. In 2012, they had tried to distribute sanitary napkins—at ₹11 for a packet of 10—but the initiative had to be aborted within three months. "The supply just stopped. The social welfare department was sourcing the napkins from somewhere...," Kumari adds.
A health-worker told me on condition of anonymity that manufacture of cost-effective sanitary napkins isn't considered 'sexy enough' a project to flaunt.
The corporates, usually eager to fund projects that would enhance their image, are mostly reluctant to fund sanitary napkin research/manufacturing projects. A health-worker told me on the condition of anonymity that the manufacture of cost-effective sanitary napkins isn't considered a 'sexy enough' project to flaunt. "When we pitch for funding, these people will say things like, 'Let's do something about women's education' or 'Let's do something about empowerment'. I have been clearly told by some that it doesn't seem like a big enough issue they are helping solve," she says.
Bhagyashri Dengle, the executive director of Plan India, remembers that once, while sending relief to the Chennai floods victims, their volunteers had tried to put a bag of napkins in the car carrying other relief material. "The men asked us if we were insane to have sanitary napkins take up space which could easily carry a few more bottles of water. Now how could we explain to a man that a girl on her periods would rather starve that have nothing to soak the bleeding?"
In fact, this lack of first-hand understanding of the experience of menstruation is at the root of the great apathy shown towards menstrual health in India.
"These daily labourers around Mangolpuri, they buy second-hand TVs on instalment from local shops. Some of them even have coolers. But since the men earn more, they look at their own interests first. They want to come back home after a long day's work and watch television, the women can manage with dirty cloth because anyway they don't protest much," Tausif observes.
Several women also told Tausif and his colleagues that they didn't have a place to 'hide' napkins in the crammed rooms they share with men. So they decide not to buy them at all.
What have successive governments done?
In 2013, the Congress government at the Centre floated the 'Freedays' scheme in 107 districts in 17 states. Under the scheme, ASHA workers (acronym for Accredited Social Health Activists, who are women from local communities employed by the government to spread awareness about various issues, ranging from maternity health to family planning) were supposed to distribute sanitary napkins to adolescent girls at a price of six for ₹6. However, in 2014, several reports noted that the scheme had failed spectacularly. And while it was initially decided that self-help groups will start making napkins in 45 districts, that didn't quite take off either.
Apart from the fact that the scheme targeted only adolescent school-going girls and left out a majority of women who needed napkins, it put the onus of sale of napkins and awareness on ASHA workers' discretion and interest. Given how few girls have access to schools in the first place, the scheme couldn't have succeeded.
Gupta points out that one rupee is too meagre an incentive for an ASHA worker to explain the importance of sanitary health to women who have been pretty much indoctrinated to never talk about it.
That apart, the scheme targeted a demographic—adolescent girls—with next to no financial autonomy or right to purchase things for themselves. That would need counselling sessions for entire families, something that the scheme and the ASHA workers involved were not designed for or trained in.
Simren Singh, a development professional who, as a part of the SBI Youth for India Fellowship, spent considerable time working with grassroots organisations in Rajasthan, remembers that the ASHA workers in the village she worked in didn't strive proactively to create awareness on the subject. Singh spent months working on menstrual health in Sagwara in Rajasthan, where no shops stocked sanitary pads. One had to travel 40 kilometres to Kherwara to buy napkins.
"The government supplied disposable sanitary napkins to the tribal girls' hostel in the village for free. However, this supply was not made to all the girls in the school and was restricted only to the residential girls, even though in 2015, the Government of Rajasthan announced free supply of sanitary napkins to school-going adolescent girls from BPL families," Simren adds.
The way forward
Arunachalam Muruganantham, famous as India's 'pad-man', tells HuffPost India that while affordability is an issue, awareness is a bigger concern. Because so few people talk about menstruation, it is difficult to coax women to switch to healthier menstrual practices. The low-cost pads manufactured by Muruganantham's Jayaashree Industries cost between ₹1.5 and ₹2.5 per pad and, he says, the costs could be further reduced with government subsidies. "We have 4,800 manufacturing units set up across India and roughly 12 to 14 million women use our pads," says Murugananthanam.
Most grassroots workers unanimously agree that the first thing to do would be to talk about periods. Goonj has male volunteers spread awareness about menstrual hygiene in an attempt to break the ice and normalise such conversations.
"We take the availability of cloth for granted and hence talk about napkins. We have to start from the scratch where we look at the reality—that cloth, too, is a luxury. Then teach women to use cloth hygienically—they can wash them in water in which neem leaves have been soaked overnight. Then salt water—these are natural disinfectants and if the family becomes less stuck up about periods, they will dry the cloth in sunshine,'' says Gupta.
Goonj makes cloth-based sanitary napkins, where they roll a big piece of cloth with several pieces of cloth inside to resemble a napkin. While distributing these napkins, Goonj encourages women to burn these after use but in case they want to re-use, they also explain the proper ways to wash and dry them and warn women against the hazards of not following the process.
We have to start from the scratch where we look at the reality—that cloth too is a luxury. Then teach women to use cloth hygienically—they can wash them in water in which neem leaves have been soaked overnight.
Sakhi Sangam used Muruganantham's low-cost pad manufacturing technology—which uses wood pulp and blotting paper—to make pads. Yet, they come for no less than ₹20 for eight pads. Which means, during one period, a woman has to spend at least ₹40 to afford even a 'low cost' sanitary pad. Tausif says it is nearly impossible to reduce the price further by private agencies as there is no government support or research to improve the low-cost manufacturing technology.
Subsidies and tax concessions are usually given to make essential goods and commodities more affordable, or to provide an incentive to encourage the adoption of technologies and products that are deemed a public good. For instance, India currently provides a subsidy on clean technology such as solar panels to encourage use of clean power.
Even if making sanitary napkins free is not immediately feasible, there is no reason why the government can't facilitate change through incentives and subsidies to low-cost, eco-friendly manufacturers of sanitary hygiene products to boost their adoption, and to make them more affordable.
Ranjana Kumari says, "If things like Coca Cola can reach every nook and corner of the country, why can't sanitary napkins be distributed likewise?"
Simren adds, "In rural, peri-urban and even urban areas, the government should build tie-ups with existing manufacturing centres or set up new production units. Non-government SHGs which are established with the support of private civil society organisations must be incentivised and supported (through loans or grants for buying machinery, etc.) to set up mini-manufacturing units in the villages/slums. This will also help in generating employment for women."
Gupta agrees that the only way to make sure more women have access to sanitary napkins is to decentralise the process of manufacturing and distribution. "With such a large number of SHGs and micro-finance opportunities aimed to cater women, how is this still a problem?" he adds.
Simren points out that the government can also prioritise menstrual health and hygiene similar to the national skilling and Digital India mission to attract corporate funding through CSR programmes. "Special tax incentives could be offered to the corporates who support setting up of mini-manufacturing units for SHGs in order to reduce the supply gap of low-cost sanitary napkins," she adds.
(With inputs from Rimin Dutt)