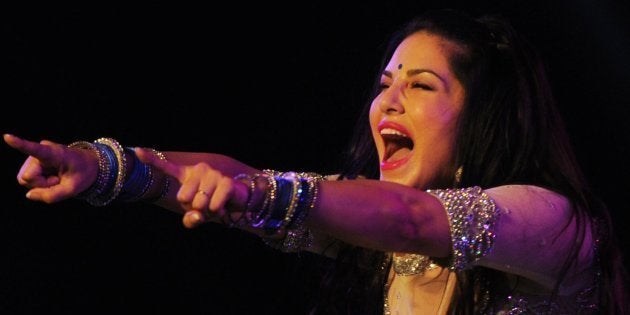 Unaware that pious Hindus prefer treating sex the same way they are supposed to treat onions during Navratri, a condom manufacturer put out billboards all over Gujarat saying the following: "This Navratri, play, but with love." The hoardings also had a picture of a particularly pleased Sunny Leone -- the Manforce condoms' brand ambassador -- decked up in ethnic finery and smiling into vacuum like people tend to from billboards. On the face of it, it seems like a perfectly legitimate thing to say -- if you're going to have sex this Navratri, use a condom, preferably a Manforce condom. If you ask most sane people, they'll tell you it's good advice.
However, Ahmedabad Mirror reports that a group of doctors in Gujarat have taken great exception to the advertisement. Now what might a group of doctors have against a practice endorsed and promoted by most medical professionals? An issue bigger than rationality, science and medicine in our country at the moment - 'religious sentiments'. It's perhaps just a coincidence that all these doctors belong to the National Medicos Organisation, affiliated to the RSS.
Not only have they sought a ban on condoms sold by Mankind Pharma in Gujarat -- the manufacturer of Manforce Condoms -- they have also decided to boycott all medicines made by the brand. Dr Prakash Kurmi, the chief of NMO, told Ahmedabad Mirrorthat he has appealed to the organisation's 2000 life members and 5000 affiliated doctors to refrain from prescribing Mankind Pharma products, though he admitted that the company makes affordable medicines that could benefit a lot of people. He has even banned the entry of medical representatives to the hospital in owns in Maninagar, Gujarat. "But this time, they have crossed the limit by putting up hoardings featuring Sunny Leone, dandiya and a double-entendre. Such obscenity hurts our religious sentiments," he said.
Another doctor Vasant Patel told Mirror: "The message in the hoarding was very clear that condoms should be used during Navratri. I think legal action must be initiated against this company."
The report adds that various officials of the Rashtriya Swayamsevak Sangh (RSS) and Vishwa Hindu Parishad (VHP) chimed in with a plethora of allegations against the company ranging from tarnishing the image of Hindus, insulting culture and instigating them.
Prior to this, a trader's body in Gujarat brought up a similar complaint, accusing Manforce of instigating the youth to have sex.
Mankind Pharma has hurriedly issued an apology and started pulling the billboards down across Gujarat.
Maybe, the outrage brigade in Gujarat needs to read this survey which found that the sale of sex toys, edible lingerie and condoms spike by three times during Navratri each year in the state. They should also be questioned why they'd expect human beings to live the life of amoebae during a religious festival.
There is no law in the land that prevents anyone from having sex during Navratri, and if people are indeed getting it on, it is advisable that they use a condom. But in India, you may get protection against STDs, but protection from hypocrisy? Not so much.