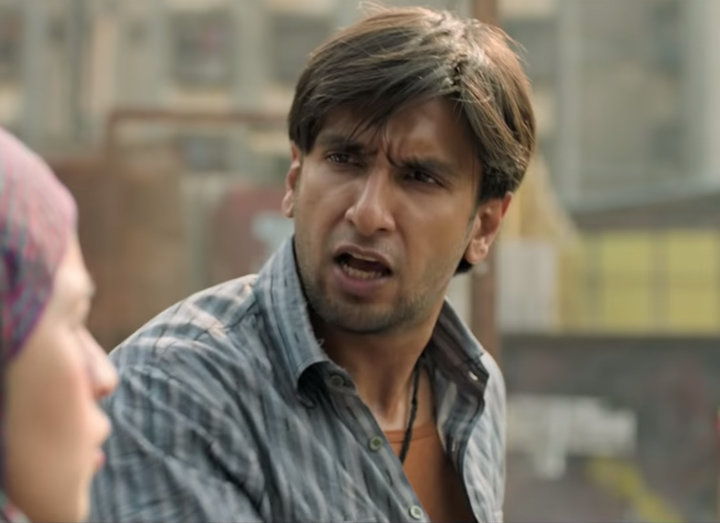 For a movie that uses boisterous songs to make sociopolitical commentary, Gully Boy speaks the loudest when it is quiet.
Its silences are lyrical.
The companionable silence between lovers, the charming silence that engulfs Mumbai in the night, the shared silence that reflects the quiet pain in glances exchanged between the protagonist, Murad and his mother, the silence between two friends, one in jail, the other willing to let go of a potential career to get him out.
Akhtar, often accused of being the chronicler of posh pain, has left the pristine shores of the Mediterranean and Spanish countryside, to enter the dusty and chaotic ghettos of Mumbai and has crafted a rousing story of class oppression featuring two powerful Muslim protagonists, their religious identity consciously foregrounded throughout the narrative.
Featuring Ranveer Singh as Murad, a lower-class Muslim boy who lives in a rickety room in an overcrowded slum, Akhtar creates a haunting portrait of an underdog who must narrativise his difficult life experiences as a means to escape that very reality. Inspired by the real-life success stories of Dharavi rappers Naezy, Divine and a whole bunch of others who ushered the underground hip-hop scene in Mumbai, Gully Boy is a triumph, a film so relentlessly pulsating, a film so wildly alive, it's hard not to get swayed by the sheer force of its thumping energy.
Akhtar, who has often referenced art in her past films, makes a solid case about its transformative and healing power. In Gully Boy, which she's co-written with Reema Kagti, music isn't just an indulgence or an articulation of talent, but a potent form of self-expression that liberates Murad and his mother from a life of poverty, crime, and domestic abuse.
Although it appropriates the Azaadi song, which is troublingly interjected with a robbery scene, other songs such as Jingostan, Doori, and Apna Time Aayega, are staunchly anti-establishment, articulating class oppression and economic disparity from the lens of the Muslim community. That way, Gully Boy ends up underlining the horrors of majoritarian politics without making the film explicitly about it.
Between Khilji, Simmba and Murad, Singh's acting endeavours have covered such a wide spectrum, it'd suck to be his competitor right now.
In Gully Boy, Singh delivers a performance of a lifetime, a role performed with such conviction and gusto, it feels as if the actor has internalised the lived experiences of a ghetto boy. His eyes convey tragic vulnerability, only lighting up when he's making/reciting poetry or longing for his lover, Safeena, the can-do-no-wrong Alia Bhatt, who undoubtedly is the most gifted actress of our times.
Both actors, playing childhood sweethearts who go through a tumultuous phase, feed off each other's artistic energies, creating a fusion of acting talent that is wholesome to watch. So terrific are both Singh and Bhatt in picking up the very distinct ghetto slang, one could never tell that these actors have come from a life of enormous social and economic privilege.
Equally impressive is the supporting cast, especially Siddhant Chaturvedi, who plays MC Sher, Singh's mentor of sorts. Chaturvedi is absolutely charismatic and his MC Sher deserves a spinoff movie of his own. Singh's other friend, Vijay Verma, is suitably cast.
However, the real star of Gully Boy is Vijay Maurya, who has written the film's dialogues and is also seen in a supporting part.
In a film that could easily be dismissed as template angry-young-man-against-the-establishment, Maurya's dialogues carry immense depth, words that brim with urgent, practical wisdom without coming across as heavy-handed. These are lines that aren't designed as crackling wisecracks but convey difficult emotional truths with poetic panache.
A scene where Murad confronts his father and talks about finding an identity through his writing, makes an argument about the immortality of art and also functions as a biting critique of convention, monotony, and society's persecution of youthful eccentricity. As idealism collides with disillusionment, the dreamer has the final word over the one jaded with life.
Because, ultimately, Akhtar's movie is about the right to dream.
In a conservative setup that's also economically disadvantageous, Murad finds a form of self-expression that rips apart staid notions of normalcy and turns oppression into an opportunity. Quite like Zahira Wasim's character in Aamir Khan's Secret Superstar.
Akhtar, it is understood early on, isn't interested in exploring the nuances of the inception of hip-hop as much as she's committed in using that as a specific window into the lives of a marginalised community.
For the ghetto boys raised in a culture of routine violence, music becomes an outlet to rage nonviolently, to take pain and make it not just bearable but liveable. For Murad, rap weaponises him to stand up against abuse at home.
That Singh has been made to look darker than he is to 'fit into the mould' is quite problematic as is Kalki Koechlin's underdeveloped role. For reasons inexplicable, there's also a random white girl who hangs around MC Sher, although her character has absolutely no graph or relevance to the central plot.
Despite these shortcomings, Zoya Akhtar, arguably, has made the best Hindi film in at least a decade.
This is a film about radical individualism winning over collectivism and about art functioning as both - an escape as well as a reality check.
It's a film that knows its beats and captures a cultural milieu that has long lacked mainstream representation.
More importantly, this is a film that knows and capitalises on the very reason we go to the movies in the first place - to keep hoping.
Popular in the Community