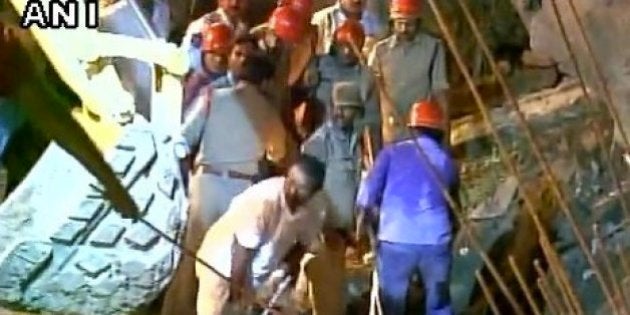 Vijayawada, ANDHRA PRADESH--At least seven construction workers were killed under mud following a landslip at a building construction site in Guntur city of Andhra Pradesh, late on Saturday night.
Police sources said the mishap occurred when a 30-feet deep cellar was being dug for a proposed multi-storey building at Lakshmipuram in Guntur.
One worker has been rescued from the site, say reports.
The workers were engaged in building the compound wall when the earthen mound around the pit caved in burying them in mud and slush, reports The Hindu. The compound wall of an adjacent restaurant also collapsed a little later.
The workers had reportedly expressed apprehensions over the strength of black cotton soil, but the mason prodded them on.
The workers, hailing from SC Colony at Gottipadu in Prathipadu mandal, were identified as Seshu, Bhagya Rao, Moshe, Solomon, Babloo, Sudhakar, and J. Prasanth.
AP Assembly Speaker Kodela Sivaprasada Rao, MLAs Alapati Rajendra Prasad, N Anand Babu, district Collector Kantilal Dande and other officials rushed to the spot.
Chief Minister N Chandrababu Naidu asked his deputy N China Rajappa, who holds the Home portfolio, to rush to Guntur and oversee the rescue efforts, official sources said.



Popular in the Community