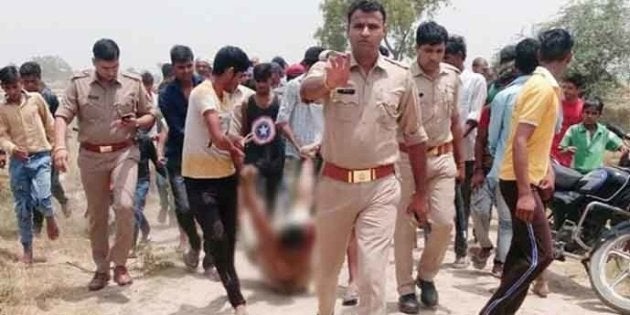 NEW DELHI — Rakesh Sisodia, a prime accused in the Hapur lynching case, was granted by a Sessions Court in Hapur today. Yudhishtir Singh, also accused in the case, was granted bail on July 6, meaning that two of the four men arrested for the crime have been granted bail.
The police had arrested both men under Section 302 of the Indian Penal Code (murder) a few days after a Muslim man, Qasim, was lynched by cow vigilantes near Bhagera Khurd village in Hapur. Samiuddin, another Muslim man, was also badly beaten by the mob accusing him of cow slaughter, but survived.
Speaking to HuffPost India, Bhopal Shishodia, who is representing Sisodia, said that Judge Renu Agarwal had granted Singh bail today. Shishodia said that Judge Agarwal had referred to the First Information Report (FIR) which says that Qasim and Samiuddin were beaten up after a motorcycle accident.
Javed Khan, who is representing Qasim's family, confirmed that bail had been granted to Sisodia.
Responding to the bail order, Superintendent of Police (SP) Hapur, Sankalp Sharma, said, "It is shocking for us as well because bail is not granted so easily under Section S.302. We have included every evidence including the videos of the incident to make our case stronger."
Thursday's bail order, a month after the two Muslim men were attacked, adds weight to the impression that the police investigation in the incident is a shambles.
The FIR says the violence on June 18 was a case of road rage, triggered by an argument over a motorcycle accident. The case diary, an account of the investigation, says that the two men were attacked when they were slaughtering a cow. Neither a cow nor a motorcycle was recovered from the scene of the crime.
The police claim to have taken a statement from Samiuddin, who survived the attack. Samiuddin says the police has never taken his statement. His brother, Yasin, says the police threatened to file a case of cow slaughter against their family if he did not file a complaint that stated he and his brother were involved in an motorcycle accident.
Responding to Samiuddin's accusation, Sharma said that the police had recorded his statement, not once but twice while he was admitted in Dev Nandini hospital, and he had named Singh and Sisodia. "We have a videograph of the statement of Samiuddin," he said.
The UP police have issued non-bailable warrants against another seven men in connection with the case.
Popular in the Community