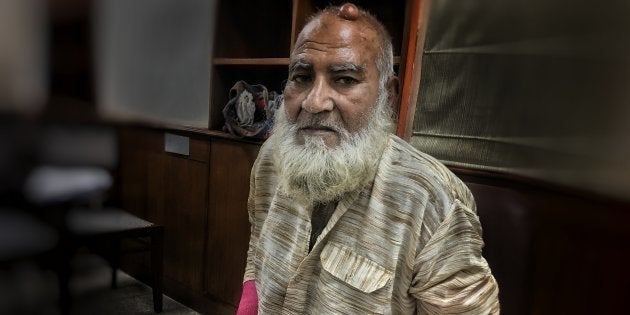 NEW DELHI — The survivor and key witness in the Hapur lynching, Samiuddin, said the Uttar Pradesh Police did not record his statement of the crime in which one man was lynched to death, despite the police submitting a witness statement in Samiuddin's name in the Hapur Sessions Court.
"The police did not take my statement. When I was in the ICU (Intensive Care Unit), at times conscious, other times unconscious, not in a good shape, the police came once or twice and asked for a statement, but I said that I'm not in a position to give a statement, and that is why I cannot say anything," Samiuddin said in an interview with HuffPost India.
Samiuddin also said someone took his thumb impressions without his permission by pressing his broken hands onto a piece of paper, while he was lay battered and barely conscious at the G.S. Medical College, in Hapur.
If true, Samiuddin's account suggests the UP police has perjured itself by submitting false witness statements in court — a serious crime under Sections 192-196 of the Indian Penal Code.
Sankalp Sharma, Superintendent of Police Hapur and the officer overseeing the case, did not respond to attempts to reach him.
Samiuddin's first-hand account of the brutal lynching, that left him seriously injured and one man — Qasim — dead, is the latest twist in a crime that was captured in gruesome detail in a series of video clips that have since gone viral. Samiuddin and Qasim were attacked on June 18 by a mob that claimed that the two men were slaughtering a cow.
The UP police, by contrast, claimed the men were attacked when an argument over a motorcycle accident spiraled out of control. However, the police have recovered neither a motorcycle, nor a cow.
"Of course, they are lying," said Samiuddin's lawyer, Vrinda Grover, referring to the police investigation. "The whole thing is a fabrication."
In an interview after spending close to a month in hospital, Samiuddin offered a harrowing account of the cow vigilantism that has become increasingly common in the four years since Prime Minister Narendra Modi's Bharatiya Janta Party (BJP) has come to power.
The whole thing is a fabrication.
We will teach you a lesson
"All I said was, 'What is the matter?' and they said, 'We will teach you a lesson, Mullah!" said Samiuddin, speaking slowly, but in a clear and measured voice on Saturday. "They pulled my beard, they tried to tear the hair from my beard, they spat on me and they beat me."
On the afternoon of June 18, Samiuddin said that he and another man named Hassan were sitting in his field near Madarpur village, smoking beedis, when Qasim passed them. Almost immediately, villagers from the Bhaghera Khurd village came running towards them, accusing Qasim of cow slaughter.
"I stood up and said, 'what is the matter, why are you beating him.' They said, 'We will tell you soon,' and leapt at me. They caught hold of me and started beating me up. They said, 'this man slaughters cows, you are with him.'
"I said, 'I am not his friend, there is no cow here, nor is there any equipment to slaughter cows. It is 12:00 in the afternoon, you people keeping going to and from the fields, how can anyone do this?"
They pulled my beard, they tried to tear the hair from my beard, they spat on me and they beat me.
Samiuddin said the mob did not listen. When men from Samiuddin's village, Madarpur, appeared on the scene, the mob started pushing him towards Bhaghera Khurd village.
"I was too tired to move and so they caught hold of my shoulders and pushed me and dragged me by my collar. I would fall when they hit me. They would make me stand up again. If I didn't stand, they would beat me again. Qasim was behind me. Sometimes, they would hit him, sometimes, they would hit me. Finally, they dumped us in the sun near the Devi ka mandir."
Samiuddin said that he lost track of time. He cannot recall whether it was an hour or two hours before the police finally arrived on "I was helpless. I couldn't open my eyes. I was close to fainting. I was like a dead body falling. I was unable to hear or see anything," he said.
Police Cover Up?
When the police arrived, Samiuddin said that he did not have the strength to get into the vehicle. "When they collected me and put me in the van, I felt immense pain," he said.
Rama Medical College, the first hospital the two men were rushed to, refused to admit them because of their precarious condition, Samiuddin said. The next hospital, G.S. Medical College, is where he heard that Qasim was in a grave condition and close to dying. It is also at G.S. Medical college, that he said he felt someone press his thumbs onto a piece of paper.
"I felt as if I had been given a few injections. I became a bit conscious when they took the thumbs of my broken hands and they put them on a piece of paper," Samiuddin said. "It hurt me and that is why I became conscious that they are doing something."
"After that I heard someone say that Qasim had died," he said.
I became a bit conscious when they took the thumbs of my broken hands and they put it on a piece of paper.
Samiuddin said he was at the Dev Nandini Hospital in Hapur till July 6 and then admitted to hospital in Delhi. He said the police did not come to take his statement at any point in this period.
Meanwhile, the UP police claimed to have taken a statement from Samiuddin, and that he had named Yudhishtir Singh, a villager from Bhager Khurd, to be among the attackers. The Hapur Sessions Court referred to this allegedly concocted statement while considering Singh's bail petition.
Singh was granted bail, while Rakesh Sisodia, a second accused, has his hearing on July 19. The police have arrested two other men, Sonu and Kaptan, in connection with the case, according to Bhopal Shishodia, the lawyer for all four men.
Today, Samiuddin said that he recognized several men from Bhagera Khurd village and identified some of them by name: Mange, Hari Om, Karam Pal, Lalit and Renku.
The botched FIR
Samiuddin's family told HuffPost India that the police had forced his younger brother, Yasin, to file a false First Information Report (FIR) at the Pilkhuwa Police Station.
"When we asked the police, where is our brother, they kept us going around in circles for almost five hours at least," Yasin said, explaining that Pawan Kumar, the circle officer (CO) at the station insisted he first file a report claiming that Samiuddin was a victim of road-rage sparked by a motorcycle accident.
"I had no choice but to sign," Yasin said. "The CO said that I will get the entire family beaten and sent to prison on the suspicion of cow slaughter. And you will only meet with your brother if you sign," he said.
Dinesh Tomar, a friend of the Samiuddin's family from the neighboring Hindalpur village, who is a member of the Samajwadi Party, said that he was present at Pilkhuwa thana when Yasin was forced to sign the FIR. "The CO said if the Yasin did not sign on the report that said road rage, the entire family could go to jail if it becomes a case of cow slaughter."
Grover said that Samiuddin, Yasin and Tomar have written to Inspector General (Meerut) Ram Kumar, Additional Director General of Police (Meerut) Prashant Kumar, and the SP of Hapur, Sharma, detailing their grievances and concerns with the police investigation.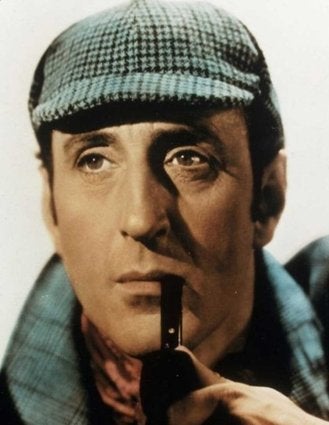 The Best Sherlock Holmes Of All Time
Popular in the Community