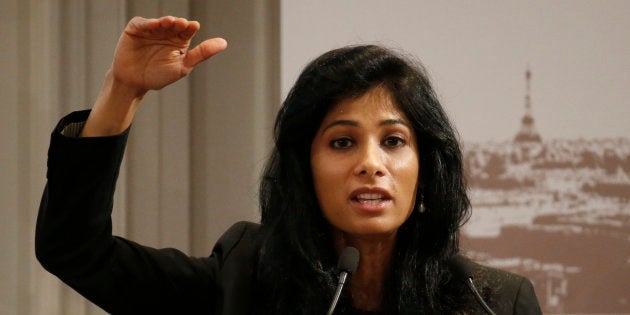 The appointment of Harvard economist Gita Gopinath as the financial advisor to Kerala chief minister Pinarayi Vijayan has stirred quite a political controversy in the Left-ruled state.
The reason is obvious. Gopinath is seen as an advocate of "neo-liberal policies" by many Left leaders and supporters, and that's a 180-degree departure from the usual economic and political line of the CPI(M)-led government in Kerala.
However, Vijayan seems to be unfazed. "For us, she is one of the leading world economists with roots in Kerala. What is wrong in asking her views and opinions on world economy and making use of whatever we want? As long as our stand is clear, there is no need for a worry on any departure from the party line," the Chief Minister told the Indian Express.
The party's central leadership has asked the state unit the reasons for appointing Gopinath.
Reacting to the controversy around her, Gopinath said that it's an 'honorary position' and she will work without a salary.
"There's no expectation that I will move to Thiruvananthapuram to engage on a daily basis with the government or be involved in all its economic policy decisions," Gopinath said in a statement.
"I am very honored to have the opportunity to serve as the Economic Advisor to the Hon'ble Chief Minister Shree Pinarayi Vijayan. Kerala has made substantial progress on social indicators like health and education and I hope to contribute towards further developing sustainable policies for the state that address its unique opportunities and challenges," she said.
The 44-year-old economist has impeccable credentials.
She is John Zwaanstra Professor of International Studies and Economics at Harvard University.
She is the third woman and the first Indian after Nobel laureate Amartya Sen to become a tenured professor at the Ivy League university, reports Mint.
Gopinath is also a visiting scholar at the Federal Reserve Bank of Boston, member of the economic advisory panel of the Federal Reserve Bank of New York and a managing editor of the Review of Economic Studies.
Born in Mysore, Gopinath's father TV Gopinath is a farmer and entrepreneur in Mysore.
She did her under-graduation from Delhi's Lady Shriram College and MA from the Delhi School of Economics before moving to the US. She got her post-graduation degree from the University of Washington and her PhD from Princeton University.
"Kerala is my native state as my father is from Mayyil and my mother from Kuttiattoor in Kannur district, so I am humbled by the opportunity to contribute my skills and effort to the development of Kerala. I am hopeful that under the leadership of the Hon'ble CM the state will make great strides in achieving its development goals," she said.
I am very honored to have the opportunity to serve as the Economic Advisor to the Hon'ble Chief Minister Shree Pinarayi Vijayan. Kerala has made substantial progress on social indicators like health and education and I hope to contribute towards further developing sustainable policies for the state that address its unique opportunities and challenges.

It is important to recognize that this is an honorary position, in that there is no remuneration, no expectation that I will move to Thiruvananthapuram to engage on a daily basis with the government or be involved in all its economic policy decisions.

I will continue as a full time professor at Harvard University and carry on my commitments including research and teaching. My mandate as discussed with the Hon'ble CM is two-fold:

• First, I will respond to any requests from the Hon'ble CM for advice on the impact on Kerala's economy of global, national and state events and policies.

Given my location, I anticipate most of this will be done remotely, rather than in person.

• Second, I hope to play a convening role to connect various state departments to the knowledge leaders from around the world in sectors relevant to Kerala like public finance, management, entrepreneurship, labor and development economics.

In both these tasks, I see my role confined entirely to providing advice to the Hon'ble CM and to make connections for the various departments. It is then up to the Hon'ble CM to consider my advice, and up to the relevant departments to continue conversations with the various sector experts. Given this advisory nature of the appointment and my location, I do not anticipate frequent interactions with the media to explain government policies or my opinion on those.

Kerala is my native state as my father is from Mayyil and my mother from Kuttiattoor in Kannur district, so I am humbled by the opportunity to contribute my skills and effort to the development of Kerala. I am hopeful that under the leadership of the Hon'ble CM the state will make great strides in achieving its development goals.

Gita Gopinath

Harvard University

Cambridge, USA

Date: July 26, 2016