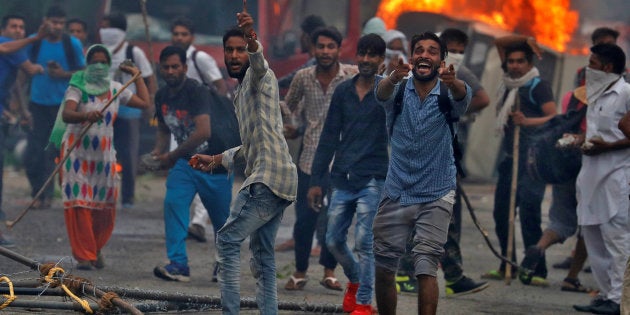 Ahead of a Haryana court verdict in a rape case against Dera Sacha Sauda (DSS) head Gurmeet Ram Rahim Singh, mobile Internet services were shut down in nearby areas such as Panchkula and Mohali. The Hindustan Times reported that SMSes, mobile Internet and all services apart from voice calls were suspended to keep the peace.
But as a result of the shutdown, police in Panchkula faced a challenge in estimating the size of crowds gathered at different locations. "We were until then sharing information and photos on WhatsApp to figure out the number of people pouring in the city from various points as it helped identify problem areas. DSS followers had started gathering August 22 onwards," Panchkula police commissioner Arshinder Singh Chawla has said, according to a report by Manoj Kumar first published by the Centre for Internet and Society.
This was a replay of events during the Jat agitation of 2016 as well—protestors were present in much greater numbers than police personnel, who were not aware of the scenario on the ground. The police also worried about sending messages asking for help over the radio, as this could have been tapped into by the protestors, according to the report.
The lack of mobile Internet during the DSS-related Internet shutdown also affected the use of technology such as drone cameras, Chawla said. And because the police could not communicate with security personnel at the court complex, the police inside had to scale walls to leave safely, as they could not ask their colleagues for backup.
The report points out that this is in stark contrast to what happened in Mumbai, where former police commissioner Rakesh Maria made use of WhatsApp and SMS messages to prevent a scuffle from turning into a riot during Eid celebrations in early 2015.
A study by the Software Freedom Law Centre stated that India has already over 100 Internet shutdowns in 2018, Medianama reported. The five states with the most shutdowns are Jammu and Kashmir, Rajasthan, Uttar Pradesh, Maharashtra and Bihar. This has been criticised by many, including the UN, and as the Haryana police's experience show, the shutdowns are not just harming citizens, but are counter-productive to maintaining order as well.