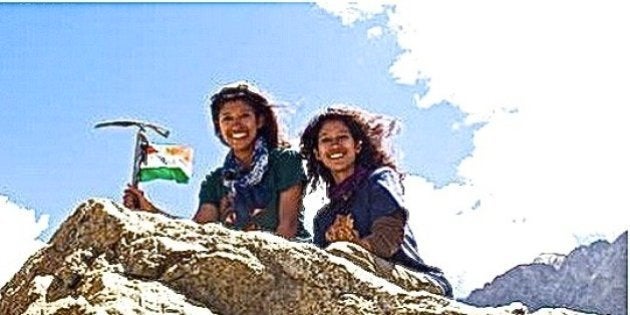 The 23-year-old sisters from Sonepat are also the youngest in the world to have completed the challenge in April, The Times Of India reported.
The twins, who became obsessed with mountain climbing since 2009, are the among the 44 mountaineers in the Explorers Grand Slam to have completed this feat since 1998. Initially, their parents weren't exactly supportive. "Mum would quietly go up to the instructors and tell them to fail us," Tashi told TOI.
But eventually, it was mum, who took a loan, and dad, who used all his savings, to kickstart their dreams.
They also raised funds for the '#Mission2for7' challenge on their website: "Climbing mountains, striking off goals and reaching hearts, all for the cause of the Indian Girl Child, that's our motto. Will you scale this mountain with us?."
The twins climbed the Mount Everest in May 2013, and then embarked on their next challenge, which involved climbing the highest peak in all seven continents: Mt. Everest, Mt. Kilimanjaro, Denali, Aconcagua, Vinson Massif, Mt. Elbrus, Mt. Kosciuszko and Carstensz Pyramid.
The Malik sisters are now ambassadors of the Beti Bachao movement - an initiative by Prime Minister Narendra Modi to prevent female feticide in India. Haryana, where the illegal practice of sex determination is widespread, has one of the most skewed sex ratios in the country.
Mountaineering also takes an emotional toll on the twins, who leave loving notes for their parents before they embark on their next adventure. "We've lost 25 of our climber friends in the last one and a half year," Nungshi told TOI.
And their next adventure? "Mt. Cook in New Zealand and a few virgin peaks around the world," they said.
Correction: An earlier version of this story ran a headline 'Haryana Twin Sisters Are The First Indians To Climb The Highest Peaks In 7 Continents.' Mastan Babu Malli was the first.