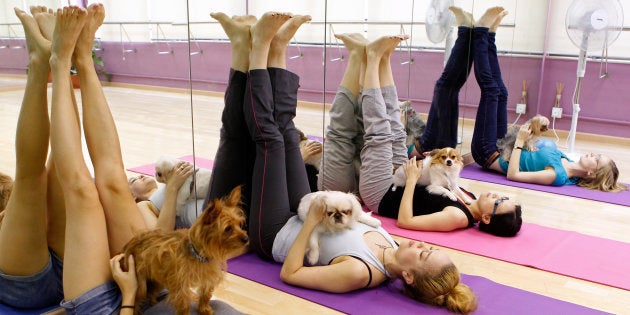 A study estimates that there are 36.7 million people practicing some form of yoga in the US alone. Come to think of it, if you actually formed a new continent with the people practising and fetishising yoga, it would probably have more people than Asia.
And like noodles, people world over have come up with their own, often bizarre versions of yoga. Here's a list if some forms of yoga that may not be for the faint-hearted.
1) Nude Yoga
Not everyone is brave enough to try yoga without clothes, but the presence of numerous naked yoga classes in Europe, Australia and the US, and the popularity of Instagram accounts such as this one suggests that posing in the buff has its takers. Far from being risque, practitioners say that the practice is intended to instil body confidence and accepting yourself.
2) Beer Yoga
The idea of pairing yoga with ale started, where else, but in Germany. Berlin's BierYoga incorporates the practise of beer drinking into each yoga pose, and is now spreading to other cities. "BeerYoga is fun but it's no joke – we take the philosophies of yoga and pair it with the pleasure of beer-drinking to reach your highest level of consciousness," its website states.
3) Cannabis Yoga
If beer yoga seems too tame, try cannabis yoga. Since cannabis is legal in certain states in the United States, some studios in Los Angeles and San Francisco now combine yoga with marijuana to expand your mind along with your body. The class starts with everyone getting high and then doing a series of yoga poses. According to one teacher, the combination is supposed to help students tune out their racing thoughts and enable "conscious relaxation".
4) Rage Yoga
Yoga is traditionally believe to make you calmer and more meditative, but this Canadian version turns that principle on its head. Instead, participants can yell, swear, and even drink a beer or two while during the class. Each session is held in a pub, with heavy metal playing in the background.
5) Anti-Gravity Aerial Yoga
It's yoga that can make you feel as graceful as a gymnast -- or as clumsy as a two-year-old. Participants perform a series of poses, inversions and meditations, while hanging on an aerial hammock suspended from the ceiling. All that soaring and stretching can make you feel like you're flying through the air. Even Alia Bhatt is a fan.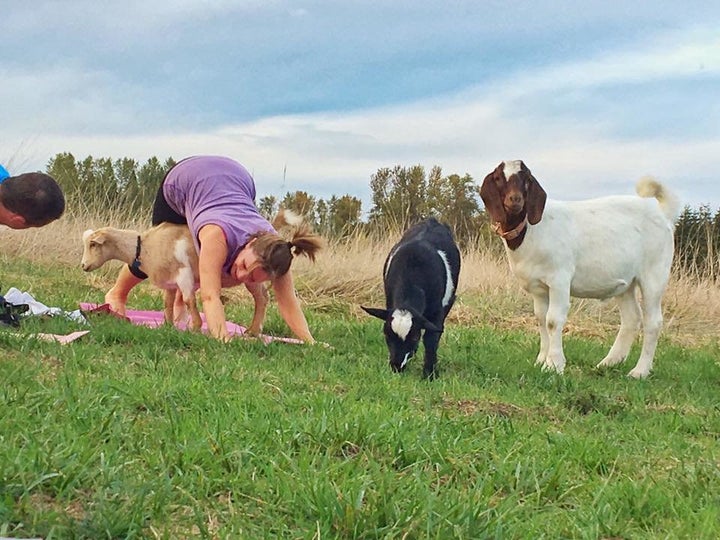 6) Goat Yoga
The No Regrets Farm in Oregon, United States, offers people a chance to do yoga with goats. Participants stretch outside on the grass, with goats wandering around, sitting next to them, and waiting to be petted. "They are gentle and peaceful and just want attention," the owner told Huffington Post. There is already a long waitlist for the classes.
7) Paddleboard Yoga
Imagine swapping your yoga mat for a paddleboard, and attempting a downward dog pose as you delicately try to balance yourself over water without falling over. That's stand-up paddleboard yoga. While practising outdoors surrounded by water can be extremely refreshing, this version of yoga can test your balance and concentration like nothing else.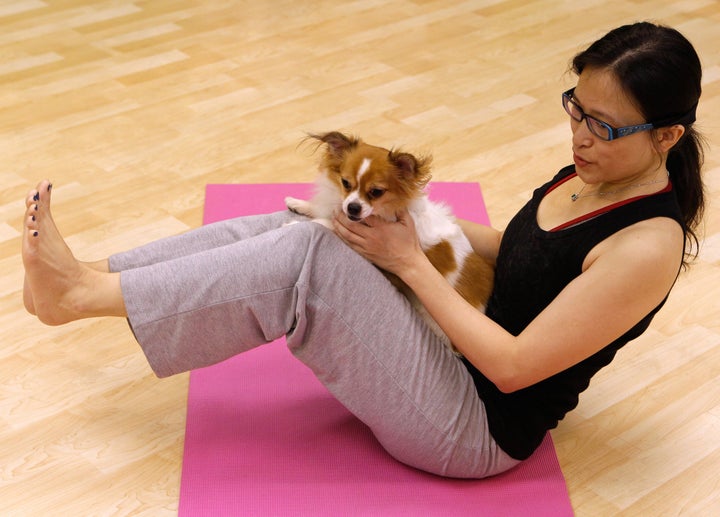 8) Doga
Doga -- or yoga with pet dogs -- encourages people to practise different poses with their favourite canines. A typical session involves massage, meditation for dogs and their humans and intends to help both find their inner peace. Some have called it a fad, but others vouch for its healing effect.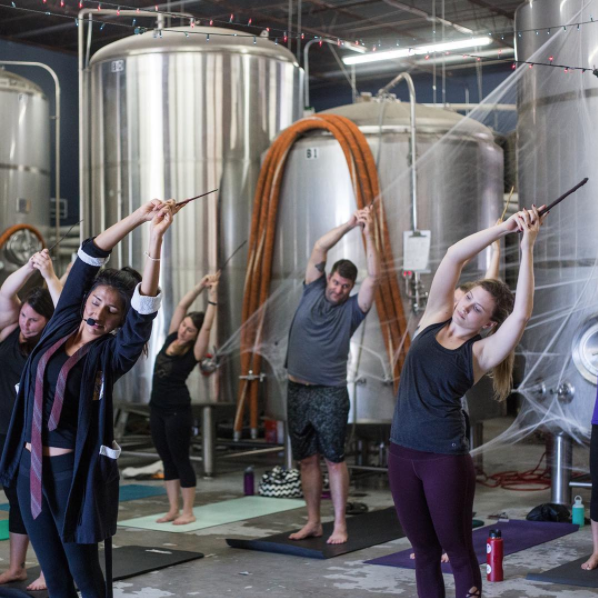 9) Harry Potter Yoga