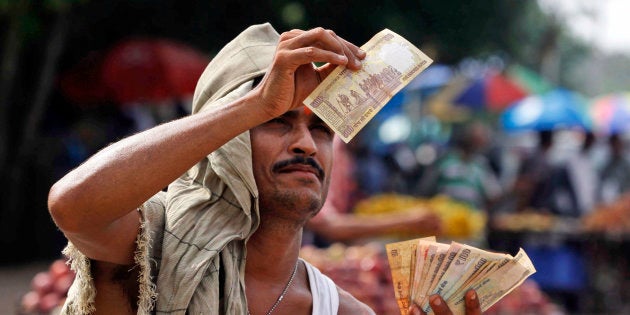 When Donald Trump was elected the President of the United States of America on 8 November, the official account of the Netflix hit, Black Mirror, tweeted "This isn't an episode. This isn't marketing. This is reality." A little farther away, and a few hours earlier, another Black Mirror-ish situation had hit another place.
Narendra Modi, the Prime Minister of India, announced that all ₹500 and ₹1,000 currency notes in circulation were to be scrapped with immediate effect and be replaced by new notes over time. The announcement threw the entire country of 1.34 billion people in a tizzy, sending people scurrying to nearby ATMs and generally creating chaos. It was like getting stuck in an episode of Black Mirror, where currencies meant little and people were at a loss because so much cash had suddenly lost value.
Many businesses had to shut down for a day or more, transactions were halted and day-to-day functioning hampered. The aftermath of demonetisation also saw some strange occurrences:
Two robbers on a bike snatched a construction worker's purse only to discover that the purse just contained ₹500 denominations. The frustrated duo came back to the victim, slapped him for not keeping any ₹100 notes and threw his purse back at him.
So, after the announcement, the existing ₹500s and ₹1,000s were deemed valueless and people began taking extraordinary measures to get rid of their black money. For instance, workers of a company allegedly dumped sacks of burnt and mutilated notes. The notes were initially cut, damaged and then burnt.
The accused, an agriculture officer, was caught accepting ₹2,500 in the form of 25 ₹100 notes, from a person who had approached him for some official work. Apparently, the government officer had demanded that he be paid only in denominations of ₹100.
When a farmer and her husband sold 12 acres of land three months ago, they received ₹55 lakh in cash. When the PM announced the demonetisation plan, the farmer thought her money was of no value anymore and became so depressed that she hung herself.
Believing that 786 was his lucky number, a Kerala man had been collecting currency notes ending with those digits. He now has 80 notes in ₹500 denomination and 30 notes in ₹1,000 denomination, that he doesn't know what to do with.
Sweeping the streets, as she regularly does, Shatabai found a discarded bag filled with ₹1,000 notes. She and her contractor decided to deposit the money at the local police station.
7. In Ghaziabad, hundreds rushed to an empty plot of land to pick up sealed cartons lying there. The cartons contained fabric strips and weaving yarn, not money as people had assumed.
Hundreds of people in a Ghaziabad locality rushed to a plot of land earmarked for a crematorium to be built there, to pick up abandoned cartons lying about. They thought the cartons contained money. Some apparently even took some cartons without opening them. But all that was inside the cartons was discarded fabric strips and weaving yarn.
This seems right out of a wedding horror story. Some families are in a fix because a lot of wedding functions entail giving cash gifts, and many weddings have been postponed because caterers mostly demand payments in cash.
A woman in Delhi's Mayur Vihar took off her shirt in protest against the currency shortage and by extension the long queues outside ATMs and banks. She was taken to the police station after the incident. But eventually, after a brief round of questioning, she was taken to an ATM from where she managed to withdraw cash.
Popular in the Community