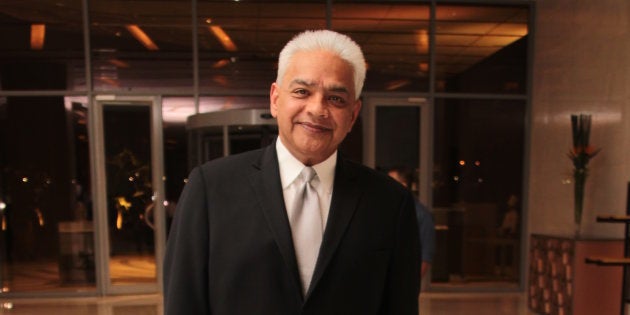 Following Cyrus Mistry's unceremonious ouster as Tata Sons chairman last month, several allegations and counter charges have been aired by the two sides—Mistry and Tata Sons management led by Ratan Tata.
The Economic Timesreported today that the inept handling of a sexual harassment charge against Indian Hotels CEO Rakesh Sarna was among the issues that sparked the board's disenchantment with Mistry.
HuffPost India has accessed the letter the employee wrote to Cyrus Mistry and group HR head N.S. Rajan (he has now departed the company) detailing why she was unwilling to take the new role the company offered her after she complained of sexual harassment, and that she was leaving. "I no longer feel my career is secure in the Tata Group," she wrote.
From the letter, she appears to have been employed in Mistry's office before she moved to the operating company of the Taj Group—Indian Hotels Company Ltd—on the request of its CEO Rakesh Sarna.
Sarna is a high-profile hospitality industry veteran who joined Indian Hotels as chief executive in September 2014. He was group president, Americas, at Hyatt Corporation, before joining Taj. He is one of India's highest paid executives, and earned ₹18.4 crore in 2015-16. He is also behind an aggressive turn around currently underway at the company, which has already shown results.
All of this meant, it seems, that when the employee raised the issue with the senior management at Tata Sons, including chairman Mistry, as per her letter, she was moved out to a role in corporate communications that she was unhappy with.
In her letter dated November 2015, she expresses her acute disappointment at the turn of events. It makes a reference to the fact that Mistry himself told her that her career would be back on track in six months, implying an advice to the effect that she should treat the matter as a temporary setback. If this is indeed the case, it seems like a gross failure in corporate governance.
A statement from Mistry's office said that an enquiry was not set up immediately due to her request to put the matter behind her. An enquiry was later set up, but although it has been a year since the employee's resignation, the company said an investigation is still underway.
"The culmination of what I experienced at Taj and during this transition has made me decide that if I am to achieve my career goals, I must move out of Tata Group and into an organization which values and respects women's rights," the employee wrote.
Here is the full text of the employee's email to Mistry:
Dear Mr. Mistry,

I am writing to inform you that I have chosen not to take up the Tata Sons role and will be moving on from the Tata Group. I am very grateful for the time I spent in your office. During the one year period while I worked with Madhu and other members of the GEC, I really felt I had become part of the Tata family. I was enthused by the level of responsibility I was given and the access I had to the most senior leaders of the Group.

I agreed to Mr. Sarna's request that I move to Taj because I believed in my long term career with Tata. I hoped that experiences in different group companies would prepare me for roles with higher responsibilities in the Group in the future.

Although I thoroughly enjoyed the challenge and responsibility of the Taj role and had a great working relationship with the rest of the company, Mr. Sarna's inappropriate behaviour outweighed the positives of the work. During my seven month employment at Taj I was subjected to repeated unwanted sexual advances from Mr Sarna. When I ignored or tried to rebuff them the environment would become hostile.

I came to my seniors in the Tata Group for support, which is why I have spoken at length with Madhu (Kannan), Ireena (Vittal), you and NS Rajan about the issue. I came to you in confidence because I felt a large amount of loyalty to the House of Tata. I believed I was a valued member of the Tata family and that discretion would help you to find the solution which is best for me, Taj and the Tata Group. Everyone who I confided in showed great support and empathy for my situation and I am very thankful for that.

In the end the decision was made by you and HR to move me very quickly back to Tata Sons for a six month stint in the Corporate Communications team. The role does not have any clear workflow or responsibilities, my title has been changed to General Manager to Senior Manager, and I am not convinced this position will be at the same level as what I had at Taj. Although I appreciate your effort to find a solution, I have decided that this role will not be the right step for my career.

As many CXO level leaders of Tata Group have started reaching out to me to question why I was changed to this role, I struggle to explain the reasons for what appears to be a demotion. I acknowledge you told me that in six months' time I will be able to put my career back on track, however I do not see the reason why it should be taken off-track considering my high performances in my last roles and my choice of discretion. Also, I do not have any tangible proof this will happen, and considering this transition was not done in the best interest of my career, I no longer feel my career is secure in the Tata Group.

The culmination of what I experienced at Taj and during this transition has made me decide that if I am to achieve my career goals, I must move out of Tata Group and into an organization which values and respects women's rights.

I am sure my path will continue to cross with Tata and I will always be a proud fan supporting the Tata growth story. I believe strongly in the future of Tata and I hope that you are able to use my circumstance as a learning opportunity to make the Group a better employer of women. I wish you and the rest of my colleagues across the Tata Group a very bright future.
In a statement, IHCL said it had no comment to offer as an inquiry was underway. "The company has a strict code of conduct and an independent committee has been set up to inquire into an issue received from an ex-employee. Given the sensitivity of the matter and the obligations to keep the matter confidential, no further details can be shared."
Cyrus Mistry's office has defended his handling of the case, saying the matter was taken seriously and appropriate steps were taken to provide a safe working environment for the female employee in question.
Here's the full Statement from Mistry's Office:
The employee referred to did approach Mr Mistry and informed him that she had experienced unwelcome behaviour by a senior Indian Hotels Company Ltd employee. Mr Mistry was very upset as this was absolutely against his belief of a safe work environment. Mr Mistry set aside time to meet with her and assured her that the Tata Group stands fully committed to support her.

As an immediate action, with her concurrence, Mr Mistry initiated an interim measure of providing an appropriate short-term alternate and safe work environment until the matter could be investigated and appropriately addressed. The Group HR Head was directed to create an appropriate interim position. An interim senior role, directly reporting to a Group Executive Council member in the Corporate Communications team was identified. Despite Tata Sons and IHCL having different grades and designation structures, care was taken to ensure that her current emoluments were protected. Despite several attempts to retain her, she decided not to accept the position and instead wished to pursue a career outside of Tatas.

On Mr Mistry's instructions, she was informed that this matter was being taken very seriously and a thorough enquiry would be undertaken. To ensure that the necessary actions that may be called for are undertaken, her full involvement and cooperation would be needed. At her request to put the issue behind her, an enquiry was not set up at that point in time.

However, since this was serious allegation and potentially a violation of the Tata Code of Conduct, Mr. Mistry decided to institute a committee to investigate into the matter. This committee was constituted by a senior independent director of IHCL to ensure that appropriate processes are followed. The Committee also included very senior people independent of the company. The report is awaited and the board of IHCL will decide on next steps on the basis of the Committee's findings.

After this, Mr. Mistry also instructed a review of the implementation of POSH (Prevention of Sexual Harassment) policy and practices across Tata Group companies. Representatives from various Tata companies, the Group Ethics Office, Group Legal and Group HR were included in this exercise to ensure the highest standards and values are protected, including providing a safe work environment for all Tata Group employees.

We would request you as a responsible publication to respect the process, as an investigation is currently underway so as to ensure that fair outcomes are achieved for all the people involved.
Popular in the Community