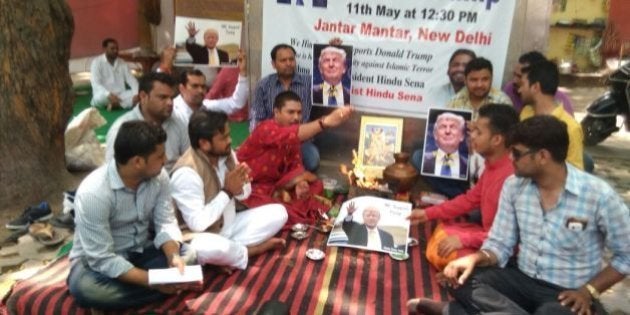 "If Donald Trump wins it will be good for America, India and the humanity." This could easily have been the Republican Party's presumptive presidential nominee's own words during one of the fiery GOP debates. But it wasn't.
Instead, this is what Vishnu Gupta, National President of the fringe right-wing organisation, Hindu Sena, told HuffPost India on Wednesday.
Gupta, along with other Hindu Sena leaders organized an event in the capital's Jantar Mantar — a site that has seen protests ranging from women's rights to corruption in political ranks — to show support for Donald Trump. the organisation also conducted religious ceremonies to pray for his win.
"Terrorism is growing worldwide. Every day we hear stories of beheading and killing. India, too, is suffering. We are hopeful that Donald Trump will remove the Islamic terrorism," Gupta told HuffPost India.
Last year, the Hindu Sena leader was arrested for allegedly making a "false complaint" about beef being served at Kerala House. Delhi police, along with some Hindu Sena leaders, had raided Kerala House after Gupta had complained that beef was being served there.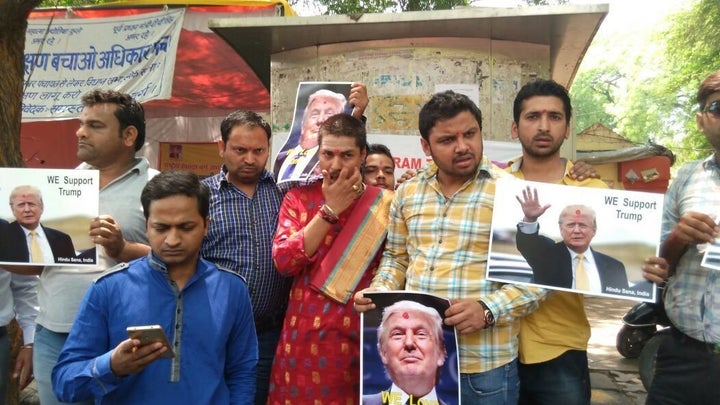 When he tweeted out posters for the Trump event, Gupta was criticized for supporting a leader who regularly incites political violence and has repeatedly pledged to ban all Muslims — 1.6 billion members of an entire religion — from entering the U.S.
However, Gupta has his reasons to love Trump.
Many seculars crying after our support to Trump, I dont care for them, Trump is against islamic terror

Tats the reason I love Trump

👍👍👍💐

— Vishnu Gupta (@vishnuhindusena) May 11, 2016
The biggest problem of India is not unemployment, but its Islamic Terrorism

ISLAMIC TERROR STOPPING GROWTH OF INDIA

I love @realDonaldTrump

— Vishnu Gupta (@vishnuhindusena) May 11, 2016
"We are victims of Islamic terrorism — they killed, beheaded, burnt alive millions of innocent beings. To fight against such evils we need a brave leader globally," read the press release that was sent to journalists, asking them to be a part of the programme.
"Donald Trump is a man with a brave heart. He will destroy Islamic terrorism if he's elected the President of United States," a confident Gupta said, while making arrangements for the 'big event'.
The 'big event' is expected to see over 200 people. The leaders will conduct havan and other religious ceremonies to pray for Trump.
"We want Trump to win, we will do anything to make that possible," Gupta said.
"I am sure God will listen to us," he added.
When Gupta was reminded that Trump has no special love for India, he responded saying, "Main nahin manta (I don't believe)."
At a campaign rally recently, Trump targeted India, along with other countries, for 'ripping off' the US. His comments were punctuated by thunderous applause from the audience.
"They are taking our jobs. China is taking our jobs. Japan is taking our jobs. India is taking our jobs." he declared.
However, Gupta isn't bothered by these statements.
The Hindu Sena leader says that it is not wrong for Trump to suggest that Indians are taking away Americans' jobs. "Ye kuch galat nahi hai (This is nothing wrong)," he said.
Gupta said that Trump has promised to not 'kick out' Indian students studying in the US. "He wants more Indians to go and study there. This is a good thing," he added.
The Hindu Sena leaders are hoping that Trump, after winning the elections, visits India. "He is very much popular here," they said.
We are not too sure about Trump's popularity in India, but it seems the 69-year-old real estate tycoon who became a politician only last summer and the Hindu Sena leaders have one thing in common. They share an equal hatred for Pakistan.
While Trump described Pakistan as "the most dangerous country in the world", the Sena leaders are hopeful that he will wage war against India's nuclear-powered neighbour. "Hope he starts a war against Islamic terrorism from Pakistan—it is the hub of terrorism," Gupta said.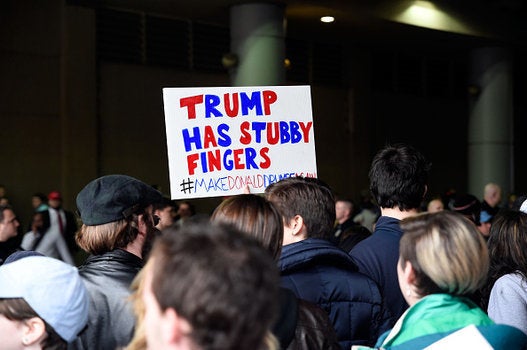 11 Donald Trump Protest Signs