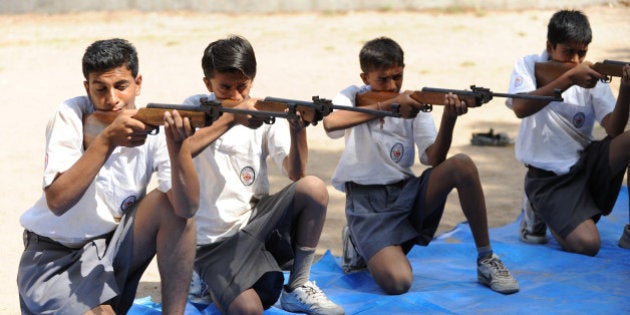 Earlier on this week, a viral video allegedly involving members of the right-wing outfit Bajrang Dal surfaced. They are seen 'training' in 'self defence' with rifles, swords and lathis and 'shooting down' volunteers wearing skull caps at a school in Ayodhya. The outfit's head, Mahesh Mishra, has since been arrested on charges of inciting hatred between religious groups.
But in the capital, an outfit called the Hindu Sena says it plans to do exactly the same. And they want to do it in Connaught Place, at the heart of Delhi, mere kilometres away from Parliament and the Prime Minister's Office.
Vishnu Gupta, National President of the fringe right-wing organisation, says his training camp in New Delhi will train young leaders to "fight against Islamic terrorism."
The training will be held between 1-5 June near Connaught Place, Gupta said, adding that the exact location is a secret.
"Every person should be a militant," Gupta told HuffPost India explaining the need for such a training. "This training is not to attack anybody, this is for self protection. There's no harm in that," Gupta said.
The Hindu Sena leader said that they will train about 100 'young leaders' belonging to the age group of 20-30 years. The organisation has hired more than hundred guns for the training camp, Gupta said.
It has also arranged for several 'ISIS dolls' to use them as aiming targets. The two-hour training will include fire rings for the trainees to jump through and will also have sack races.
However, Gupta clarifies that this is not the first time they are holding such a training session. "We do this everyday, only this time we will have special amenities like rifles," he said. The group will be trained by a retired Army officer.
The Hindu Sena is a little-known outfit that has been in the news for headline-grabbing stunts.
Earlier this month, the Hindu Sena leaders conducted prayers in the capital's Jantar Mantar to show support for Donald Trump and pray for his win. The group said it supports Trump because he is opposed to Islamic terrorism.
Last year, the Hindu Sena leader was arrested for allegedly making a "false complaint" about beef being served at Kerala House. Delhi police, along with some Hindu Sena leaders, had raided Kerala House after Gupta had complained that beef was being served there.
Gupta said his scheme did not have support from the ruling Bhartiya Janata Party or its ideological parent, the Rashtriya Swayamsevak Sangh. He said Hindu Mahasabha's national president Chandra Prakash Kaushik has supported them 'whole-heartedly'.
Gupta also hopes that the BJP government too will back this initiative. "We are writing a letter to Home Minister Rajnath Singh and the Delhi police, asking them to give us permission to host this training session," he said.
"Everyone is saying the action taken by the Uttar Pradesh police against Bajrang Dal wasn't right. But, in Delhi, it will be BJP's call to decide. We want to see what the party's reaction will be to this," he said.
But, what if they don't get permission? "Who cares, we will still host it. We are not scared," Gupta said.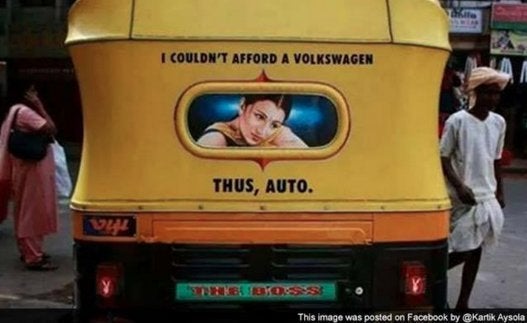 Bumper Stickers In India