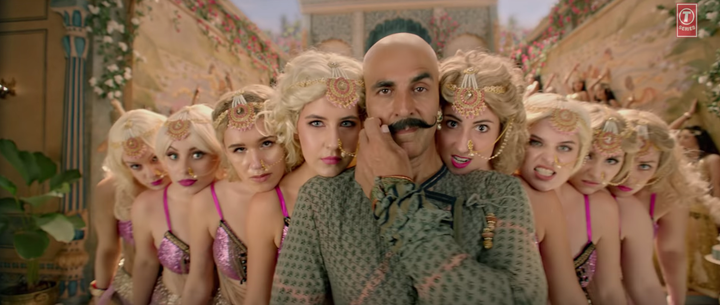 Is it UTI? Is it underwear that hasn't dried in the past decade since it is in Mumbai which has just one season and that's monsoon? Is it a warning against urinating on every '90s hit by turning it into ladki-daaru-gaadi rap?
My biggest fear was that, like music, they have run out of dance moves as well. That would mean they will now scavenge on steps from the '90s to fill their films. (In which case, I'd like to file a petition to have Jhanjhariya, also known as Suniel Shetty's tutorial on what happens to your stomach when you have chhole bhature in Delhi's summers, be declared a heritage property that shouldn't be messed with.)
So, in order to solve this mystery, I went to watch Housefull 4.
This film, like the other Housefull films, is about three middle-aged men who have as much purpose in life as the men who add women on Linkedin only to say "I saw you on Tinder". They have some sort of a profession, but Akshay Kumar and Ritiesh Deshmukh's primary job in the film is to make antacid commercial faces. Bobby Deol follows the guiding principle of his acting career and tries hard to make the furniture on the set seem like good actors.
"Bobby Deol follows the guiding principle of his acting career and tries hard to make the furniture on the set seem like good actors."
The three women in the film — Kriti Sanon, Kriti Kharbanda and Pooja Hegde — probably took the film up as a motivational project titled 'how to not ruin your make-up and humanity around dumb, sexist men'. I mean, do they have access to a toll-free number where the first caller gets patience free along with ten best-selling what-am-I-even-doing smiles?
Harry (Akshay Kumar), Max (Bobby Deol) and Roy (Riteish Deshmukh) pursue the rich, attractive women so that they can marry them and get their father's money to pay off their debts to a gangster. When they arrive at an old Indian fort town to get married, Harry starts getting flashbacks from a previous life, where the men were engaged to each other's present-day fiancées. And then there's some villain plotting to take their lives.
Housefull 4 may seem like a simple, crass film, but in reality it pushes you to consider deeper social issues. Like, say, if you had a lot of money that you simply wanted to burn, what would you do with it? I'd start a campaign for Twitter to have actual humans looking into women reporting handles for harassment and abuse, instead of sparrows or empty Coke cans or whatever else they have for the job.
Turns out someone with a lot of money chose to make Housefull 4.
Expecting the women in Housefull films to have better roles than animated 'cavities' in 90s toothpaste ads is too much. But in a year when many women have constantly spoken out about sexual abuse, making rape jokes in your film is more tone deaf than Sajid Khan's whole existence, right? Let me your jog memory here.
Nana Patekar was supposed to be a part of the film. Days after Tanushree Dutta accused him of sexual harassment, Patekar was photographed with the entire crew, boarding a chartered flight to the shoot location. A few days later, Sajid Khan, who was supposed to direct the film, was accused of flashing a journalist. After many women protested constantly and tirelessly, both Khan and Patekar were dropped from the film. Some of the country's 'OMG-Bollywood-so-cute-yaaaa' media also hailed Akshay Kumar as a true hero.
So watching this particular sequence where Kriti Kharbanda's character falsely accuses Bobby Deol's character of rape only to get him to be with her burns like biting into a chilli thinking it's congealed bhindi.
Kumar's character plots with Kharbanda's character to make sure Deol decides to date her. So they drug him and plonk him on her bed. When he wakes up, Kharbanda pulls the sleeves of her blouse down and cries that a drunk Deol violated her all night like a monster. She says, "I am an abla, not a tabla." So then, Deol is forced to 'accept' her as his partner. Who knows, maybe the method actor that Akshay Kumar is, he actually let his common sense leave earth and settle in Mars while shooting for Mission Mangal.
It doesn't stop there. The film turns Johnny Lever's character into a cross-dresser who says things like 'I am ugly' and asks Chunkey Pandey's character 'operation kaun karayega', completely dehumanising the experience of trans-people by turning something as difficult as a sex reassignment surgery into a cheap joke. Lever, a cis man, dresses up as a woman, thrusting his chest at people's faces and talking in a nasal accent, while chasing a man who seems disgusted at and terrified of him.
However, after you've been through the ordeal, you kind of realise what the strange dance move is. A warning. That watching this film would probably hurt more than hacking one human body part like your crotch would. Just for this, I nominate Akshay Kumar to make a potentially national award winning, social message-giving film on watching his Housefull films. Call it Torture: Ek Pain Katha.