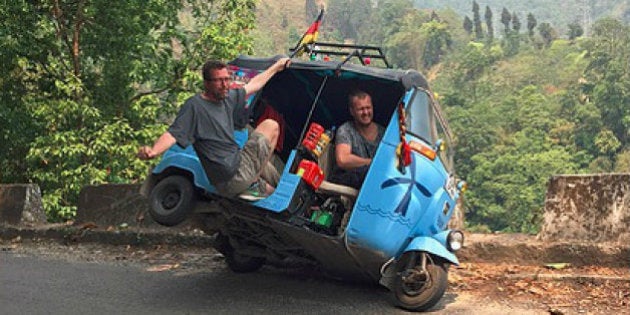 Earlier this month, three men set out on an expedition so atypical, it would have probably inspired Jules Verne, had he been alive, to write a sequel titled Around North India In 2,700 Kilometres (And 12 Days).
Because that is precisely what these three men have done: Calling themselves the Kohinoor Khiladis (because they thought it was cool), Bram Schuurman, Daniel Künzle, and Ernie 'El Che' Bergen have completed a rickshaw run from Jaisalmer to Shillong to raise money for the education and other provisions for 50 orphans currently being raised by NGO SOS Children's Villages.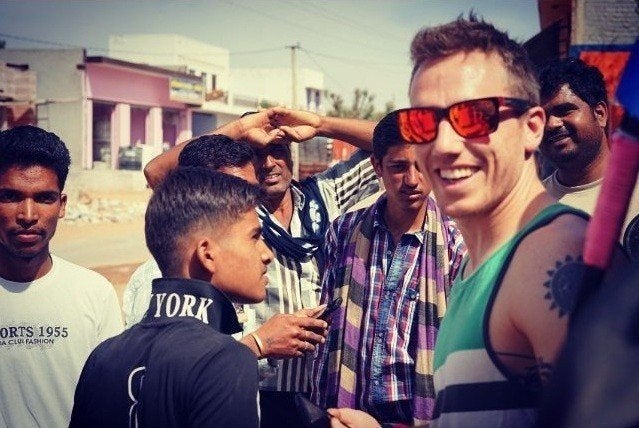 Image courtesy: Kohinoor Khiladis
The three men met at a kebab station at the Sziget Music Festival in Budapest, not realizing at the time that their firm friendship would result in a trip to India—30,000 km away from home— to help children they'd never met or even heard of before. "At the start this was all an adventure for us. We didn't know at the time, there was a charity aspect to it. Once we found out, we searched for a cause that was a. something helping children, b. something local in India, and c. a place we could visit," shared Bergen in an email with HuffPost India (he also set up a blog about the trip, which can be followed here).
"Bram, who is a social worker, and is deeply committed to the cause of parentless and abandoned children, picked Shillong, as it is located in one of the poorest regions in India, and is home to more than 140 orphaned children between the age of 3 and 19," wrote Bergen.
After six months of research, the men set forth on 4 April, charioted by their faithful steed—an old autorickshaw christened Lily.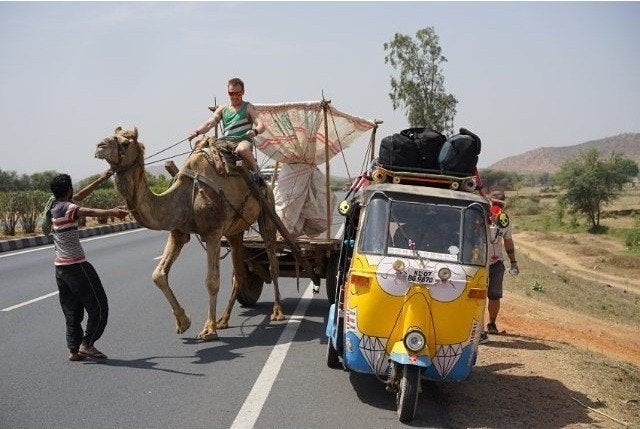 Image courtesy: Kohinoor Khiladis
As might be expected for three non-Indians who had never driven an autorickshaw before, Schuurman, Künzle and Bergen went through a fair share of ups and downs on the journey, all of which they claim have become cherished and permanent memories.
"One morning, at 7am in Jaipur, Lily's clutch broke down, just when we were hoping to make the most of the cooler hours to travel. It took us a little time to realise there was no way we could fix it ourselves," said Bergen, adding that soon they were surrounded by over a dozen locals all of whom considered themselves to be mechanical experts. "However it eventually one guy who found the problem and helped the Khiladis get back on the road in an hour," he said.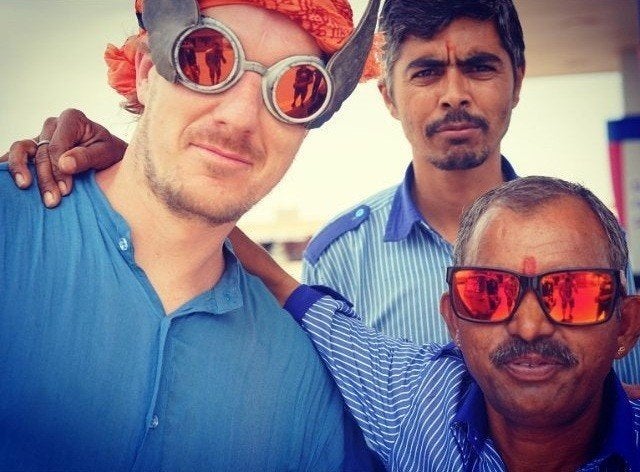 Image courtesy: Kohinoor Khiladis
It was on the sixth day of their sojourn that the trio faced their first meltdown. While crossing Uttar Pradesh, the road transformed into a narrow, dusty, bumpy nightmare, infested with trucks. "Indian roads can break everyone. After 10 hours of what was possibly the most frightful drive of their lives, Bergen was the first to break, followed by Künzle, and finally Schuurman," shared a spokesperson.
The Khiladis were also traumatised by the perils of driving at night in a rickshaw. "Not only do you have to contend with your own vehicle being completely unsafe, but also everyone using their high beams driving towards you in your lane! In some cases, there were cars coming in at us from the opposite direction without any lights," said Bergen.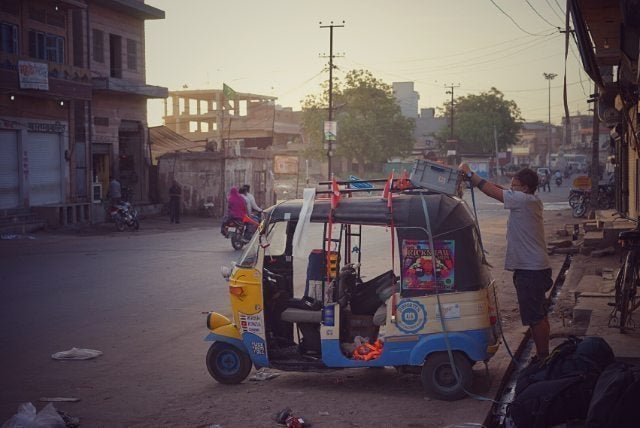 Image courtesy: Kohinoor Khiladis
There were times when the men had no option but to sleep under open skies in a sleeping bag. But the number of local friends (including a man who invited them to his school where they played with the children for many hours) acquired made their rough journeys easier. "Even whilst driving on the roads, people would always wave and laugh," said Bergen.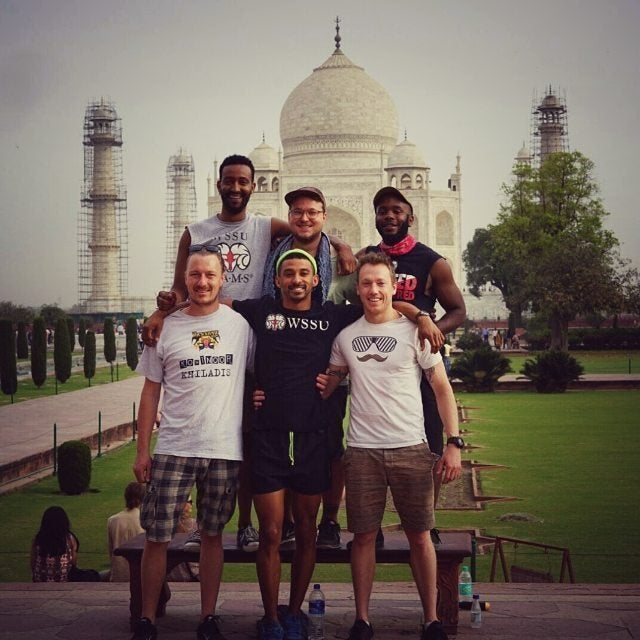 Image courtesy: Kohinoor Khiladis
"Connectivity has been an issue out on the road, but the great part of this experience is getting lost in this country, and staying away from regular life at home," he said, adding that the sight of Taj Mahal at dusk from a rooftop was possibly one of the most beautiful things they witnessed during the trip.
The Khiladis also fell head over heels in love with Faizabad, where they experienced the wheat harvesting season in full glory after driving through the desert for days.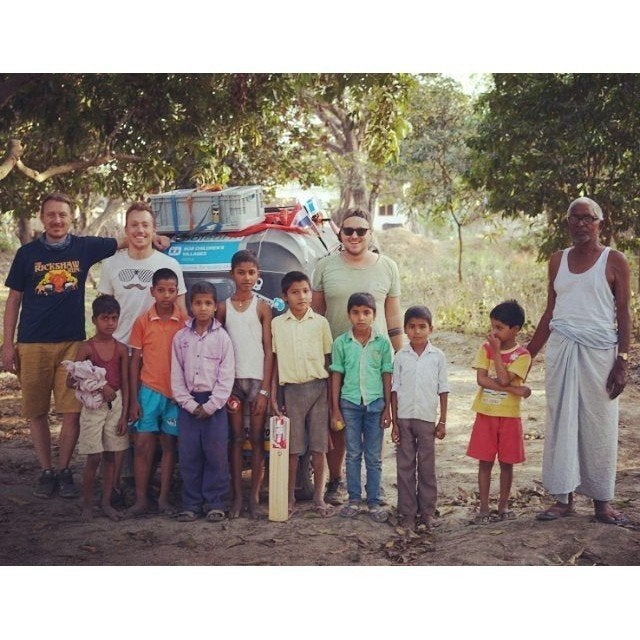 After 12 days they finally completed their journey on 15 April, and chose to stay for an extra day in Shillong with the children, a day that Bergen in his blog wrote was a magical moment none of them would ever forget.
After investing $5,000 in this expedition, they successfully raised $18,000, and are still looking to raise another ₹50,000 on this crowd-funding platform before the month of June ends. "The money will help the NGO fund housing, education, nutrition and medical services for 50 orphans during the course of one entire year," shared the NGO's spokesperson. The trio has revealed that they will return to take on another auto run in the future with bigger fundraising goals.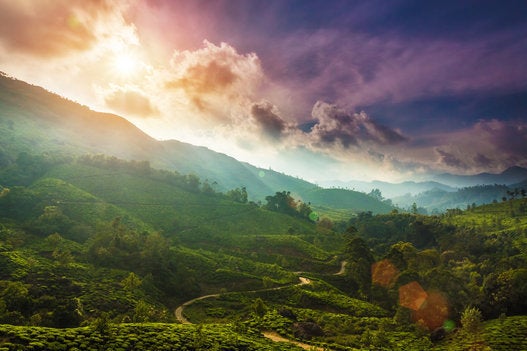 55 Images Of India's Stunning Topography On Earth Day