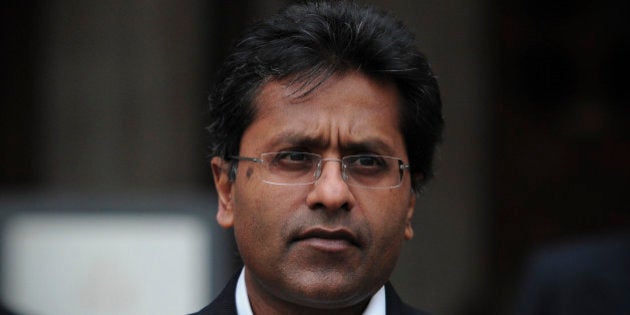 Whether he wins or loses, Lalit Modi is always in the news. For the last couple of years, it has been for the wrong reasons. And now Sushma Swaraj, India's foreign minister, is caught in a controversy which might well become a downward spiral.
Here are seven things you need to know about Modi, who is credited with founding the Indian Premier League, which has become the biggest cash cow for the Board for Control of Cricket in India (BCCI). But that apart, he has been known for embezzling funds, breaking the code of conduct, getting the sack from BCCI, fleeing to London, partying with celebrities, and also apparently getting favours from Ms Swaraj, whose daughter was his legal counsel.
So here it is — the journey of Modi from his finest moment to the present, where he might be arrested the moment he sets foot on Indian soil.
The Crowning: Lalit Modi first arrived in the BCCI through Rajasthan, where he was elected president of the cricket association. That win came with a seat at BCCI's meetings. One year later, Sharad Pawar became president of the board after ousting Jagmohan Dalmiya. Modi made sure he was on the winners side, and was appointed Vice President of BCCI. In three years, he took revenues of the board to $1 billion.
His best moment was in 2008, when the board gave its assent for the Indian Premier League, Modi's mastermind project. Its success was huge, and wiped out a previous cricket league that had been formed. Modelled after football's English Premier League, the IPL attracted top stars of all test playing nations, and big money from corporate leaders such as Mukesh Ambani, India's richest man and owner of Mumbai Indians, to the flashy Vijay Mallya, owner of Bangalore Royals. It became the biggest cash cow of the BCCI. Last year, Pepsi paid Rs 397 crore for a new sponsorship contract. That's in addition to other contracts with Nimbus, and Star Sports, which contribute to the league's whopping $3.2 billion worth.
Dream Run: Modi stayed at the top of the IPL hierarchy until 2010, with the league reporting bigger profits and revenue each year. Modi also pushed for the Champions League where top sides from all T20 leagues play each other. Again, this was modelled after the Champions Trophy in European football. This tournament was also a big hit with spectators. During this reign, it seemed that the tycoon could do no wrong.
Downfall: In 2010, Modi tweeted out the ownership details of the Kochi IPL team, which was going to be a new addition to the tournament. The board sent three show cause notices his way, accusing him of breaching confidentialy agreements, alleged financial irregularities in broadcast deals and rigging auctions. The downfall was swift. In April 2010 he was still the IPL commissioner. By September he was sacked from the board, and he had fled to England citing threats to his family's safety.
Ban: Arun Jaitley and Jyotiraditya Scindia were among the disciplinary committee members who examined his alleged financial improprieties over a three-year period. Their report indicted Modi on eight counts, following which Modi,who never appeared before the committee, was banned for life from the BCCI in 2013.
Fugitive: In March 2011, Modi's passport was revoked following a complaint by the Enforcement Directorate. The ED got a blue corner Interpol notice against Modi for breaching rules related to the Foreign Exchange Management Act (FEMA) when he was the IPL chief. Modi did not appear for questioning, and was accused of acquiring properties outside India by misusing his influential position. Without his passport, Modi was unable to travel outside the UK. He challenged the ED's decision in a London court. He could not return to India without being arrested and questioned by the ED and the police.
Swaraj: In emails leaked over the weekend in the Sunday Times of London, it is apparent that foreign minister Sushma Swaraj took a lenient view of Modi and said that India had no objection to him travelling. This was a marked reversal of the government's position after the UPA had gone to the extent of saying that allowing Modi to travel might adversely affect India's relationship with the United Kingdom. With the help of Indian-origin MP Keith Vaz, Modi was able to secure travel documents and was free to travel around the world. He did so, and posted pictures from Jamaica and Cuba with Paris Hilton and Naomi Campbell, after telling Swaraj that he needed permission to travel so that he could be with his cancer-stricken wife in Portugal.
What happens next? Modi is enjoying life, as he can now travel wherever he wants to. If he ever comes to India, he might be detained at the airport and put in ED's custody. If proven guilty, he will go straight to jail, pending appeals and bails. To escape this, he is unlikely to ever come back unless the ED drops cases against him. The latest controversy might hurt Swaraj, but Modi's life is much better than what it was before Narendra Modi (no relation) came to power.



Popular in the Community