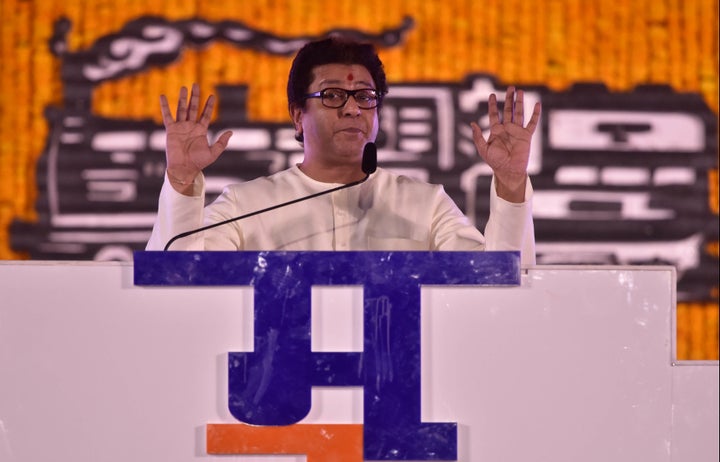 PUNE, Maharashtra: Raj Thackeray has just finished taking apart a claim made by Prime Minister Narendra Modi in Bihar last year, that 8.50 lakh toilets were built in one week.
"8.50 lakh toilets in one week means 84 toilets in one minute. That's seven toilets every five seconds, which is impossible," he rattles off sternly, as the crowd at the rally in Satara in Maharashtra claps.
And then comes the line that makes the audience roar.
"It (pressure) doesn't even happen that fast, and this is the speed at which he claims to have built the toilets," Thackeray delivers with a casual downward gesture that makes it clear what he is referring to.
This is how Thackeray, the man once seen as Shiv Sena founder Bal Thackeray's rightful heir in oratory skills as well as whipping up xenophobia, is making himself relevant this election season: trolling Modi, and essentially fact-checking his claims.
The Maharashtra Navnirman Sena (MNS) chief isn't contesting from any Lok Sabha seat himself, nor is his party part of any alliance, but after he held two rallies in the state, the BJP complained to the Election Commission about him.
Thackeray hasn't openly been asking his supporters to vote for any party—instead, he tells them to vote against Modi and his right-hand man, BJP president Amit Shah.
"If they come back to power again, Indian democracy will be in danger and you all will be made slaves," he thunders at his rallies.
The expenditure for Thackeray's programmes, says a rattled BJP, should be put on the account of Congress-NCP candidates.
So what does a man who has no visible skin in the game gain from travelling across the state on an anti-BJP plank? And is it even making a difference?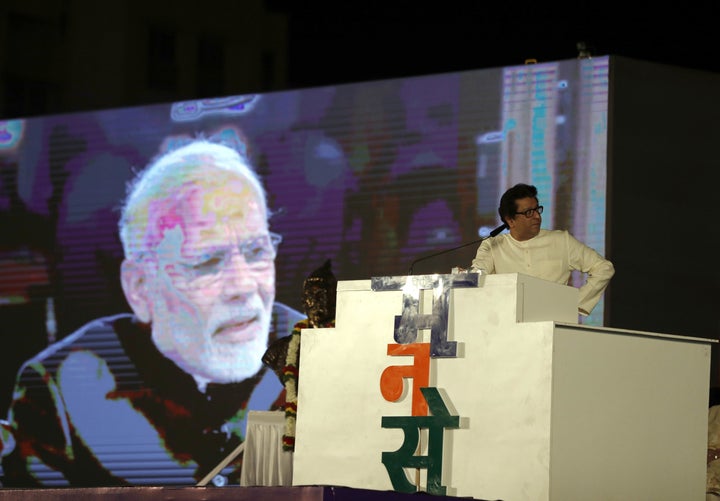 From violent rhetoric to fact-checking
It's been a long time since Thackeray was discussed with any seriousness in Maharashtra's political discourse.
It was in 2006 that he broke away from the Shiv Sena to form the MNS. He had been discontent for a few years after his uncle Bal Thackeray chose his photographer son Uddhav to lead the party.
The MNS's initial rise was nothing short of meteoric. Stitched together by Thackeray's charisma and strong anti-immigration rhetoric, the party won 13 assembly seats in 2009, with 'Marathi pride' its sole agenda.
From beating up Bihari migrants to forcing top Bollywood stars to apologise, Thackeray channeled his famous uncle's hate rhetoric (which had been aimed mainly at South Indians in Mumbai in the 1960s and '70s) and exploited growing anxiety about the lack of jobs to turn the city into a riot ground in the first few years since the MNS's birth.
But his downfall was as swift.
In the 2014 assembly elections, the MNS had only one MLA, who soon left the party to join Shiv Sena.
In the 2017 civic body elections, Thackeray's party lost Nashik, where they had held the mayor's post some years ago. In 2018, seven MNS councillors in the Brihanmumbai Municipal Corporation defected to the Shiv Sena.
A former MNS MLA who is now with the Shiv Sena-BJP alliance thinks there are two reasons for this.
"The party was overtly centred around Raj. From 1st to the 1,000th position in the party, everything was only for him. He has a dynamic personality which attracts a crowd but even Salman Khan can attract large crowds and that doesn't make him a leader," this person said on condition of anonymity, adding that Thackeray would not listen to even party district chiefs, who would have to wait outside his house for hours to meet him.
The second reason, this person claimed, was that Thackeray would not take his protests and agitations to their logical conclusion, instead being content to just let them taper off.
"Uddhav abused BJP for four-and-a-half years but aligned with them again. This has made a large section of Shiv Sena cadre anxious and crestfallen. When Raj aggressively goes after Modi, this section could move towards him as Maharashtra is slated to go for assembly polls in October. The Shiv Sena and MNS cadre feed on negative enforcement, not positive. With this move by Raj, the MNS cadre now know that they are taking on someone like Modi," said this person, a veteran journalist based in Mumbai.
"Raj was the brand ambassador of PM Modi in 2014. He himself had been upset and he realized that Modi showed him a false picture of Gujarat. And since a long time, he had been opposing Mr.Modi and Mr.Amit Shah"
Thackeray has also never considered NCP leader Sharad Pawar his enemy.
He had dropped some hints of his shifting stance in February 2018, when he interviewed Pawar at an event to mark the latter completing 50 years in politics.
A senior NCP leader, who spoke to HuffPost India on condition of anonymity, said there were some discussion about MNS also joining the Congress-NCP alliance.
"NCP and Congress don't really have a strong organization in Mumbai but MNS has a strong support base despite its electoral downslide. But Congress was averse to bringing MNS in the coalition, fearing a backlash in UP and Bihar. NCP had no hesitation in taking him along but it could not work out. Now, the Congress leaders are asking us to arrange his rallies in their constituencies," said this leader.
So what about the expenditure for Thackeray's rallies?
It's all "being properly arranged", said this person, refusing to disclose any more details.
The party's official stand is different.
"Raj was the brand ambassador of PM Modi in 2014. He himself had been upset and he realized that Modi showed him a false picture of Gujarat. And since a long time, he had been opposing Mr.Modi and Mr.Amit Shah. In an election, it's good if anyone is opposing this government. There has been no formal alliance of the MNS with Congress or NCP neither was there any understanding. But if anyone is opposing Modi in this election, definitely we are going to benefit from that," said NCP spokesperson Nawab Malik.
A few weeks ago, Thackeray's call for the opposition to unite for a 'Modi-mukt Bharat' had had little impact. Commentators had pointed out that this was a U-turn from 2011, when Thackeray had visited Gujarat for a "study tour" and praised Modi liberally.
HuffPost India reached out to Thackeray for comments, but his close associate Anil Shidore said that the MNS chief was busy with his rallies across the state.
"We are not taking him seriously. He is a spent force. He doesn't have a single MLA in Maharashtra. He has single-digit councillors in the state. He doesn't have the vote-pulling capacity. We are not worried about him at all," assured BJP spokesperson Madhav Bhandari, even as he confirmed that the BJP had complained to the Election Commission about Thackeray's public meetings.
And what about Thackeray's allegations about Modi's tall claims?
The impact, says Bhandari, is limited to "Modi-hater media, including HuffPost India".
"You people have got one more poster boy. Why should we counter him or give him some importance? Is it not enough that you people are giving him importance and coverage? He is having an open and clear settlement with the Congress and NCP. The script of this entire drama has been provided by Mr.Sharad Pawar" he claimed.
But even chief minister Devendra Fadnavis has been attacking the MNS chief, calling him everything from a "mimicry artist", "a person who is dancing at someone else's wedding" and "supari contractor".
"He is going to damage us. There is no doubt about it. He did that in the 2009 Lok Sabha elections as well," said a senior Shiv Sena leader from Mumbai.
In the 2009 Lok Sabha election, MNS candidates had eaten into a big chunk of Shiv Sena-BJP votes in Mumbai and the surrounding areas, resulting in the Congress-NCP sweeping all the seats in the city. Thackeray's spoiler factor had also propelled the NCP-Congress combine back to power with a comfortable majority in the state assembly elections later that year.
This time around, Thackeray seems to want more. If some NCP insiders are to be believed, Pawar will make sure he gets a respectable share of seats in the assembly election, hardly five months away.
With last week's anti-Modi tirades, Thackeray has not only rejuvenated his dispirited cadre and created an atmosphere in favour of the Congress-NCP, his oratorical skills have ensured that TV cameras are focused on his rallies.
At these rallies, he suddenly pauses while speaking and says "jara lav re" ("play it") to his technical team, who immediately play video clips of Modi's speeaches on the two giant LED screens set up on each side of the stage. And the crowd sits up, sure that some innovative skewering will follow.
At his Solapur rally, he brought with him a young man who was featured in BJP's ad campaign on Digital India and told the crowd that the BJP's advertisement was fake.
"My party is not contesting this election. There is no candidate from the MNS this election. But I took this decision very carefully not to contest this election but to campaign against Narendra Modi all over Maharashtra. This is only my anger (at Modi)," he said.