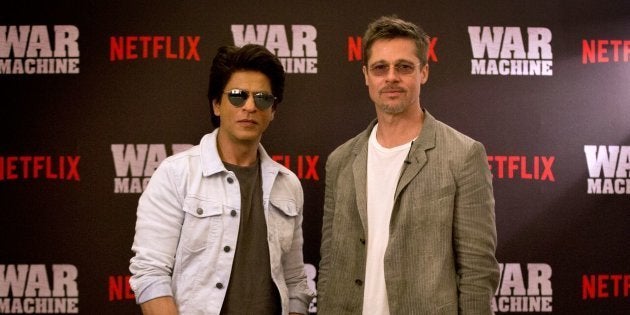 It was meant to be a gimmick for War Machine.
War Machine is a big-budget war drama cum satire, produced by Brad Pitt and distributed by streaming giant Netflix. On Tuesday evening, Pitt, who plays Captain General Glen McMahon (based on the real-life Gen. Stanley McChrystal) was in Mumbai to promote the film.
The film marks an important shift in the way Netflix looks at movies: it's possibly the most expensive (60 million dollars), the most high-profile film the company has produced and one which will release on its platform the same day as it opens in select US cinemas, alongside tentpoles Baywatch and the new Piratesof the Carribean movie.
But Netflix isn't worried about that competition. Because it's theatrical release is only being done to get the film qualified for awards season. The film will be viewed on mobile phones and laptops and iPads by the streaming company's 100 million subscribers.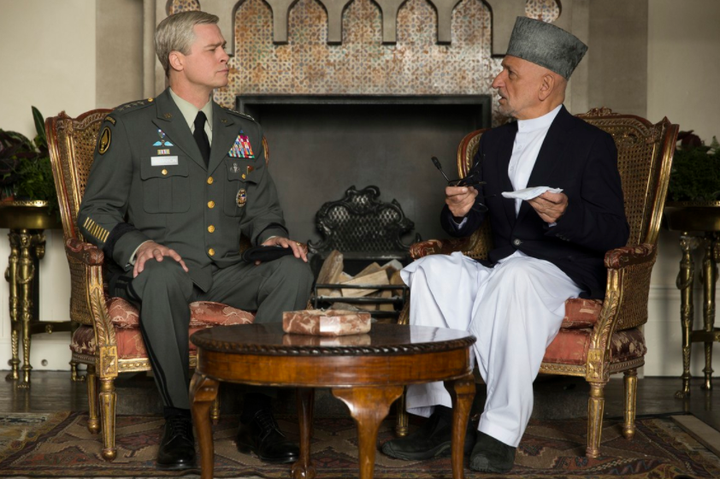 So it only made sense for them to make its leading star make a pit stop in Mumbai. His visit was guarded like an international secret and the publicists spoke cryptically to the very few journalists who eventually made it to the event. We were told it'd be an 'intimate gathering with no cameras, photographers, TV media, nothing.'
"Don't even tell your family or friends," one overzealous publicist cautiously whispered over the phone. "Okay," I whispered back.
Another said, "I won't believe he's coming until his plane lands." Pretty sure she followed it up with a secret ritual that ensures a plane's landing after it has already taken flight.
At 5 in the evening, a coterie of journalists gathered in the lobby of the Oberoi Trident at Nariman Point. The excitement was palpable as nobody knew what to expect. We were told that it'd be Shah Rukh Khan discussing the evolution of movies with Brad Pitt. The world's two biggest superstars, from different industries, having coffee and talking shop.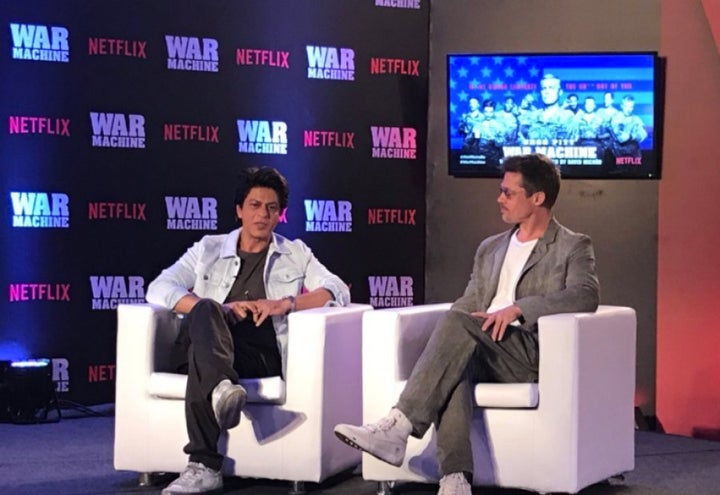 Tree of Life meets Chennai Express. Raj meets Tyler. Woah. Should be exciting.
Except it wasn't. Were we expecting too much? Did he deliberately keep it low-key?
Khan and Pitt were introduced by senior journalist Rajeev Masand. A clip of War Machine was followed by scenes from Happy New Year and Dilwale as the duo arrived. It turned out that Khan wouldn't be interviewing Pitt. Masand would interview the two of them. The rest of us were as good as a studio audience witnessing an interview exclusive to a certain channel.
The conversation started off breezily with Khan making jokes about teaching Brad how to sing-and-dance. It was in reference to Brad's comment that he would never make it in Bollywood as he didn't know how to do either. "We make everyone dance," Khan smirked and I immediately prepared myself to witness him teach Lungi Dance to Brad. He didn't. It wasn't that kind of an evening. Although the two superstars sat comfortably next to each other, they weren't exactly what you'd call, hitting it off.
There was a bit of restrained tension. There were those awkward compliments (When SRK said that instead of dancing, he just stretches his arms and smiles, Brad replied saying, 'Very smart.') And after answering Masand's questions in measured words, both would go silent and look at him with a "What Next" expression. If one was hoping for superstar camaraderie, there was none. But perhaps it's also a bit unusual to expect two ageing superstars, who have seen and experienced everything there is to see and experience, to go on a backslapping spree.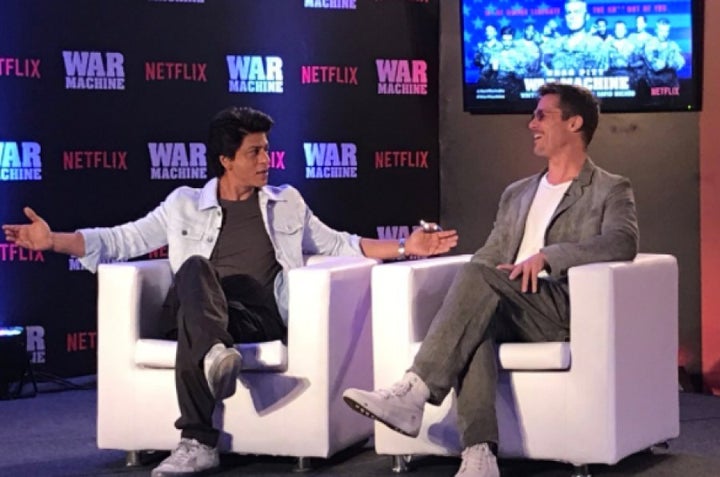 I can only imagine what Masand must be going through in order to sustain a 90-minute dialogue.
But to give him credit, Pitt spoke eloquently about his craft and the process behind his company - Plan B Pictures - putting together films. They've already picked two Oscars, one for 12 Years a Slave and another for, Moonlight.
He spoke about how the Hollywood studio system isn't conducive to great storytelling anymore as they aren't willing to bankroll films that a lot of directors actually want to make. "War Machine wouldn't have gotten even 1/3rd the budget it got, from the studios. The print and advertising costs have shot up. The film wouldn't be possible without Netflix," he said.
He also revealed that 12 Monkeys was perhaps his most difficult role till date ('it drove me insane'), how Fight Club was the most fun he's had while making a movie, and how they trick-shot the piano scenes in The Tree of Life as he couldn't learn how to play the instrument (I want to take a moment and appreciate Ryan Gosling, who not only learnt but excelled at playing the instrument for La La Land).
So it'd have been interesting to know Pitt's position on this, considering he's dabbled in both, festival fare (Tree of Life) and now, a straight-to-internet release with War Machine. But that conversation wasn't on the table. Or to know how Pitt has resisted falling into the trappings of superhero capers and tentpole franchise films (he has done none.)
Towards the end of the session, both Pitt and Khan agreed on one thing: that now they largely choose to work with friends and people they've known for a while. "Because it's comfortable," Khan said and Pitt agreed. Khan tried cracking a few jokes but they didn't quite land well. He (badly) tried mimicking a Chinese person for some reason (Masand asked if he'd ever do a Chinese film), and the room led out a collective gasp.
Overall, although the interaction gave some insight into the psyche of two of the world's most admired stars and actors, one felt that Pitt spoke little and was overpowered by Khan, who had a lot more to say. He should've taken a step back and led Pitt to open up a little more. While it was undeniably the casting coup of the year, it'd have been far more powerful if one witnessed Pitt in isolation (which happened at a MAMI screening later in the evening, for about 20 minutes). He's laidback and poised and one could tell that he loves telling a story but if you're sharing a platform with Shah Rukh Khan, the limelight, like it or not, is all his.
At the end of the session, SRK made one thing clear: You might be the world's biggest star, but not when he is in the same room.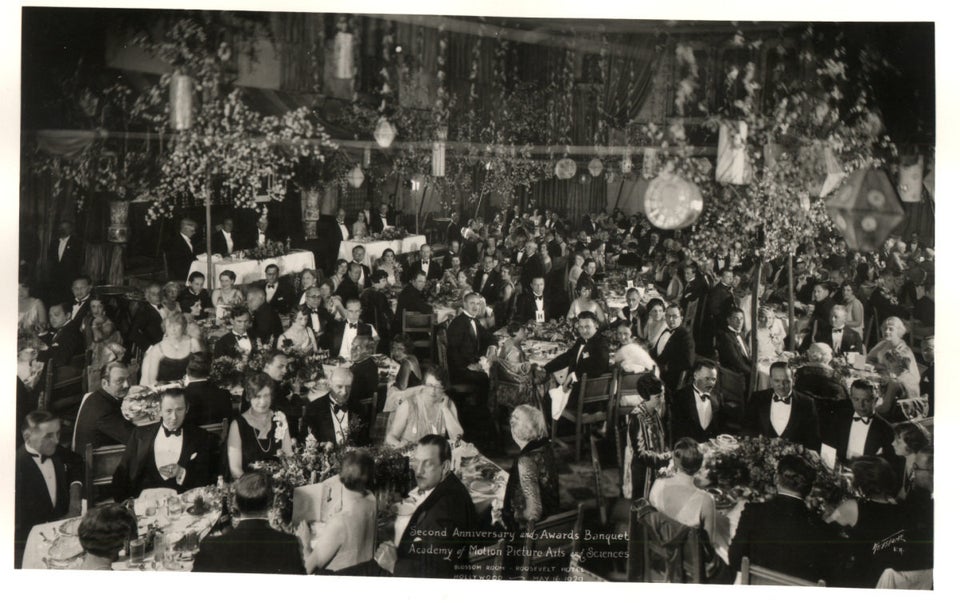 The Oscars: Photos Of Hollywood's Biggest Night Through The Years
Popular in the Community