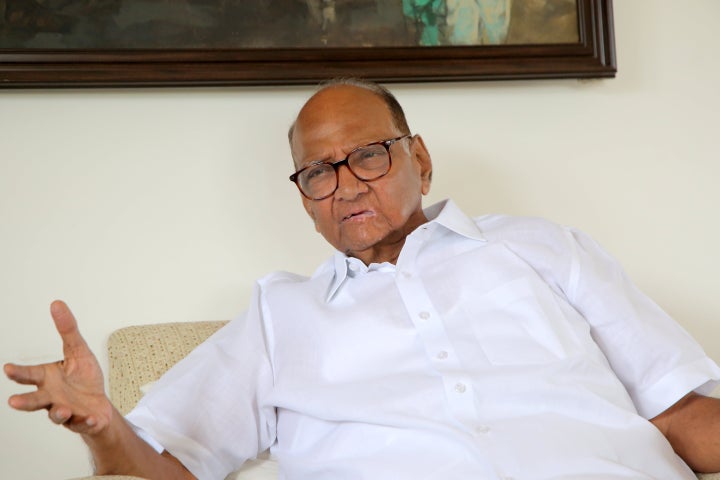 Even people close to him were kept guessing as the NCP supremo had proved multiple times over his long political career that political alignments did not really matter to him.
A senior political journalist, who reported on Maharashtra politics for several decades, called up the NCP chief and told him frankly that this was not expected from him.
Pawar's reply was terse. "I had no information about Ajit's misadventures. Everything will be set straight in 48 hours. Trust me."
People close to Sharad Pawar told HuffPost India that the senior leader got to know about his nephew's actions only on Saturday morning.
"When he got a hint of it on Saturday morning, he immediately called up Raj Bhavan and other places but he was told no swearing-in was taking place. After some time, news channels carried the feed of Ajit Pawar being sworn in as the deputy CM with Devendra Fadnavis as the CM. Saheb (Pawar) immediately called Uddhav Thackeray and assured him he had no idea of Ajit's actions. He told Uddhav that he would make him the CM no matter what," said a source who was with Pawar on 23 November.
Sharad Pawar had announced in public just a day ago that Thackeray would be the CM candidate of the Maha Vikas Aghadi, the coalition formed by the NCP, Shiv Sena and Congress. He knew it was important to reassure the restive Shiv Sena cadre, who could easily resort to violence if their leader was thwarted.
The following is an account pieced together after multiple conversations with people from the NCP, Shiv Sena and Congress about the events that happened between Saturday and Monday that forced Fadnavis to resign, Ajit Pawar to slink home humiliated and Sharad Pawar's allies to hail him as a political maestro.
After Sharad Pawar realised that Ajit had taken around 12 NCP MLAs with him to the BJP camp, he began calling each of his party legislators. By 12.30 pm, when he addressed a press conference with Thackeray at Y.B.Chavan Centre in Mumbai, three MLAs were back in the fold and displayed to reporters, while two more were on their way to the venue.
The Shiv Sena, which has a vast reach among all service sectors in Mumbai due to its hold over the trade unions, was tasked with keeping a close watch at the airport to make sure no MLA left the city.
When an MNS leader who heads a union of aviation employees informed Pawar about NCP MLA Sanjay Bansode's plans to fly out of the city, the 78-year-old made calls and found out that Shiv Sena leader Eknath Shinde and Thackeray's close aide Milind Narvekar were near the airport. Pawar also sent NCP leader Shashikant Shinde to the spot.
Another prominent NCP leader who gave Pawar worry was Dhananjay Munde.
On Saturday morning, the NCP MLAs who had attended the Fadnavis-Ajit Pawar oath-taking ceremony had been asked to gather at Munde's residence. Munde did not attend the ceremony but had gone incommunicado after it.
NCP leaders told HuffPost India that Pawar was extremely angry and warned Munde of serious consequences when he managed to get in touch with him.
By evening, when Munde reached Y.B.Chavan Centre, he was reportedly given a dressing-down by Pawar and Chhagan Bhujbal for over an hour.
A top NCP source told HuffPost India that three NCP MLAs had been flown to Gurgaon, allegedly by some people from BJP with the backing of a top industrialist from Gujarat.
"Pawar then called a heavyweight Congress politician in Haryana, who used his police contacts, evicted the NCP MLAs from the hotel and boarded them on a flight to Mumbai," said this person.
NCP and Shiv Sena sources told HuffPost India that they had never seen Sharad Pawar so furious.
Through all this drama, Pawar kept communication channels open with Ajit, but did not talk to him personally. Instead, he made sure every comment and tweet from Ajit was quickly denied or dismissed.
By Sunday evening, Ajit Pawar was left with only son Parth by his side.
Then came the job of making sure no MLA from the coalition managed to go over to the other side.
All the Congress, NCP, and Shiv Sena MLAs were herded into five-star hotels near the Mumbai airport and Shiv Sena workers kept a close eye on them. A Congress MLA complained that he was followed even inside the gym while an NCP MLA alleged that Shiv Sena workers were even checking his phone.
"You should have seen the way he dealt with those who were planning to go with Ajit Pawar. He was personally talking to every MLA. He wanted answers and he did not even allow people to go to the washroom until he got his answers," said a political observer who was at the spot.
BJP, however, was insisting throughout that Ajit Pawar was technically the leader of NCP's legislative party and could issue a whip.
Pawar had a solution for this as well.
He organised a show of strength of MLAs from all three parties at a hotel on Monday evening and personally guaranteed them that none of them would lose their seat.
"This is Maharashtra. This is not Goa or Manipur. Some people are trying to spread a message that the MLAs not following Ajit Pawar's whip would be disqualified. That's not correct. How can a person who has been sacked from that position issue a whip? I personally take responsibility that your membership of the House will not be in any danger," Pawar assured the MLAs.
The last push came on Tuesday from the Supreme Court which, after delaying it for two days, ordered a floor test to be telecast live on TV channels.
BJP and Ajit Pawar had been depending on technicalities including a secret ballot, voice vote and a favorable pro-tem speaker, but the verdict dashed their hopes.
In the meantime, Pawar never prevented NCP leaders from meeting Ajit.
On Tuesday morning, Pawar's son-in-law Sadanand Sule met Ajit, who reportedly spoke with Pawar's wife on Sule's phone.
Cornered on all fronts, Ajit succumbed within 72 hours and submitted his resignation to Fadnavis on Tuesday morning.
"This was Sharad Pawar's last chance because his political manoeuvres have always raised questions about his credibility. He had to do it and he did it," a senior Congress leader told HuffPost India on condition of anonymity.
Popular in the Community