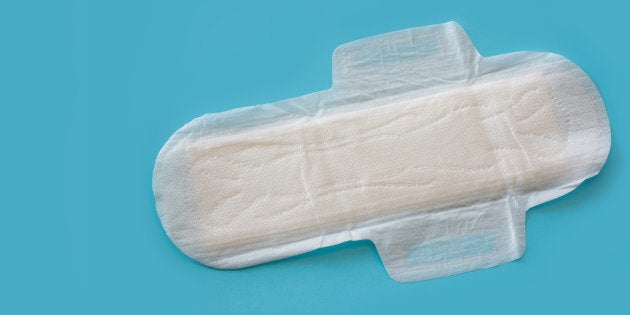 Fun fact: you don't need a time machine to go back to the dark ages from the 21st century. All you need to do is mention the word 'periods' aloud. Immediately, you'll see the faces of some men around you turn into a confused frown. Some women too with either scowl and turn away or just turn pale with shock.
Now menstruation is a physiological function as any but years of superstitions and prejudices makes it seem like a taboo. A big, shocking taboo that shouldn't be spoken about in public. So taking cue from the 'Happy To Bleed' campaign that took social media by a storm last year, students at a Kerala college decided to take steps to end this hypocrisy.
And they came up with a novel idea--to start a haiku campaign.
For nearly a year, the students put up haikus - short poems - all over the Calicut Medical College campus and shared them liberally on social media (in fact, visit the general library on campus, and you'll see giant prints of these messages even now). And all these poems had a single theme - menstruation.
Sreya Salim, student magazine editor at the Calicut Medical College, told HuffPost India that the best haikus have been compiled into a book. And since more have kept coming in, they are also looking at a sequel. The team behind the campaign shared 85 beautiful haikus with HuffPost India (read them below).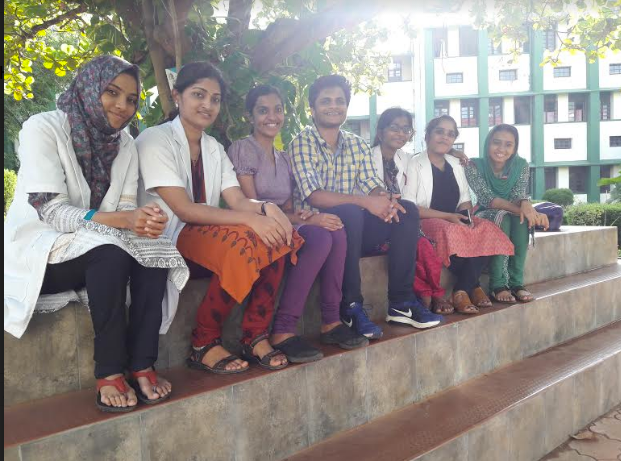 The idea of the haiku campaign occurred to Salim and her friends after a rather unfortunate incident took place in the college. An intern from the Kozhikode college had randomly challenged anyone to walk across the campus with an uncovered pack of sanitary napkins. The idea was greeted with shock and disgust. That the students reacted with shock was ironical because they were all medical students, hence aware of the unscientific nature of period-related taboos.
"It was then that we noticed the shroud of silence that surrounded the topic of menstruation in the society," said Salim. So they decided to do away with it.
Although a majority of the submissions were made by women, several male students of the college too submitted entries, describing how they had been witness to incidents of period shaming.
"Most of these men were attempting to speak about menstruation publicly for the first time in their lives. Some of the participants told me it helped them become better friends with women, because a barrier had been unblocked," revealed Salim.
The moods and tones of the haikus range from angry and humorous to hopeful. But one thing common to most of the submissions was the fact that women drew from their personal experiences of facing period-related 'taboos' while writing these haikus. Which means, pretty much every woman who had submitted a haiku had faced some form of period shaming in their lives. Their experiences ranged from being asked to stay away from kitchens while on their periods to being left out of religious functions. Some even admitted to have been bullied in schools.
Several of these haikus also address the lack of empathy and knowledge Indian men tend to exhibit around the topic. These entries by Abhijith Vellat and James Paul from the college particularly stand out: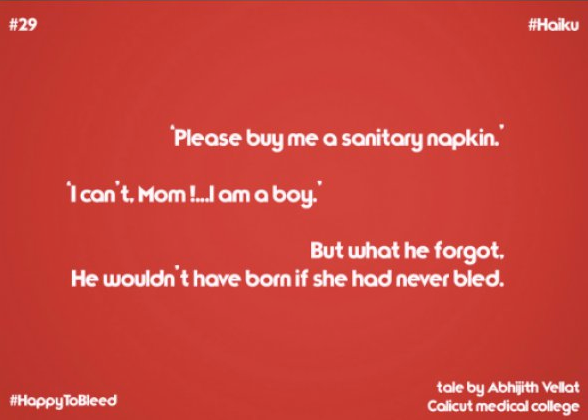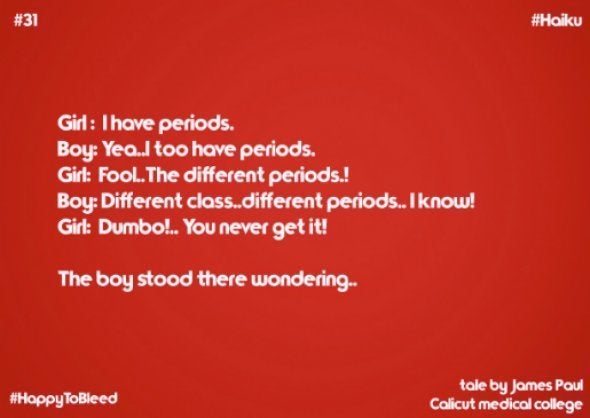 In fact, James Paul, a third-year student was the one who came up with the idea of conducting a micro tale (or Haiku) contest just in time for International Women's Day this year. For 23-year-old Paul, this was just an extension of his interesting in starting conversations around gender equality in the campus. Paul has spearheaded several other initiative to sensitise the campus about gender-related issues in the past.
"He felt it was not right to limit the freedom of women just because they have periods. This he realised after having come across many instances of period shaming during his school days," she said.
Another male student Abhiram claimed to have submitted his haiku based on his school day experiences when girls were constantly trying to hide blood stains on their skirts due to shame.
Another student, Kavya, who was one of the first five to submit an entry says she was inspired by the "ridiculous custom of gifting gold and new clothes to women when they come of age". "Why should the transition of a girl into a woman be announced and celebrated before the society," she asked.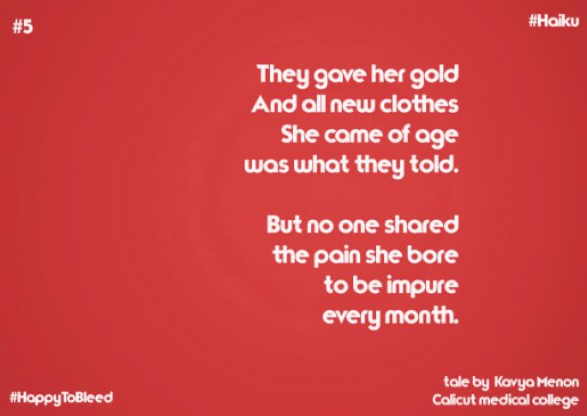 Salim herself drew from her own troubled experiences as a teenager, attributing her courage to stand up and fight the stigma to Nikita Azad, the Happy To Bleed Campaign founder.
The 'Happy To Bleed' movement was an online campaign started by a student Nikita Azad, who urged women to post pictures of themselves holding sanitary napkins after the chief of Sabarimala's Ayyappa temple declared women of menstruating age will never be allowed into the premises.
Salim added that her attempts in the past to conduct a discussion on the Happy to Bleed movement -– a movement sparked off last year -- had failed to draw many participants. "Nobody considered it an important issue. Girls kept trying to hide sanitary napkins and as though they were secret weapons. Boys simply refrained from talking about this," she said.
Along with James, Salim managed to put together a team of approximately 15 other students, a fair number of whom were boys. When this process was on, the faculty also started taking interest in the activities of the women.
"Two professors from the department of preventative and social medicine, Dr Asma Rahim and Dr Jayakrishnan T, came forward to support our initiative," she said.
Initially, Salim and her team faced a lot of discouragement. "Most of the students thought this contest would not succeed," she revealed. "Even we didn't expect a lot of activity or people to speak up."
Maiz Waify, another student at the college admitted that it was initially awkward to read the entries as he was brought up in a conservative family. His apprehension was shared by men and women like. "After some conversations with my sisters and women friends in college, I got comfortable talking about periods openly," he said. In fact, he egged Salim to act on the plan.
"If we are not going to speak out, who will," he asked Salim.
Salim says that once the team took on this project, it became everything for the team involved in it. "Dr Kartika, the intern who posed the initial challenge, would pray before the release of every poster for the campaign. It was both heartwarming and exciting." So much so that the team continued to work on the project along with their exam preparations that were just around the corner.
Salim and her team's worry that the campaign will be a damp squib was put to rest within few days of officially launching it. What was meant to be a small intra college competition spread like wildfire across different parts of India. Within just 4 days, the organisers received close to 100 entries and were obviously delighted. "The large number of entries encouraged us to promote this haiku contest on social media, and soon micro tales were pouring in from everywhere!" she said.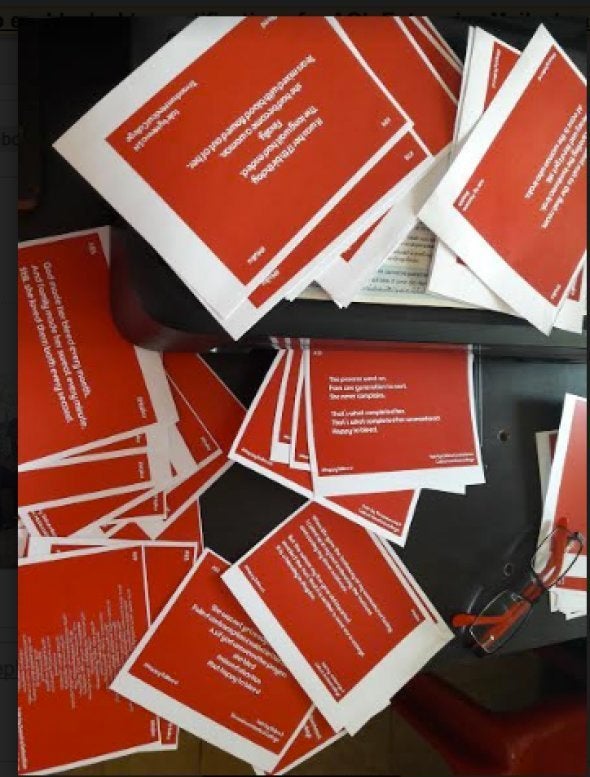 "An attempt like this has high potential to finally break the silence around menstruation," Yogita, a medical student from Pune had told Salim. An ecstatic Salim revealed that the campaigns greatest achievement was the conversion of the (earlier) taboo topic of menstruation into an open discussion within the campus. "Once conversations started flowing freely, I found women were more comfortable speaking out. Haiku reminds us that a small act of courage can bring about a huge change," she said.
Here are 85 haikus from the campaign that attempted to eradicate menstrual taboos in India.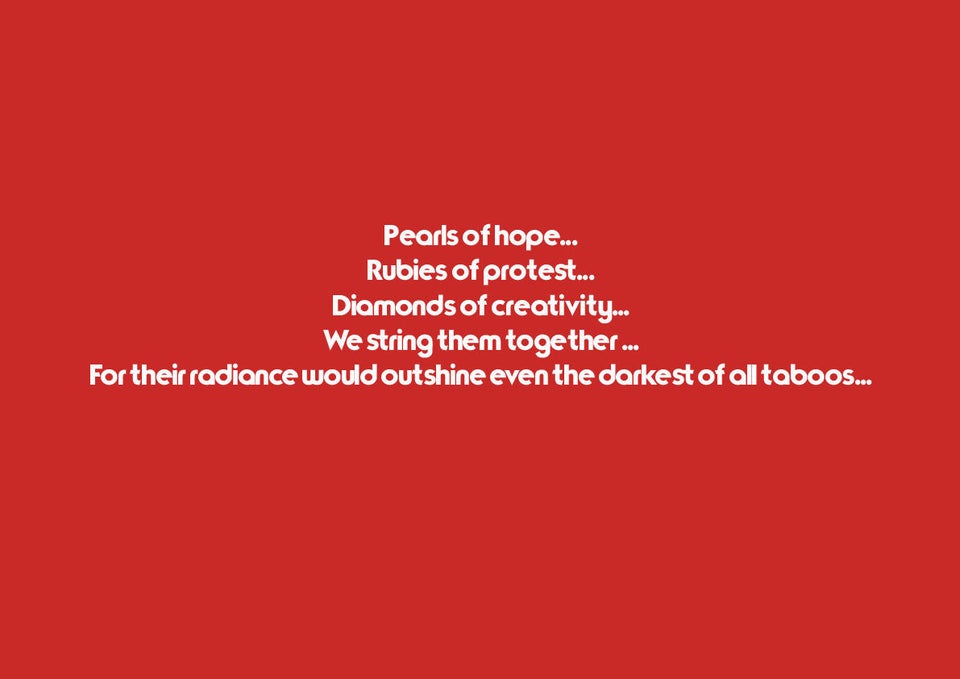 85 Haikus By Calicut Medical College Students That Put An End To Period Shaming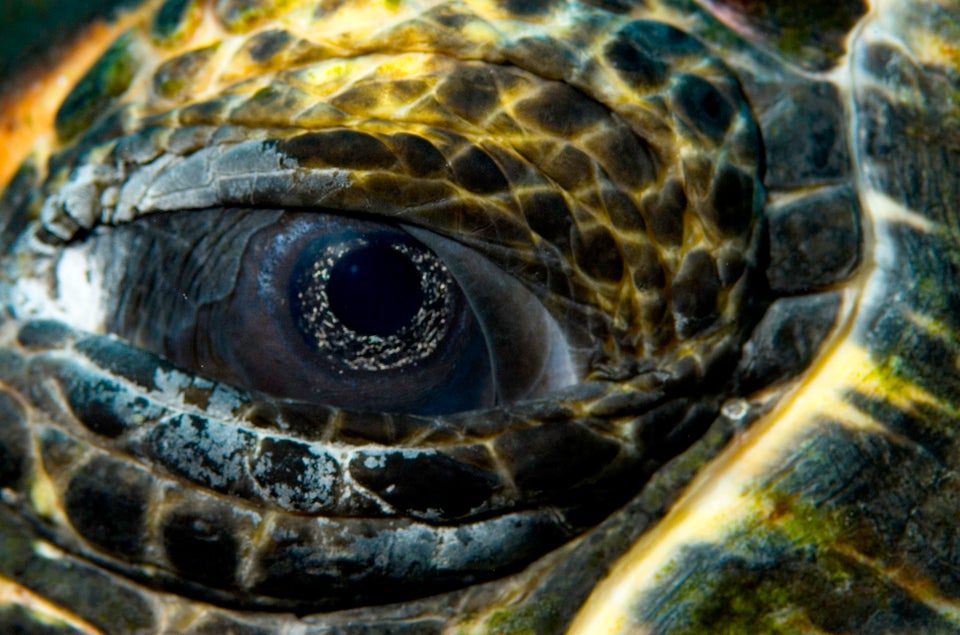 Indian Ocean's Marine Life Pose For An Underwater Photographer
Popular in the Community