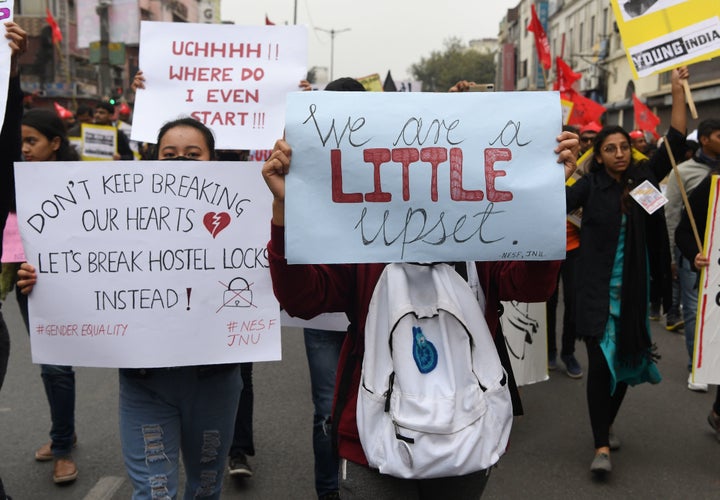 Over five years and two ministers, the Bharatiya Janata Party-led government has made brazen policy decisions that would put students from marginalised groups at a disadvantage and instead benefit corporations looking to acquire stakes in government institutions and run profitable businesses in the education sector.
While the Modi government's attempts to muzzle academic freedom at state-financed universities, and push a blatantly communal agenda, has deservedly attracted comment, the regime's moves to fundamentally transform university funding has gone relatively unnoticed. If successful, these reforms — most prominently, the establishment of the Higher Education Funding Agency (HEFA) — would mire state-run universities in debt, paving the way for corporate take-over.
The government has also subjected higher education to its now familiar strategy of disguising the impact of its decisions by simply refusing to publish data in a timely fashion.
While there is enough evidence to point to a floundering national economy, the Modi government's handling of the most essential social sectors is worth a pre-election scrutiny. What follows is a report card of the BJP's performance in making provisions for public education – and, more specifically, higher education – over the past five years.
FROM GRANTS TO DEBTS
Since 2017, the MHRD has pushed all central universities to sign a Memorandum of Understanding (MoU) with the UGC, failing which they will not receive government funding. With budgetary allocation to higher education slashed to less than half of what it was under the UPA II, Modi government has made aggressive policy moves to invite corporate involvement within the public university.
This MoU demands that these government institutions "recover the maximum cost of providing services" and explicitly mentions that the university is required to gradually increase fees charged from students for this purpose. The absurd tuition and non-tuition fee hikes in the IIT's and other public universities are only the first step towards that direction.
Instead of extending grants, the Modi government has set up a non-banking finance company called Higher Education Funding Agency (HEFA) in November 2017. This body intends to disburse 10-year loans to government institutions to meet financial requirements.
"Anyone investing more than Rs 50 crore in the agency will be nominated to HEFA's apex advisory committee, thereby giving corporations and wealthy individuals tremendous influence over India's public education sector."
The agency is a joint venture between the Ministry of Human Resource Development and Canara Bank, but also seeks to raise money from private companies. "HEFA", as the website explains, "is a great opportunity for corporates to have a stake in this venture and supplement GoI's efforts in promoting Research and Innovation in India's premier educational institutions".
Anyone investing more than Rs 50 crore in the agency will be nominated to HEFA's apex advisory committee, thereby giving corporations and wealthy individuals tremendous influence over India's public education sector.
In his budget speech for 2016-17, Finance Minister Arun Jaitley said the government would provide an initial outlay of Rs 2,000 crore to set up HEFA, and the organisation would raise money from capital markets. As per a new proposal, mentioned on the HEFA website, the government contribution will be increased to Rs 10,000 crores while HEFA would raise an additional Rs 90,000 crores by borrowing from capital markets and issuing government-backed bonds.
So, where a university once sought government assistance to upgrade facilities like laboratories, libraries or new buildings, the new model would require the university to take a loan from HEFA and figure out a way to pay the money back. The interest rates on the loan, the HEFA website makes clear, would be set by the market. This will burden public universities with unsustainable amounts of debt.
The agency offers five different modes of financing, with the government covering a varying percentage of the principal or interest payments, depending on the nature of the university taking the loan. Eventually, however, HEFA makes clear, the institution will be required to figure out how to repay the principal and the interest from its own "internal resources".
These internal resources will have to be generated in two ways — higher fees, which will make it harder for students from marginalised backgrounds to study at public universities, and from what the website calls "R&D partnerships" with corporations. This will effectively mean that corporations will decide the content of research that teachers of public universities must produce.
MASSIVE BUDGET CUTS IN EDUCATION
Over five years, the BJP government has slashed spending on higher education to less than half of the sum spent by its predecessor, the United Progressive Alliance.
According to government records, in 2013-2014, the UPA allocated Rs 10,091 crore to the University Grants Commission (UGC) ― the regulatory body for maintaining the quality and standards of Indian higher education. While the estimated budget allocation for the next fiscal is available, data for actual spending on higher education the year the BJP came to power is not available. The next actual spending data available is from 2015-2016, which shows that the government released a total grant of only Rs 4186 crores to the UGC — less than half of the UPA figure.
In 2016-2017, the UGC's expenditure rose marginally to Rs 4472 crores, and then to Rs 4685 crore in 2017-2018.
The actual spending data for 2018-2019 has not been published yet, but the revised estimate of budgetary allocation was to the tune of Rs 4687 crore. In the interim budget presented by Piyush Goyal on 1 February, the government projected a spending of Rs 4601 crores as allocation to UGC.
Every year since 2005, the Ministry of Human Resource Development (MHRD) published an "Analysis of Budgeted Expenditure on Education" which provides a comparative analysis of spending on education in the preceding three years. The Modi government has not published this document since 2016.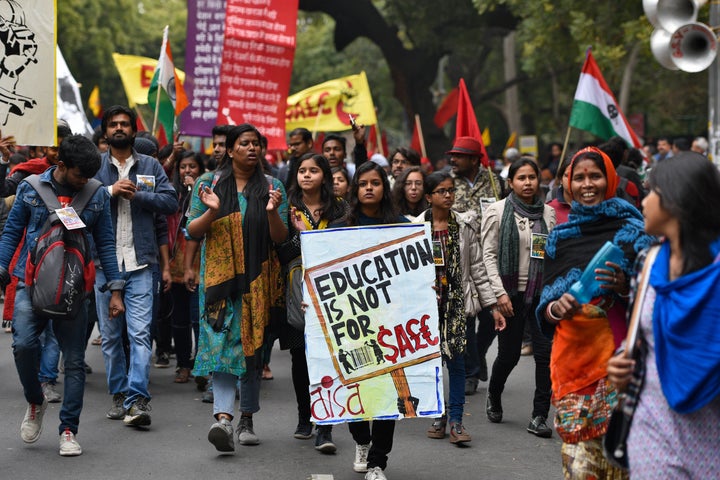 The document provides crucial details like what percentage of the total government spending in a year was on higher education, of that how much was borne by the MHRD and how much was shared by non-education departments as well as state governments, among others. While some of the comparisons clearly presented in this document can be parsed from data available from other financial documents released by the government, it is a tedious and time-consuming computation for individuals to take up voluntarily.
Tellingly, not just higher education, the Modi government's spending on education as a whole was reduced by 40% from the budgetary allocations during the UPA II's time. In 2013-2014, UPA II spent Rs. 1,12,629 crores on education. In 2015-2016, the BJP government reduced it to Rs. 69,075 crores.
DISMANTLING UGC
Various expert panels constituted over the years have suggested that the government should devote at least 6% of its annual GDP spending on education. However, despite those recommendations, the highest that any government has ever spent on education has accounted for just about 3-3.4% of its total GDP spending. Of this, an average of 0.69% has gone to higher education. Most governments have ignored the sector and in 2013-2014, the spending under UPA II stood at 0.67%.
Following is a breakdown of the central government's share in higher education expenditure ― as percentage of GDP ― through the Modi years:
2014-15: 0.57%
2015-16: 0.50%
2019-20: 0.49%
In fact, Modi has only done marginally better in this area in comparison to Atal Bihari Vajpayee, under whom the MHRD's spending on education hit the lowest in its history – 0.44% in 2004.
Not surprisingly, this is borne out in the massive curtailment of funding for the UGC, as already discussed. In 2013-2014, right before Narendra Modi came to power, the UGC was entrusted with 41 percent of the total allocations earmarked for higher education, while the current proportion of its resources stands at a meagre 12.28 percent of the total estimated spending in the sector.
"Modi has only done marginally better in this area in comparison to Atal Bihari Vajpayee, under whom the MHRD's spending on higher education hit the lowest in its history – 0.44% in 2004."
That this is a concerted policy-move towards making the regulatory authority redundant and clipping its potential for autonomous functioning is perfectly in line with the World Trade Organization's (WTO) mandate for deregulating the market for higher education services. It was in the 2001 Doha round of WTO negotiations that the Indian government 'offered' its higher education sector for multilateral trade investment, and argued for the lowering of national subsidies in the cause of private capital. The UGC's crisis of survival had therefore long been portended, but it was most visibly accelerated by the current dispensation.
In June 2018, in fact, the government brought in a draft legislation to replace the UGC with a puppet body called the Higher Education Commission of India (HECI). This proposed body would no longer have the power to disburse funds, because all financial decisions were to be solely vested in the MHRD. That way, the ruling party at the Centre would be directly pulling the purse-strings of the nation's higher education sector and potentially threatening institutions with closure for any act of ideological non-compliance.
MORE UNIVERSITIES, LESS JOBS
Paradoxically, through the period of UGC's financial collapse, the number of universities in the country rose from 723 in 2013-14 to 903 in 2017-18. During this same time span, around 2,416 new colleges sprouted across different parts of the country. As the All India Survey on Higher Education (AISHE) Reports for these intervening years indicate, 124 of the 180 new universities thus instituted are "privately managed". In plainer terms, more than two-thirds of the numerical expansion of Indian higher education during the Modi years has been propped up by the business interests of private owners.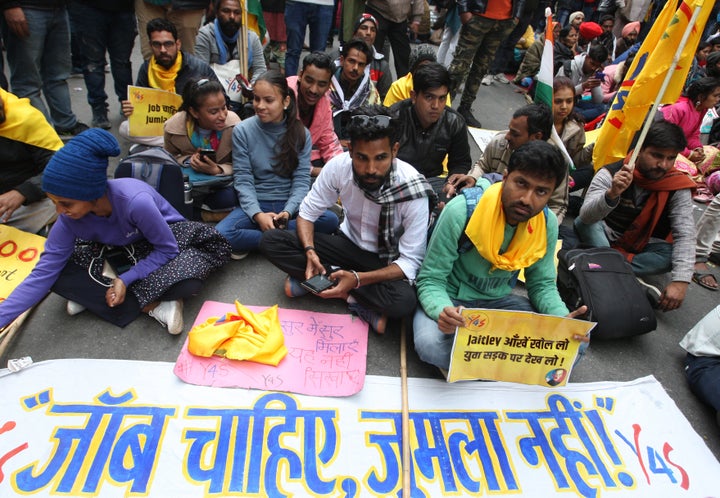 However, this rapid expansion in the number of universities necessarily did not translate into more jobs. Between 2015 and 2018, the total figure for employed teachers in universities and colleges dropped by more than 2.34 lakhs. So, corresponding to a 13 percent increase in the number of universities, there was a 15.4 percent loss of teaching jobs across institutions. For a year the government kept dragging its feet over the imposition of a 13-point roster in faculty recruitments, which massively swallowed up SC/ST/OBC positions in teaching jobs across colleges and universities.
"Corresponding to a 13% increase in the number of universities, there was a 15.4% loss of teaching jobs across institutions."
In 2015, the MHRD, led by minister Smriti Irani unveiled a National Institutional Ranking Framework which ranked educational institutions across the country. 60 institutions which featured among the top performers — like Jawaharlal Nehru University in Delhi and Jadavpur University in Kolkata — were eventually rewarded the autonomy to open new courses, departments, off-campus centres, skill-training units and the like only as long as "no demand for fund is made from the government".
Concurrent with this imminent push towards a wholesale privatisation of the tertiary education sector, one also witnessed the UGC threatening to shut down as many as 35 Centres for Studies in Social Exclusion and Inclusive Policy (CSSEIP) and 167 Centres for Women's Studies (CWS) in early 2017 – all of them long established and running for decades. In this mad rush to turn higher education into a market of self-financed private shops selling cognitive skills at high prices, it is no wonder that a Jio Institute must be garlanded with the "Institute of Eminence" status even before it saw the light of day.
WITHHOLDING RESEARCH FELLOWSHIPS
The government has also changed the eligibility criteria for SC/ST and minority students to avail research fellowships. The Rajiv Gandhi National Fellowship (RGNF) meant for SC/ST students and Maulana Azad National Fellowship (MANF) for minorities applying for doctoral courses, could be availed by students of these communities as long as they were pursuing these research programmes. However, now, the government requires them to clear the NET ― a difficult examination meant to recruit lecturers in colleges — for them to be eligible for these fellowships.
While this change was underway, the government did not release these fellowships for two years making it impossible for students from socially deprived communities to continue their education.
What Modi has laid out as a policy template for the nation's education sector is way more than a systematic targeting of students and teachers as 'anti-nationals' or 'urban naxals'. It consists in a mass-mortgaging of public infrastructures of accessible and quality education to the interests of big capital.
Popular in the Community